PRIZE. Professor Mikael Landén has been awarded the Swedish Society for Medical Research's Anniversary Prize for his important findings in psychiatric research. The prestigious prize is for SEK 5 million and is intended for research. As recipient, he will also be awarded a medal to be given by Her Majesty Queen Silvia.
The Swedish Society for Medical Research (SSMF) awards a prestigious Anniversary Prize every three years. Mikael Landén, professor of clinical psychiatry at the University of Gothenburg and senior physician at Sahlgrenska University Hospital, was selected for SSMF's 2022 Anniversary Prize after a nomination process and initial evaluation that was then followed by a review by international experts.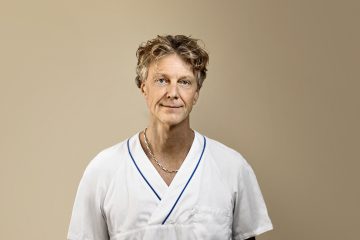 Mikael Landén reacted to being informed of his selection as recipient with surprise but also happiness.
"I was stunned and pleasantly surprised. It really wasn't something I expected," says Mikael Landén.
The purpose of SSMF's Anniversary Prize is to highlight and reward an outstanding Swedish medical researcher, either in basic experimental research or applied clinical research.
"The prize recipient is expected to be a leader within their research domain and to have influence on Swedish medical research," says Mats Ulfendahl, chair of SSMF.
This description fits Mikael Landén well. The explanatory statement for the award states:
"Professor Mikael Landén is recognized for his valuable findings in psychiatric research and his interdisciplinary and visionary approach. His genetic and molecular mapping of patients with bipolar disorder is the largest in the world. This has allowed him to identify biomarkers that can enable predicting the risk of suicide and offering preventive treatment."
The Anniversary Prize is for SEK 5 million and is intended for research. Landén says this is a welcome addition that will enable additional research findings.
"It means a lot! For many years, we have been good at collecting data in clinical studies. The prize means that we can now recruit doctoral students and postdocs to compile and analyze data that will lead to more useful findings.
In addition to the prize money and the honor, Mikael Landén will receive SSMF's Anniversary Medal from Her Majesty Queen Silvia at SSMF's award ceremony on October 21, something that he is looking forward to even if he is nervous: "I'm very nervous about making a mistake or saying something inappropriate, but it's also a great honor, of course."
Read more about Mikael Landén's thoughts on the prize: https://www.ssmf.se/artikel/vinnaren-av-jubileumspriset/ (in Swedish)
Facts about SSMF's Anniversary Prize:
SSMF's Anniversary Prize is awarded to a researcher who began their career with support from SSMF and who has achieved great success in science. The Anniversary Prize is for SEK 5 million and is framework funding intended for research.
The medical universities and SSMF's members can nominate candidates who are then assessed and ranked by SSMF's review board. International medical experts then assess the highest ranked and their overall assessment forms the basis for selecting a recipient.
The Anniversary Prize was instituted in connection with the 100th anniversary of the Swedish Society for Medical Research in 2019. The very first Anniversary Prize was awarded to Gonçalo Castelo-Branco, a professor at Karolinska Institutet. The prize is awarded every three years.
BY: SSMF