GRANT. Thanks to advances in research, individuals with Down syndrome are living longer, and their quality of life has improved. However, up to 90 percent of those with Down syndrome develop Alzheimer's disease. Researcher Laia Montoliu-Gaya is creating a method that can increase understanding of how Alzheimer's develops in this group.
Individuals with Down syndrome, also known as trisomy 21, have an extra copy of chromosome 21. The APP gene, that encodes the amyloid precursor protein, is encoded in chromosome 21, and its triplication results in the high rates of Alzheimer's among those with Down syndrome. This leads to accumulation of amyloid in the brain from very early ages.
American research funding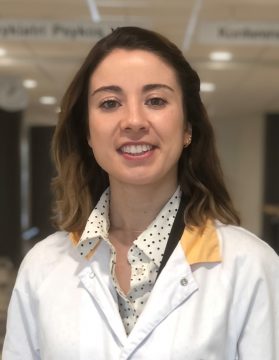 Laia Montoliu-Gaya, a researcher at the Institute of Neuroscience and Physiology, has recently received USD 200,000 (approximately SEK 1,900,000) from the BrightFocus Foundation for work with a new method that can increase knowledge of how Alzheimer's disease develops in the brains of individuals with Down syndrome.
Unlike the immunoassay methods that have been developed in recent years, Laia Montoliu-Gaya's is based on mass spectrometry. This makes it possible to measure various tau phosphorylations in the blood when diagnosing Alzheimer's.
"We have developed a method using mass spectrometry that enables simultaneous quantification of six different phospho-tau epitopes from the same sample. This means that we can immediately compare the levels of these phosphorylations and determine which ones are the most exact biomarkers for various stages of Alzheimer's disease," says Laia Montoliu-Gaya.
Relevant to Down syndrome
The research group has recently conducted several studies into the use of Alzheimer's biomarkers with individuals with Down syndrome.
"While we have not used the mass spectrometry method to analyze samples from people with Down syndrome, we are planning to do so soon. We believe it will help us better understand how Alzheimer's disease develops in this group."
BY: ELIN LINDSTRÖM