GRANT. Twenty years of research have culminated in blood tests that can be used for clinical diagnosis of Alzheimer's disease. Henrik Zetterberg, professor of neurochemistry, has just been awarded the European Research Council's prestigious Advanced Grant to establish similar markers for other forms of dementia.
Long-term research into clinical neurochemistry at the University of Gothenburg has resulted in three well-established cerebrospinal fluid markers that are used around the world to determine early on whether a person has Alzheimer's. These have now been developed into reliable blood tests. However, of all those experiencing symptoms of neurodegenerative diseases, only half of them have Alzheimer's. This means that for many people, it is not possible to test to determine which underlying disease is specifically responsible for failing memory or other cognitive problems – unless they are caused by Alzheimer's.
Five-year plan
As the researchers develop tests for other forms of dementia, focus will lie on frontotemporal dementia and Lewy body dementia.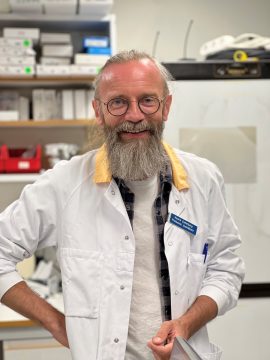 "If all goes to plan, within five years we should have markers for more forms of dementia that can be measured in cerebrospinal fluid or maybe even in the blood. These can then be used in clinical procedures," says Henrik Zetterberg, professor at the University of Gothenburg and chief physician at Sahlgrenska University Hospital.
He has just been awarded one of the most prestigious grants a researcher can receive. The European Research Council's Advanced Grant provides him and the major research group he leads with Kaj Blennow with SEK 25 million for the next five years.
Considerably more complex
As with Alzheimer's, frontotemporal dementia and Lewy body dementia are characterized by proteins in the brain failing to work as they should or binding together, thus interrupting the nerve cells' function. Previous attempts to develop biomarkers for these types of dementia have been unsuccessful. This is likely because changes to the tissue are not as evident in bodily fluids as is the case with Alzheimer's.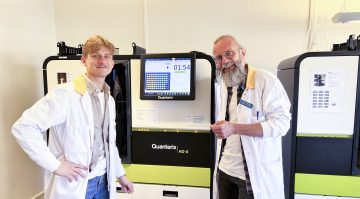 "We are aware that we are embarking on an incredibly complex project, but the timing is right. The development of highly sensitive measuring methods in mass spectrometry and immunochemistry has given us the right conditions. Furthermore, we have gained great experience from our previous successes with Alzheimer's markers," says Henrik Zetterberg.
The project will also develop new methods for measuring the activation of different types of brain cell–astrocytes and microglia–in neurodegenerative diseases. It is becoming increasingly clear that these brain cells play a more important role in the progression of dementia than researchers previously thought. These methods will be of good use as dementia research around the world continues.
The brain, cerebrospinal fluid, blood
Henrik Zetterberg also holds a professorship at University College London, where the research group has access to a large biobank containing brain tissue donated by people with dementia after their death. The research team will dissolve the brain tissue and analyze changes to identify molecules, which will then be further examined in cerebrospinal fluid and blood. Previous research has shown that there are two good candidates for the new potential biomarkers, alpha-synuclein for Lewy body dementia and Parkinson-like conditions, and TDP-43 pathology for certain forms of frontotemporal dementia and amyotrophic lateral sclerosis, ALS.
An ethical dilemma
The research group faces an ethical dilemma as they create ways to diagnose incurable diseases. Patients may find it hard to find out they have a disease where little can be done to cure it or slow down its progression.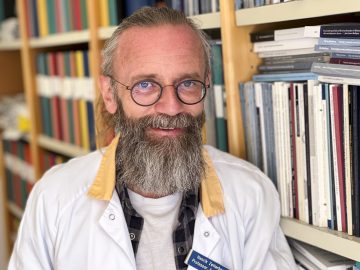 "Nevertheless, we are convinced that the biomarkers that reflect the process behind different forms of dementia will speed up the development of medication. This will enable pharmaceutical companies to recruit the right patients, measure the extent to which their product on trial actually affects the disease, and analyze blood or cerebrospinal fluid to measure the progression of the disease after three, six, and twelve months of treatment.
Hopefully, the new methods will facilitate rapid and accurate diagnosis, which has been shown to be positive for patients seeking medical care following concern about symptoms.
At the same time, it is important that patients who have been diagnosed receive good support to be able to cope and are not abandoned by the system," says Henrik Zetterberg.
There are several antibody-based treatments on the way for Alzheimer's that use antibodies to reduce the plaque on the brain that characterizes the disease. One such treatment has recently been approved in the USA, however the positive effects on cognitive functioning appear to be limited.
Good help from the Grants and Innovation Office
The Grants and Innovation Office played a decisive role in the application to the European Research Council, ERC, in particular Research Advisor Dubi Eliasson and Finance Officer Tinna Carlsson.
"Applying for ERC support requires an enormous amount of work. Furthermore, few applications are successful." This summer, when I realized it was time to start my application, it felt overwhelming. All the encouragement, help, and feedback from the Office made all the difference. Without that, I would probably have taken out vacation days," says Henrik Zetterberg.
BY: ELIN LINDSTRÖM