GRANTS. A research team at the University of Gothenburg and Sahlgrenska University Hospital has received SEK 15 million from the Swedish Research Council for follow-up studies of COVID-19 vaccines. "This involves looking at the protective effect in the long term and how good it is in different groups," says Magnus Gisslén, a professor of infectious diseases at the University of Gothenburg and chief physician in the infection clinic at Sahlgrenska University Hospital.
The study covers all 21 regions of Sweden and has collaborators from several of them. Magnus Gisslén, who has researched and worked clinically with COVID-19 since the start of the pandemic, heads the effort.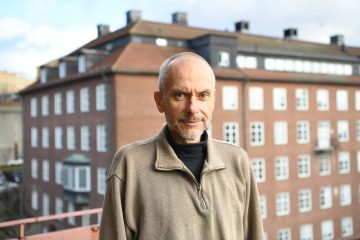 "We are looking at the efficacy of vaccines in different groups by comparing how different groups respond to COVID-19 vaccines. We will examine individuals with healthy immune systems who have been vaccinated and compare them with people who had COVID and have been vaccinated, people with immune deficiencies, and transplant patients. Another part is a register-based study, where we look at the efficacy of the vaccine, among other things. For example, how many people have relapses despite the vaccine and what side effects are noted."

What do we know so far about the efficacy of vaccines against COVID-19?
"We know the vaccines are very effective among people with healthy immune systems. On the other hand, we do not know how long the effect lasts. For example, will the protection be as good in the autumn? And we do not yet know how good the protection will be for immunosuppressed individuals, those with compromised immune systems. In a study like this, we hope to find answers to these types of questions," says Gisslén.
Nearly one billion people have been vaccinated. Several mutations of the virus have already spread in the world and Sweden, most recently the Delta variant originating in India.
"The vaccine seems to work well on it, but it takes two doses to get good protection. Clearly new variants may arrive for which the vaccines offer less protection. That is a risk."
Strong tradition of vaccine research
The study is a project with several components and collaborative organizations. It includes laboratory medicine at the University of Gothenburg and Sahlgrenska University Hospital, the infectious disease clinic, and the transplant unit. An epidemiological follow-up will be conducted through the Centre of Registers Västra Götaland by Fredrik Nyberg, visiting professor of register epidemiology at the University of Gothenburg.
The register-based study collects data from a variety of sources and registers, such as the National Vaccination Register, the Patient Register, the Pharmaceutical Register, and the IVA Register. One of the objectives of the project is to build a comprehensive local infrastructure that can also be used for national collaboration, which may be important in a possible future pandemic.
"We are expanding projects involving COVID-19 and methods established during the pandemic. There is also a strong tradition of vaccine research in Gothenburg," Susannah Leach notes.
Quick process
She is a resident physician in clinical pharmacology at Sahlgrenska University Hospital and project manager and coordinator of the study. She also has extensive experience in vaccine research in the Department of Microbiology and Immunology at the University of Gothenburg. During the pandemic, she has worked in the Region Västra Götaland vaccination unit to support vaccinating units with knowledge and experience concerning COVID-19 vaccine issues.
This was a process that moved quickly from the start of the pandemic to finished vaccine.
"After last summer, we noticed that the vaccine rollout was going very quickly and that we needed to think about the next step along the research path. Magnus and I then started planning for this vaccine study and developing our collaborative options. In that process, register centers have been really important and so have the Clinical Immunology Laboratory and biologist Anna Lundgren."
Building national collaborations
Their study is one of several receiving funding from the Swedish Research Council for follow-up studies of COVID-19 vaccines. Six research teams in Sweden are sharing SEK 100 million in grants. The aim is to further increase knowledge of the vaccines and build national collaborations.
Magnus Gisslén believes that in the future we are likely to be able to benefit greatly from the knowledge gained through the COVID-19 pandemic.
"To have produced a vaccine in such a short period of time is difficult, but we could do it again and perhaps even faster in a new future pandemic. As soon as you can sequence and determine an infectious agent, you can quickly produce an mRNA vaccine, and in that case we can really use what we have learned during this period."
Does your research team want to apply for money for a project?
For this application, the research team contacted the Grants Office at Gothia Forum (link: Grants office – gothiaforum.vgregion.se), which provided support in the process by brainstorming ideas about the call for proposals and editing texts. As healthcare and medical services staff in Region Västra Götaland, you can turn to the Grants Office for help in finding, applying for and administering external funding for research projects. The Innovation Platform provides corresponding support involving external funding organizations for innovation projects. Similar services also exist within the University of Gothenburg, Sahlgrenska Academy and Chalmers University of Technology. If you intend to apply for funds, do not miss the opportunity to receive advice, tips and feedback on your application.
BY: COMMUNICATION UNIT, SAHLGRENSKA UNIVERSITY HOSPITAL