ALF FUNDING. Recently Pro-Dean Henrik Hagberg and R&D Director Caterina Finizia held the first of three planned meetings at different hospitals within Sahlgrenska University Hospital to provide information in preparation for the major application round for ALF project funding and ALF project funding for younger researchers 2021–2023. Akademiliv reports from the first meeting, which was held at Östra Hospital.
The second meeting, planned to be held in at Sahlgrenska Hospital on Monday March 16 was cancelled. It has not yet been decided whether the meeting at Mölndal's hospital planned for March 23 (R-aulan, Mölndal's hospital, 11-12) can be held. Akademiliv will get back with more information.
All the information you need for your application is available at the ALF website (in Swedish): www.alfvastragotaland.se. You can also view the presentation that Henrik Hagberg and Caterina Finizia shared at the three information meetings.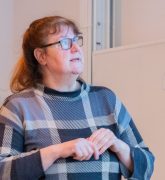 "Don't start with your application the day before it is due. Print and read the instructions carefully," says Caterina Finizia, emphasizing that it is important to fill out the application correctly. "If you submit more than the allowed 10 pages, the application will be returned to you immediately and you will be disqualified for this round of applications, without exception."
Applications for ALF funding for younger researchers are to be shorter, at most six pages.
Application period April 17–June 1
This year's round of applications for ALF funding opens Friday April 17 and closes exactly at midnight on Monday June 1. Applications are submitted electronically through Researchweb, www.researchweb.org/is/alfgbg.
This year's round of applications is similar to last year's: the assessment criteria are largely the same and the total amount awarded is divided equally.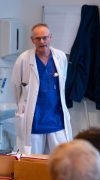 "We made some major changes ahead of the last round of applications, so we did not want to change much this time. Those of you who have applied last year will recognize most things," says Henrik Hagberg.
To recieve ALF project funding, the applicant must be a docent. Like last year, about SEK 5 million per year is reserved for researchers who have not yet become docents (SEK 300,000 per year for three years). The competition for this year's ALF funding for younger researchers is expected to be stiff, considering the award rate last year was 15 percent.
More assessment groups
In Region Västra Götaland, almost half of ALF funding goes to project funding, which is an unusally high percentage compared to other regions and county councils included in the ALF agreement. Projects will be able to receive at most SEK 6 million (SEK 2 million per year for three years) and no less than SEK 1.2 million (SEK 400,000 per year for three years).
To spread out the assessment work, there will be six assessment groups this year instead of four. Each assessment group has three members from another Swedish higher education institution and three internal members.
"Kristina Eriksson, in particular, has done a great job with this, and we are really happy with the high scientific level represented in the assessment groups. We will largely use the same conflict of interest rules as the Swedish Research Council, except it will not necessarily be considered a conflict of interest to belong to the same institute or department," says Henrik Hagberg.
"The assessors are highly skilled in medicine, but remember they are generalists. Write your application so that even researchers in other fields can understand it," says Caterina Finizia.
New evaluation next year
In 2021, the Swedish Research Council will conduct the next ALF evaluation, which will focus on clinical research quality at the county councils and regions included in the ALF agreement. In the last evaluation, clinical research in Västra Götaland received top marks, with the highest marks in two of the three categories evaluated. In this application round, applicants answer basic questions that will be used in the next evaluation, but these questions are not at all as extensive as those used last year.
Direct links to information on the ALF website:
TEXT AND PHOTO: ELIN LINDSTRÖM