AWARD. Kristina Johansson has been named this year's recipient of the Swedish Association for Allergology's major scholarship. She is being honored for her innovative translational research on molecular mechanisms in the immune system that underlie asthma and allergies.
"It felt incredibly gratifying to receive this prestigious award! I was quite surprised when I received the news, as the prize in previous years has been awarded to more well-known and senior researchers in asthma and allergy research in Sweden. I feel that I am in good company," she says.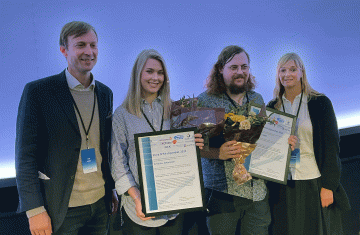 Can provide groundbreaking knowledge
Kristina Johansson leads a translational research group at the Krefting Research Centre, focusing on mechanisms related to obstructiveness and mucus issues commonly found in obstructive lung diseases such as asthma and COPD.
Through experimental studies on mouse models and epithelial cells, her research group aims to map how inflammation and mucus production are regulated using gene-regulating microRNA. SFFA assesses that her project has significant potential to provide groundbreaking new knowledge about the underlying mechanisms in severe asthma and respiratory diseases.
Kristina Johansson has a keen interest in microRNA. As a doctoral student in 2017, she received a prestigious award at the world's largest allergology meeting (EAACI-Allergopharma Award) for a study demonstrating the importance of a specific microRNA for the function of ILC2 cells, a type of immune cell that drives allergic inflammation.
Returned after a postdoc in the USA
After completing her doctoral thesis, she pursued postdoctoral studies at the University of California, San Francisco, under research leaders Mark Ansel and Prescott Woodruff, pioneers in microRNA and asthma research. In 2021, she returned to the University of Gothenburg and joined the Mucin Biology research groups. There, she began formulating an independent research program, applying for grants, and generating new preliminary data for her ongoing studies.
In September 2023, she was appointed as an associate university lecturer at the Krefting Research Centre, where she is currently establishing her own research group.
"It's a very exciting journey! Right now, I'm in the process of recruiting members and filling all the necessary roles so that we can start more experiments in the lab. I'm also writing grant applications, working on manuscripts, conducting experiments, and supervising a student," she says.
A stimulating research environment
Kristina Johansson also aims to investigate how mucus in our airways interacts with the immune system in the lungs, specifically whether the composition of mucus (mucins and other proteins) affects the lung's immune response to airborne allergens.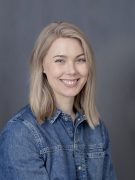 "Mucus issues in the airways are generally understudied. I have a fantastic starting point in collaboration with the Mucin Biology research groups. It's a large group of experts with extensive knowledge of mucins in the intestine and lungs. At the same time, I have the privilege of combining that with expertise in asthma and allergy at the Krefting Research Centre, where studies of molecular mechanisms are combined with unique clinical data and asthma epidemiology. It's a very stimulating and inspiring environment to work in," she says.
She also believes that the University of Gothenburg has significant strength in the local knowledge of RNA biology. In the future, she hopes to collaborate with Aishe Sarshad's lab and utilize their advanced techniques for RNA binding mapping to contribute new and important information about how microRNA and other RNAs regulate critical functions in airway cells.
BY: KARIN ALLANDER