RESEARCH. At least 30,000 Swedes have been diagnosed with post-covid-19 condition during the first three years of the pandemic, according to Sweden's National Board of Health and Welfare, but there is still a lack of knowledge about the condition, its causes, and how many people are affected. Maria Bygdell and Fredrik Nyberg, researchers at the Institute of Medicine, aim to find out more.
We now have a good understanding of the acute effects of Covid-19, but research on the long-term effects has made less progress. The number of individuals with post-covid-19 condition (long Covid) is growing, but there is still no comprehensive national monitoring or national treatment guidelines.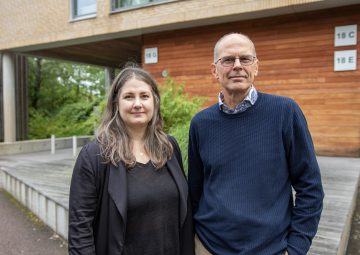 "It is an important priority that we find out more about post-covid-19 condition and who is affected, not only for diagnosis and treatment of the individuals, but also for resource allocation within society and healthcare, and to be able to establish preventive strategies," says Maria Bygdell.
She has received grants of approximately SEK 5 million from Forte and SEK 2.4 million from the Swedish Research Council to generate more knowledge about post-covid-19 condition using register data. Topics she will investigate include who is affected, how their clinical picture and care needs develop over time, and whether vaccines have any protective effect – and, if so, for how long.
Two percent were diagnosed
The research into post-covid-19 condition is part of the major project Swedish Covid-19 Investigation for Future Insights – a Population Epidemiology Approach using Register Linkage (SCIFI-PEARL) at the University of Gothenburg, led by Fredrik Nyberg, Professor of Register Epidemiology at the Institute of Medicine.
In November, Maria, Fredrik, and their colleagues published an article in the International Journal of Infectious Diseases. They showed that 2% of those who contracted Covid-19 were subsequently diagnosed with a post-infectious condition. They also noted that this diagnosis was more common among women than men, and among middle-aged than younger people.
The diagnostic code for a post-infectious condition after Covid-19 was introduced in Sweden in October 2020. The study investigated which patients in Region Stockholm and Region Västra Götaland were diagnosed during the first 16 months after its introduction. The study used data from national registers and primary care databases, and covers about 40% of the Swedish population.
The results show that the diagnosis was more common among women, at 2.3% of all women with Covid-19 compared to 1.6% of men. Seventy percent of those diagnosed with post-covid-19 condition had not been hospitalized with Covid-19. More middle-aged people and people with higher levels of education were also affected within this group.
Of those who had been treated for acute Covid-19 in intensive care, 37% were diagnosed as having post-covid-19 condition. The average length of time these patients spent in the ICU was also longer compared to COVID patients who were admitted to the ICU but were not diagnosed with post-covid-19 condition.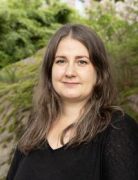 "However, we did not see any significant differences between the periods when different coronavirus variants were dominant, up until December 2021," continues Maria. "So the Omicron variant period is not included in this study."
Post-covid among children
Maria Bygdell, Fredrik Nyberg, and their colleagues, also investigated the occurrence of the condition among children. In a newly published article in JAMA Network open, they found that the diagnosis was rarer in children, 0.2%.
Although the diagnosis was rarer among children than among adults, the researchers observed an almost 6-fold higher occurrence of post-covid-19 condition if any of the parents had a diagnosis, than if the parents did not.
"These results are very interesting and could indicate a genetic component in who is affected by long-term symptoms after COVID-19. It's definitely something we would like to investigate further," says Maria Bygdell.
Mild to very severe symptoms
Post-covid-19 condition means that the patient has residual symptoms following Covid-19 which remain three months after the acute infection, last for at least two months, and cannot be explained by another disease. This applies to a highly diverse group of patients, with everything from mild symptoms, such as loss of smell and taste, to severe symptoms involving different organ systems in the body, and affecting every aspect of life.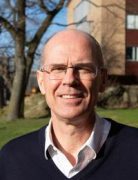 "Previous self-assessment studies show that 10–15% report having some kind of residual symptoms twelve weeks after a Covid-19 infection," adds Fredrik. "Our study does not therefore include everyone who has had long-term problems after Covid-19, only those who have sought help from healthcare and have been diagnosed with a post-infectious condition after Covid-19."
These patients often experience many different symptoms, with shortness of breath and breathing difficulties, high resting heart rate and palpitations, extreme fatigue, and pain being among the most common. It is not clear whether this is a chronic condition or how many patients recover over time.
There are also no coherent statistics on how many people have or have had the condition in Sweden. Between October 2020 and October 2021, 21,000 post-covid-19 condition diagnoses were made in Sweden, according to the National Board of Health and Welfare, mostly within primary care. However, there has been no national monitoring from 2022 onwards.
Inspired by an international conference
One reason for the lack of statistics is that diagnoses are mainly made within primary care. There is currently no national primary care register in Sweden. The study published in November was therefore based on the database within the SCIFI-PEARL project. The project involves several researchers from the University of Gothenburg and other Swedish universities, and will answer many key questions about Covid-19 relating to the disease itself, its consequences, and the effects of vaccination.
Fredrik launched SCIFI-PEARL at an early stage of the pandemic. He was due to attend the Observational Health Data Sciences and Informatics (OHDSI) conference in London in spring 2020, but the conference was cancelled. Instead, OHDSI held a virtual project meeting focused on COVID-19 with a couple of hundred researchers from around the world, who together tried to contribute toward new knowledge about the pandemic.
The researchers divided themselves up into groups that drew up research questions, carried out literature searches, analyzed available registry data from a few different countries, and started work on manuscripts.
"We worked around the clock," he recalls. "By the end of the third day, we had a first manuscript that was almost complete and several others in progress. Among other findings, we were able to show the risks of using hydroxychloroquine, which by then had started to be used as an experimental treatment for Covid-19. This led to pharmaceutical authorities warning against this kind of use."
A fruitful collaboration
After the conference, Fredrik decided that he wanted to contribute new knowledge about the pandemic from his extensive experience of registry research. He set up a project group and a project team, and it took less than two months to put together a project plan and obtain ethical approval. The first data was uploaded into the SCIFI-PEARL database in October 2020, and the database is still updated every three months.
Maria defended her PhD thesis on children's growth and the risk of disease in adulthood in 2019, and has since continued her research within this field. She describes her collaboration with Fredrik and his research team as a stroke of luck:
"It feels incredibly exciting and important to contribute to new knowledge about post-covid-19 condition. Our research cannot identify which mechanisms control the disease, but I hope we can contribute other important pieces of the puzzle. If it turns out that vaccines protect against post-covid-19 condition, for example, this will provide extremely important knowledge for the future."
BY: KARIN ALLANDER
Find out more