EDUCATIONAL DEVELOPMENT. We now know who has been awarded educational ALF grants for the 2023–2024 medical program and educational ALF grants for health professions in 2023.
One of the funded projects will be part of Torben Nordahl Amorøe's upcoming dissertation, with Paulin Andréll as his main supervisor. The project will receive SEK 500,000 of the announced educational ALF grants. ALF refers to the agreement concerning medical education and research.
Amorøe's project explores ways of training students to become aware of and deal with unexpected events through the questions facilitators ask students after they have been practicing in a simulated healthcare environment at the Simulator Center.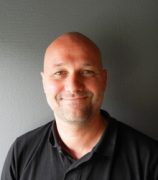 "This happens when medical and nursing students train together in their inter-professional, simulation-based learning (SimIPL) during their final semesters of their basic education. More specifically, it takes place during debriefing after each scenario," says Amorøe, a doctoral student at the Institute of Medicine, who heads the unit at Simulator Center West.
Complex care situations
The ultimate goal is to improve patient safety by improving the understanding of healthcare professionals of potential surprises in healthcare situations and their ability to deal with them. Being able to handle complex situations, where not everything is predictable, is called resilience. Amorøe bases his research on theories of complexity and resilience, sometimes referred to as Safety II.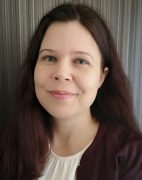 "Some researchers criticize the current paradigm of patient safety," says Paulin Andréll, an adjunct associate professor at the Institute of Clinical Sciences. "They argue that to understand and learn how to deal with difficult and challenging situations, we cannot simply look at what went wrong and what we should have done. We can also look at why things are done right or how people have overcome similar challenges before."
New debriefing method
The project has already worked with supervisors and students to develop resilience-focused debriefing methodology through what is known as design-based research. This means that course instructors have discussed translating the theories into practical techniques in debriefing.
"We will now investigate whether the new debriefing method is effective," says Torben Nordahl Amorøe. "We do this by teaching current supervisors the new method and filming how students respond in the debriefing. We will use an instrument to evaluate the students' ability to work in a team, care for acutely ill patients, and conduct qualitative analyses."
The project also involves Associate Professor Lena Oxelmark (Institute of Health and Care Sciences), Professor Emeritus Hans Rystedt (Faculty of Educational Sciences), and Professor Pieter Dieckmann (Copenhagen Academy for Medical Education and Simulation).
The complete list
In autumn 2022, Medi-sam Education announced educational ALF grants linked to the medical program; the grants are awarded during the 2023–2024 period.
Katarina Jood
Title: Entrustable Professional Activities (EPA) för lärande under läkarprogrammets verksamhetsförlagda utbildning–studier inför och under implementering ("Entrustable Professional Activities [EPA] for learning during medical school clinical training–studies before and during implementation")
Total: SEK 483,000
Matilda Liljedahl
Title: Primärvården som lärandemiljö för läkarstudenter–en observationsstudie ("Medical students' learning in primary care medicine–an observational study")
Total: SEK 250,000
Paulin Andréll
Title: Resiliensfokuserad debriefing i interprofessionell simuleringsbaserad utbildning för bättre teamarbete och ökad patientsäkerhet ("Resilience-focused debriefing in inter-professional, simulation-based training for better teamwork and patient safety")
Total: SEK 500,000
Marie Studahl
Title: Det virtuella sjukhuset–innovativt verktyg för verksamhetsintegrerat lärande på läkarprogrammet ("The virtual hospital–innovative tool for integrating clinical learning in the medical program")
Total: SEK 255,000
Helena Forsblad d'Elia
Title: Ny röd pedagogisk tråd; symtomcentrering och samordning LPG006, Klinisk teori och praktik 2, nya Läkarprogrammet ("New educational thread; symptom centering and coordination LPG006, Clinical Theory and Practice 2, new medical program")
Total: SEK 255,000
Helena Filipsson Nyström
Title: Simuleringsbaserat lärande inom endokrinologi och diabetes ("Simulation-based learning in endocrinology and diabetes")
Total: SEK 255,000
With grants from Medi-sam Research, Vård-sam announced a pilot round for educational ALF grants for health professions; the grants are for use in 2023.
Monica Pettersson
Title: Design, utveckling, testning och utvärdering av personcentrerade virtuella patientfall vid kliniskt träningscentrum vid Sahlgrenska Akademin, Göteborg universitet ("Design, development, testing, and evaluation of person-centered virtual patient cases at the clinical training center at Sahlgrenska Academy, University of Gothenburg")
Total: SEK 200,000
Caroline Schmidt
Title: Ekokardiografisk studentmottagning–ökad möjlighet för Biomedicinska analytiker studenter att få kinisk relevant erfarenhet ("Echocardiographic student clinic–improving opportunities for biomedical analyst students to gain clinically relevant experience")
Total: SEK 84,500
Inger Jansson
Title: Utbildningsmoduler–kan de bidra till lärande och yrkesmässig växt för studenter från Sahlgrenska akademins program för hälsoprofessioner och rekrytering och behållning av seniora handledare inom regional verksamhetsförlagd utbildning?–En kontrollerad studie ("Educational modules–can they contribute to learning and professional growth for students from Sahlgrenska Academy's health professions programs and recruitment and retention of senior supervisors in regional clinical training? – A controlled study")
Total: SEK 107,750
Gunnel Hellgren
Title: Det virtuella laboratoriet–ett interaktivt undervisningsmaterial, inför och under, biomedicinska analytikerstudenters verksamhetsförlagda utbildning ("The virtual laboratory–interactive teaching material, before and during the clinical training of biomedical analyst students")
Total: SEK 107,750