CLINICAL RESEARCH. Araz Rawshani is driven by a desire to translate research results into significant improvements in the medical care system, preferably the day after they are published. Using artificial intelligence, his team is creating powerful assessment support for the entire chain of care for cardiac arrest and coronary artery disease.
Araz Rawshani combines his work as a resident physician at Sahlgrenska University Hospital's cardiology clinic with research at the University of Gothenburg. He has just been appointed to a clinical research position at the Wallenberg Centre for Molecular and Translational Medicine (WCMTM) that allows him to devote half his working hours to research.
Direct benefit
Rawshani defended his doctoral thesis on socioeconomic aspects of diabetes and cardiovascular disease in 2015, using studies based on the Swedish National Diabetes Register. For many years he then continued to conduct highly successful epidemiological research, leading to publications in several of the world's leading medical journals. But a strong desire to create research results that benefit patients more quickly has altered the path of his research.
He is also responsible for the Swedish Cardiopulmonary Resuscitation Registry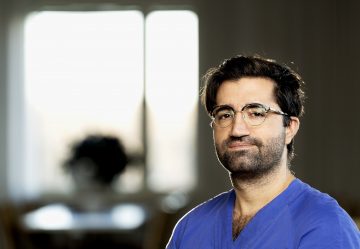 "I come from a traditional epidemiological research approach, but I started to question this approach. I wanted to more directly benefit society or patients, who I see as the end-user of the research I do," says Rawshani.
"I started working on technical solutions that can be more quickly translated into implementations in the medical care system. Eventually I also want to conduct randomized clinical trials to really make a difference."
His research strategy has changed in recent years. Nowadays he only initiates research projects that have a clear possibility of being implemented in the medical system immediately after the results are published. The great advantage of clinical research, Rawshani maintains, is the ability to assess the potential clinical utility in advance.
"Good clinical research results in new understanding. Even better clinical research helps patients with real needs or the healthcare provider, from their own perspective," says Rawshani.
Better diagnostics
The team's research focuses on both cardiac arrest and coronary artery disease. For coronary artery disease, he is developing new diagnostic methods supported by artificial intelligence (AI), which will be faster, cheaper, and safer.
"We are developing AI-based decision support tools that can help doctors ensure that the patients who receive coronary artery surgery will actually benefit from the surgery. These are algorithms that we train on image data using machine learning.
We think and know that we can develop decision support systems automated with AI that can help all doctors achieve the same diagnostic accuracy as the top experts in the field. Doctors' decisions can vary depending on various human factors, and AI-based support can help clinicians make the best possible decisions in each case."
Forewarning patients about cardiac arrest
Rawshani and his colleagues have already published several decision support tools for different stages of the cardiac arrest chain of care, and more are on the way. Their research will also result in systems that can warn patients that they may be heading for a cardiac arrest.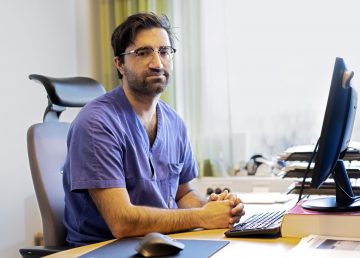 "The aim is for a system that can be used by patients wearing some form of cardiac monitoring, such as an implanted pacemaker or defibrillator. Instead of the system reacting to an ongoing serious arrhythmia, it will warn that one is imminent, which can prevent cardiac arrest," says Rawshani.
Improving out-of-hospital cardiopulmonary resuscitation
His research plan also includes conducting a large-scale intervention study to investigate whether a completely new approach to out-of-hospital cardiac arrest can increase survival rates. The new intervention complements traditional cardiopulmonary resuscitation that can be implemented outside a hospital or in an ambulance. Hypotheses are that this can increase blood pressure in the heart and brain during cardiopulmonary resuscitation (CPR), increasing oxygenation of vital organs.
"It is a reasonable theory that our new intervention could improve the effectiveness of CPR. We plan to conduct a cluster randomized clinical trial in which one county council at a time will randomize patients with out-of-hospital cardiac arrest to receive traditional CPR or the new intervention.
AI as a fundamental part of clinical research
His research team has been working on machine learning (AI) for several years. Most doctoral students and members of the research team work with some form of machine learning.
"Researchers and clinicians are just beginning to understand the power of AI. Few things will have as much impact on healthcare and research in the coming years. Our task as researchers is to deliver the power of AI to healthcare and patients. This will improve outcomes and streamline care."
Sweden and Gothenburg are in a good position to become world leaders in this field as a result of many years of investment in infrastructure and training in large scale data analysis.
BY: ELIN LINDSTRÖM