CLINICAL RESEARCH. Cushing's syndrome is an unusual endocrine disorder caused by a tumor in the adrenal glands or pituitary gland. Even after surgical removal of the tumors and normalization of the cortisol levels, many patients still do not recover. Oskar Ragnarsson, Associate Professor (Docent) and Senior Consultant Endocrinologist, seeks to find out why.
As well as being an associate professor (docent) at Sahlgrenska Academy and a senior physician at Sahlgrenska University Hospital, Oskar Ragnarsson spends time doing research at the University of Gothenburg. He has just been appointed to a clinical research position at the Wallenberg Center for Molecular and Translational Medicine (WCMTM), which enables him to devote half his working hours to research. Besides the research funding, he appreciates having access to the researchers' network at WCMTM.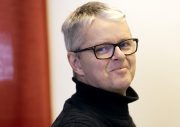 "The other group leaders are clever, knowledgeable people and, when I met them, I felt immensely proud to be part of this. It's superb to be able to learn about the other members' ideas and be inspired by what they're working on," Ragnarsson says.
How cortisol affects the body
After studying medicine in his home country, Iceland, Oskar Ragnarsson arrived in Gothenburg 20 years ago for specialist training in endocrinology and stayed. In 2012, he obtained his doctorate with a thesis on how the body is affected by excessively high cortisol levels. Since then, he has continued his research on endocrine disorders involving the pituitary and adrenal glands.
"I like the digging process, and the mysterious aspects of endocrinology. A patient can have a tiny little tumor and still undergo dramatic changes in the body due to deviant hormone production."
Several of the studies he is currently engaged in concern Cushing's syndrome, which is usually caused by a tumor in the pituitary gland or the adrenal cortex, that causes excessive production of cortisol. The typical patient with Cushing's syndrome is middle-aged woman that has lived with extreme fatigue for several years. The clinical picture includes several other symptoms, such as weight gain, high blood pressure, depression, anxiety, and impaired memory and cognition. The diagnosis is often delayed by several years, owing to the diffuse nature of the initial symptoms, the absence of simple diagnostic tests, and the fact that the syndrome is rare.
Susceptible parts of the brain
When the tumors causing Cushing's syndrome are surgically removed, many patients recover. However, at least half of the patients have residual symptoms despite the normalization of their cortisone level.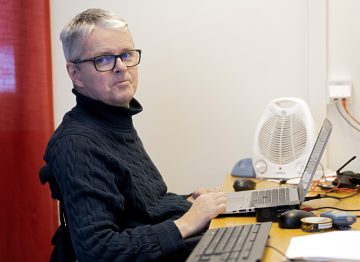 "These patients can have a very troublesome symptoms and a hard life, despite being cured of the disorder itself. Those who have it worst cannot work and or socialize. We want to know why this happens, why there are such big differences among individuals, and what measures could be taken to allay the risk of residual symptoms," Ragnarsson says.
The prevailing hypothesis is simply that high cortisol levels are toxic for areas of the brain that are rich in cortisol receptors — above all, the hippocampus and the frontal lobe. The purpose of the research is to clarify the mechanisms behind the permanent damage that patients with Cushing's syndrome frequently develop. In the long run, this may lead to new ways of improving the patients' life situation.
Prospective study underway
The syndrome is rare, only some 30 people in Sweden are diagnosed annually. Jointly with research colleagues in the Netherlands and Spain, Oskar Ragnarsson is now conducting a prospective study that involves two years' monitoring of 36 patients who have recently been diagnosed with Cushing's syndrome. Nearly all the 36 participants required have signed up and efforts are underway to obtain controls.
"We're going to study their brain function and cognition, measured in various ways. We'll use functional magnetic resonance imaging (MRI) to depict the brain and brain positron emission tomography (PET) scans to investigate cellular glucose uptake capacity. We're also carrying out both genetic and epigenetic studies. We've previously done severla cross-sectional studies with interesting findings, but this is our first prospective study, in which we'll be following the patients for two years."
Similarities with chronic fatigue syndrome
Another current study is of people with Cushing's syndrome and exhaustion syndrome.
"We think these two groups of patients have a lot in common. I'm looking forward to our results, which may possibly benefit patients in other categories, such as patients with depression and anxiety, who also have elevated cortisol levels without having Cushing's syndrome."
BY: ELIN LINDSTRÖM
PHOTO: JOHAN WINGBORG