AWARD. Sukanya Raghavan, a researcher in clinical immunology and transfusion medicine and the Department of Microbiology and Immunology, has been named this year's Research Supervisor of the Year. The prize was awarded by Students in Research (SiF) following Raghavan's nomination by pharmacy student Linn Lund Karlsson.
The news that she had been selected as Research Supervisor of the Year came as a surprise to Raghavan.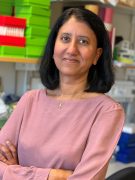 "It means a lot to me. It is truly an honor to be nominated by Linn, my summer postgraduate student. I would also like to share the credit with my doctoral student Nikita Dutta, who has supervised Linn in the lab," Raghavan says.
A thank you for the supervision
Linn Lund Karlsson is now in her seventh semester of the Pharmacology Program and became part of Raghavan's research team this summer, thanks to a scholarship from the Mary von Sydow Research Foundation. Time spent in the lab gave Karlsson the opportunity to challenge herself and develop. She relates that Raghavan trusted her from the start, giving her the opportunity to display her knowledge and full potential and challenge herself in the lab to evolve. Nominating her supervisor was a matter of course and a way of saying thank you for a warm welcome to the world of research.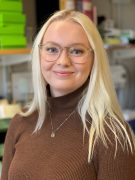 "Sukanya has such enthusiasm for her research that it rubs off on those around her. At the same time, she has so much drive to teach and share her knowledge. I am so grateful and inspired by the fact that she sees the potential in different programs and her drive to bring us together to combine our knowledge," says Karlsson.
"Being part of the larger Biolung team of clinicians and geneticists who supervise different parts of the project has also been so rewarding, because everyone is so motivated and passionate about the research, which is contagious."
During the autumn, Karlsson has continued to help in the lab alongside her pharmacy studies.
The novice becomes a supervisor
The team researches immunotherapy for non-small cell lung cancer. Members look for biomarkers that could be used to predict which patients will have a clinical response or not.
In July, when Raghavan was vacationing, Nikita Dutta took over the task of supervising Karlsson in the lab.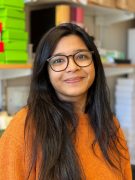 "It was an excellent opportunity for me to grow in my own role as a supervisor and to practice providing support for other researchers," says Dutta. "Sukanya has also given me the freedom to explore ideas in the lab, which makes me more independent as a researcher. That's also part of what makes her a really good supervisor, in addition to being a very good friend."
Coaches in her supervision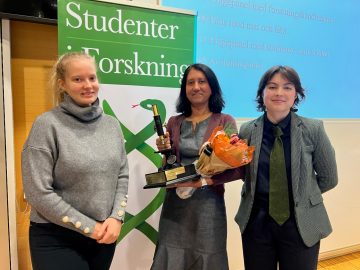 Raghavan has been supervising students since she was a doctoral student. She now also serves as one of the active coaches in the Sahlgrenska coaching network (SA-CONE) and brings the coaching approach to all her supervision. She notes that she has learned a lot from students over the years.
"I believe in creating structure when starting a project, but allowing autonomy during the writing and completion of the project is important. I really enjoy reading the reports that students have written, because then you see what they have learned," says Raghavan. She believes that the supervisor's most important role is motivating students to continue conducting research and making them interested in the subject and the project: "The focus is not on getting results, especially for the short-term projects; it is rather on the process and the appetite for research. I personally find immunology so interesting, and I hope I can pass on some of that enthusiasm to the students."
The award was presented by Students in Research (SiF) on Tuesday, December 6.
BY: ELIN LINDSTRÖM