VICE-CHANCELLOR ELECTION. In parallel with a new Vice-Chancellor being recruited to the University of Gothenburg, a Pro-Vice-Chancellor for the coming term of office will also be appointed. The University's board has now decided how the recruitment will be carried out.
The term of office for current acting Pro-Vice-Chancellor Mette Sandoff follows that of Vice-Chancellor Eva Wiberg. This means that a Pro-Vice-Chancellor who takes office on 1 July 2023 must also be appointed.
"The process of recruiting a Pro-Vice-Chancellor is very similar to the process of recruiting the next Vice-Chancellor. The only real difference is that the university handles it internally and will not use an external recruitment consultant", says Peter Larsson, Chair of the University Board.
Pro-Vice-Chancellor requirement profile
This means that the same recruitment committee that is working with recruitment of the next Vice-Chancellor will now produce a Pro-Vice-Chancellor requirement profile. It will be generally phrased so that the areas of strength of the Pro-Vice-Chancellor and Vice-Chancellor complement each other. Just as the Vice-Chancellor, the Pro-Vice-Chancellor must meet the eligibility requirements for employment as professor or senior lecturer. The requirement profile will be adopted by the University Board on 7 December, after which the position will be advertised.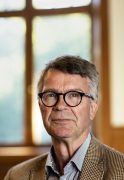 "Students and staff are also welcome to nominate candidates during the same period as the position is advertised. So, feel free to start thinking about who could be a good Pro-Vice-Chancellor for the University of Gothenburg", says Peter Larsson.
In February and March, interviews will be held with suitable Pro-Vice-Chancellor candidates. At the end of April, the Board will decide which candidate or candidates will be questioned by the already appointed consultative assembly. The decision on who will be Pro-Vice-Chancellor will be made by the Board by 14 June 2023 at the latest.
Pro-Vice-Chancellor the Vice-Chancellor's deputy
According to the Higher Education Act, Vice-Chancellors at Swedish universities must have a deputy, a Pro-Vice-Chancellor, who serves in the Vice-Chancellor's place when the Vice-Chancellor is not on duty. The Pro-Vice-Chancellor can also replace the Vice-Chancellor to the extent the Vice-Chancellor decides.
The University Board appoints the Pro-Vice-Chancellor and the future Vice-Chancellor has no formal say in the process. But as the Pro-Vice-Chancellor is the Vice-Chancellor's closest staff member, it is important that the two have a common view of the university's development. Therefore, the appointment takes place in consultation with the future Vice-Chancellor.
Recruitment committee members
Chair Peter Larsson, representing the public interest
Member Ann Follin, representing the public interest
Member Helle Wijk, representing the teachers
Member Olof Johansson Stenman, representing the teachers
Member Anna Ruus, representing the students
Member Sandra Magnusson, representing the students
Member Maja Pelling, representing staff organisations
More information on the Vice-Chancellor and Pro-Vice-Chancellor recruitments can be found on the Staff Portal: Recruitment of Vice-Chancellor