PHD STUDIES. Misconduct in research, suspect journals, and plagiarism. This year's PhD Studies Day focused on aspects of research ethics vital for doctoral students and their supervisors to know about.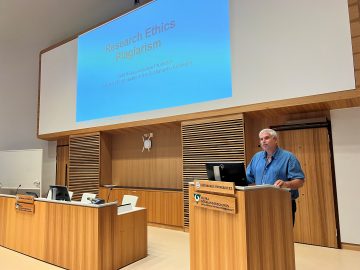 Khalil Helou and Thomas Carlsson are Academy-wide directors of studies for doctoral education at Sahlgrenska Academy. Khalil began by listing some important changes for doctoral students and supervisors at the faculty that they need to be aware of. The licentiate thesis has recently been changed to be more similar to a shorter version of a doctoral thesis. Previously, there was a standing grading committee. This has now been disbanded, allowing greater flexibility and increased opportunities for supervisors to appoint grading committees for defenses of theses. Booking a defense is now done using a digital booking system.
The PhD Studies Day included three lectures on research ethics. A PDF of the presentations is available at the end of this article.
Ethics front and center at the start of projects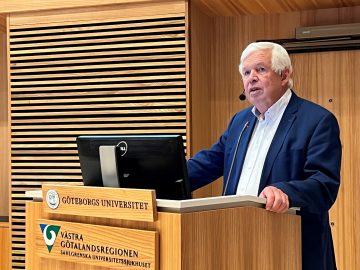 Björn Rydevik, senior professor of orthopedic surgery and chair of the Research Ethics Committee, began with a presentation on how researchers should approach good research ethics and misconduct in research, with a focus on clinical research. He also provided a short overview of the Ethics Review Act.
"Ethics review cannot be done after the fact. It must always be completed before the start of the project. Ethics reviews are regulated by law. This means this is more than choosing to follow or not follow specific guidelines," said Björn Rydevik, noting that lawmakers take a serious view of offences involving violations of the Ethics Review Act.
Stricter ethics review legislation
Human research covered by the Ethics Review Act must always have ethical approval from the Ethics Review Authority. This approval may be conditioned on also receiving approval from the Medical Products Agency if the study is testing new material, such as different forms of implants in bone tissue and cardiac valve replacements. In 2021, a new Medical Device Regulation also came into effect in the EU. In the case of studies involving animal experiments, researchers apply for ethical approval via the Swedish Board of Agriculture's website, with administration by Gothenburg's Animal Experimentation Ethics Committee.
The Ethics Review Act has been made more stringent in several ways in recent years. The previous six-month maximum penalty for violations of the Ethics Review Act has now been increased to two years, and the limitation period has been extended to five years, from the previous two.
Extensive information available in the Staff Portal
The Council for Research Ethics has launched an extensive research ethics website, which is open to anyone. This site is under Sahlgrenska Academy's pages in the Staff Portal. (link to https://medarbetarportalen.gu.se/sahlgrenskaacademy/research-support/research-ethics/). The site is available in both Swedish and English, where the English information mirrors the Swedish site.
"The website also has a great feature to allow you to listen to an audio presentation of the content. This lets you listen while taking a walk," Björn Rydevik suggests.
Answers to specific ethics questions
The Research Ethics Committee has also long had an advisory role, allowing researchers and doctoral students connected to Sahlgrenska Academy to send research ethics questions to a specific email address. Email your question to research.ethics@sahlgrenska.gu.se. You will receive an automatic reply confirming receipt of your question. After the question has been considered by the Research Ethics Committee, you will receive a reply with advice and recommendations. Note that these responses in no way replace review by the Ethical Review Authority.
Björn Rydevik also suggested several other links and resources that may be helpful for researchers, including CODEX at Uppsala University (http://codex.uu.se), Gothia Forum (www.gothiaforum.com), and the Swedish Research Council's document "Good Research Practice" (https://www.vr.se/english/analysis/reports/our-reports/2017-08-31-good-research-practice.html).
Research misconduct
As of 2020, issues of misconduct in research are regulated by a new law: the Act on Responsibility for Good Research Practice and Examination of Research Misconduct (SFS 2019:504). The act defines misconduct in research as "a serious deviations from good research practice in the form of fabrication, falsification, or plagiarism, whether intentional or through gross negligence, when planning, conducting, or reporting research." That same year, the National Board for Assessment of Research Misconduct (https://oredlighetprovning.se/) was established to investigate suspected misconduct. The board's investigations cover misconduct in research as defined by the law (suspected fabrication, falsification, or plagiarism), while other serious deviations from good research practice are handled by the relevant university.
Continually discuss research ethics
Björn Rydevik urged everyone to stay up-to-date on research ethics and good research practices, including laws and regulations for ethical reviews.
"Everyone can contribute to ensuring that ethical principles in research are respected. Discuss it in your group. Set aside time at workplace meetings to discuss ethical aspects of the research. Maintaining ethical principles in research is much like maintaining good physical condition. You need to do exercise regularly."
For more information about research misconduct, he suggests Kjell Asplund's 2021 book "Fuskarna – om Macchiarinis och andras svek mot vetenskapen" [Cheaters–about Macchiarini and other betrayals of science].
Publication ethics and predatory journals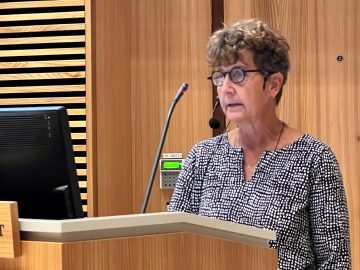 The presentation given by Eva Hessman and Linda Hammarbäck, both librarians at the Biomedical Library, discussed approaches for researchers in navigating the publishing landscape. They began by stating that the term "predatory journals" is misleading actually, as it gives the impression that the researchers who collaborate with these journals are innocent victims. In fact, it is the responsibility of researchers to investigate the journals and conferences they choose to publish in or otherwise interact with.
The pressure on researchers to publish or perish, combined with the ability of journals to make money from Article Processing Charges (APC) have led to the establishment of a large number of less serious journals. These journals provide incorrect information about such aspects as indexing, impact factor, alternative metrics, peer review, and editorial board. They are often aggressive, sending email invitations as mass spam. They exist on a sliding scale. Journals can be everything from deliberately deceptive to "merely" low quality. Since most articles are published in medicine and health, these are the scientific fields facing the biggest problems. The research firm Cabells estimates that there are now at least 15,000 predatory journals in the world and that four percent of all citations go to articles in these journals.
As a researcher, you should avoid any interaction with dubious publishers: "Do not submit, do not peer review, do not read, do not reference."
Vet the journal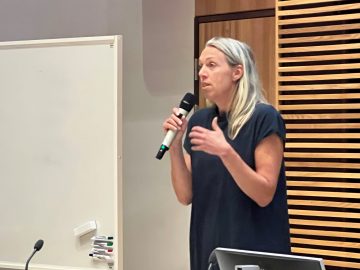 How can researchers avoid publishing in these dubious journals? A quick summary of the librarians' advice:
Speak with your colleagues
Check if the journal is indexed in PubMed, Scopus, Cinahl, and PsycINFO
Check the University Library's website. Under "Publish", you can check whether the journal belongs to one of the publishers with which Uppsala University Library has an agreement, gives a discount, or fully covers the cost of the APC. https://www.ub.gu.se/en/publish
Search online. Has the conference been held before? Is the journal the subject of online discussions?
Send an email with your question to a librarian forskarservice@ub.gu.se
The presentation provides additional suggestions on how to carefully vet the journal you want to publish your manuscript in.
Research ethics and plagiarism
Khalil Helou concluded the day's presentations with a talk on plagiarism, which is presenting someone else's work as your own. Self-plagiarism, where researchers copy phrases from their own, previously published works, can also cause major problems.
Plagiarism is a growing problem in academia and in scientific journals, and almost all journals now use tools to detect whether a submitted manuscript has content that has previously been published. Some journals demand that no more than 20 percent of text in a manuscript matches previously published texts. There are examples of doctoral students submitting previously unpublished manuscripts that were part of their thesis and after they had defended their dissertation and getting into trouble because parts of the unpublished manuscript matched the published thesis framework in Gupea.
"We have seen cases where manuscripts have been questioned or stopped from publication because diagrams or formulations have been shown to be identical to texts in the thesis that have been e-published in Gupea," said Khalil Helou.
Often, authors transfer the rights to the publisher, which means that you must ask for permission even to use your own figures in a new publication.
"If you publish data, figures, or other content that you have already disseminated in a journal or in another way, you need to clearly describe the previous dissemination for both editors and readers," said Khalil Helou.
There are many different types of plagiarism that can fall on a long scale of varying degrees of seriousness. The presentation below includes a description of the ten most common types of plagiarism.
Plagiarism review of dissertations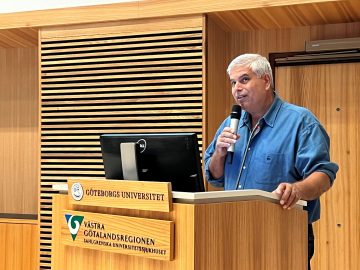 For just over two years, all dissertations have undergone a plagiarism review. This has been very helpful for doctoral students and has increased the quality of the theses presented.
In the plagiarism review, the iThenticate tool analyzes the thesis in two steps. The first step is voluntary (https://sahlgrenskaacademy.wufoo.com/forms/ithenticate/). The thesis is reviewed using iThenticate three weeks before it is to be submitted for print, which gives the doctoral student and their supervisor the opportunity to rewrite matches that have been flagged as plagiarism. Before the thesis can be electronically posted, it undergoes a second, mandatory review with iThenticate. The doctoral student must be able to show a confirmation email that the thesis has undergone this review to be able to electronically post their thesis.
Remember to upload the thesis without the citation list, otherwise the cost of the plagiarism review will be unnecessarily high.
The iThenticate tool produces a "similarity report" marking all places where wording is identical to previously published material online. The report must then be analyzed to determine the extent to which the text in the thesis reflects the doctoral student's contribution to new research.
"You must assess each individual case. The doctoral student and the supervisor make their own assessment of which parts of the text need to be changed. Also remember to ask the relevant journals for permission to use texts, diagrams, and tables if needed," said Khalil Helou.
BY: ELIN LINDSTRÖM