SUPPORTIVE DOCUMENTS. There is new guide about disqualification that describes what it is, when you should consider it and what to do if you suspect that you may be disqualified. All staff must know the rules about disqualification, particularly if you are an examiner, involved in recruitment, a subject matter expert, or if you are a manager or other decision maker. The guide was produced by the Institute of Medicine, but it can be used by all staff at Sahlgrenska Academy.
Staff at the University of Gothenburg are civil servants and must follow the common values, which include objectivity. To act objectively and impartially, you must be observant of conflicts of interest. Disqualification is a circumstance that affects your impartiality. The person whom the objection is aimed at is considered disqualified.
It is not necessary for you to be genuinely biased to be disqualified. A circumstance that poses a risk of bias or others suspecting that you are biased can sometimes be enough. You should always consider disqualification when dealing with or taking decisions or making assessments. The rules on disqualification are ultimately about preventing corruption.
More knowledge is needed
The guide was produced by the Institute of Medicine, but it can be used by all staff at Sahlgrenska Academy. The initiative was launched by the institute management at the Institute of Medicine, who felt a need to increase the knowledge on the topic.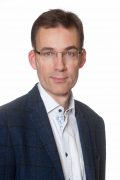 "The University of Gothenburg doesn´t offer much information about disqualification. We wanted to present the information that´s important to know about in a simple an accessible way, so that the rules that apply are clear, mainly for researchers and teachers", said Jan Borén, Head of Institute.
Feel free to leave comments
The guide contains a checklist for researchers and a page with information for teachers. The content comes from the Swedish Administrative Procedure Act, The Swedish Research Council's guidelines for handling disqualification and from the Swedish Higher Education Authority' guidance for legally secure examinations
The guide comes in both English and Swedish. The content has been checked with the administrative lawyers at the university and the Council for Research Ethics at Sahlgrenska Academy.
"You are welcome to leave comments on the guide, so that we can develop it according to the needs of the employees. If you miss any information, or find anything unclear, you are welcome to contact our communication officers", said Jan Borén.
Learn more and download the guide here. https://medarbetarportalen.gu.se/sahlgrenskaacademy/research-support/disqualification/
BY: KARIN ALLANDER