HISTORY. We recognize Bo Krasse, who would have turned 100 on September 14, 2022. Bo Krasse was the first dean of what was known at the time as the Faculty of Odontology. He was a visionary and a successful caries researcher who made major contributions to the internationally significant research at the faculty.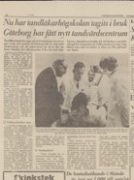 Bo Krasse became a professor of cariology and dean of the Faculty of Odontology in 1969, when it was brand new. At that time, the faculty had recruited several prominent researchers and was soon among the ten highest-ranked schools of dentistry in the world. Bo Krasse had an extensive international network and was a visiting researcher at the National Institutes of Health (NIH) in Bethesda and several American universities, including the Harvard School of Dental Medicine. Bo Krasse died on November 23, 2009.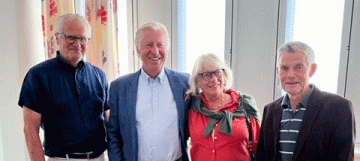 By request from Bo Krasse's family, retired professors Jan Olsson and Claes-Göran Emilson recently gave a lecture to around 30 relatives on Bo Krasse's roles and significance during his twenty years at the faculty. Claes-Göran Emilson, whom Bo recruited as assistant dentist when the department was founded (1969), spoke about how he and the rest of the team built up the new undergraduate program in cariology, a clinic, and research at the University of Gothenburg. Claes-Göran painted a picture of Bo Krasse as a social, dedicated, and vibrant manager. The lecture also included plenty of newspaper clippings illustrating Bo Krasse's enormous impact in the media, where his commitment to improving dental care and opportunities for dental research appear in numerous op-ed pieces.
Quickly recruited as a doctoral student
Jan Olsson was previously head of the Institute of Odontology and has Bo Krasse to thank for beginning to research caries in Gothenburg. In the autumn of 1970, three weeks before finishing his dentistry degree in Malmö, Jan contacted the new faculty in Gothenburg and had a brief chat with the dean, Bo Krasse. Jan Olsson said he was considering carrying on with a medical degree.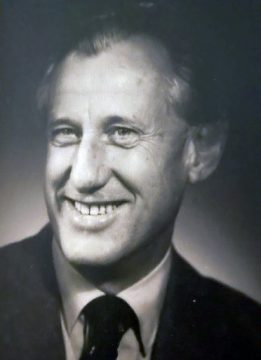 "To that, Bo responded in his distinctive Skåne accent: 'No way, forget that idea immediately. You'll end up falling between the cracks. I think you should focus on research instead!'
'Huh, I see. What kind of research do you mean?'
'Well, you could research caries!'
'Sure, but what kind of opportunities are out there for that?'
'Well, you could study the presence of bacteria on the tongue in patients after eating sugar!'
'Oh?'
'Yes, you can start Monday!'"
The next Monday, Jan Olsson began his research track with samples taken from a group of patient tongues at Sahlgrenska Hospital.
Caries – an enormous public health problem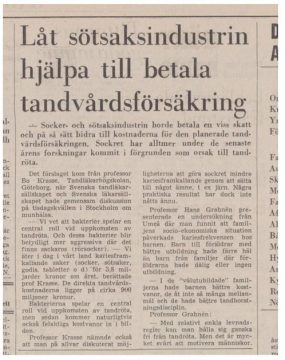 Bo Krasse graduated with a dental degree from Karolinska Institutet in 1946 and took a position with the Public Dental Service in Arvidsjaur, with his wife Märta, who was a pediatric dentist.
It can be difficult to understand today what a massive public health problem dental decay was at that time. Caries was "the greatest public health problem of our time." For example, around one third of all mustering recruits needed to have all of their teeth removed and replaced with prosthetics due to tooth decay–young men who were not even 20 years old.
Early on, Bo Krasse asked himself whether this serious situation could be prevented. He moved to the dental school in Malmö, where he worked as an assistant in the large Vipeholm studies as a doctoral student. The studies were conducted on behalf of the National Swedish Board of Health from 1947–1951 on people with developmental disabilities at the Vipeholm Hospital in Lund. The results had enormous significance. For the first time ever, it could be demonstrated that sugar caused dental decay, which led to the common Swedish family rule of only eating candy on Saturdays. The Vipeholm studies have been strongly criticized in modern times and never could have been approved by a research ethics committee with today's ethical standards.
Major public contributions
Bo Krasse's 1954 dissertation investigated the significance of acid-forming bacteria for dental caries, and when caries-causing streptococci were discovered by American researchers (Fitzgerald and Keyes), Bo Krasse traveled there and began working in their lab. Back at home in Malmö, he isolated these bacteria in a woman with cavities and began developing methods to fight them.
Throughout his life, Bo Krasse was a forward-looking role model who fought for more preventive dental care.
"His contributions were largely for the benefit of society. He made numerous attempts to take Swedish dental care down new roads. For example, 'Frisktandvården' is a form of dental care based on a subscription model now offered by the Public Dental Service. It is based on Bo Krasse's research and ideas," says Jan Olsson.
BY: ELIN LINDSTRÖM