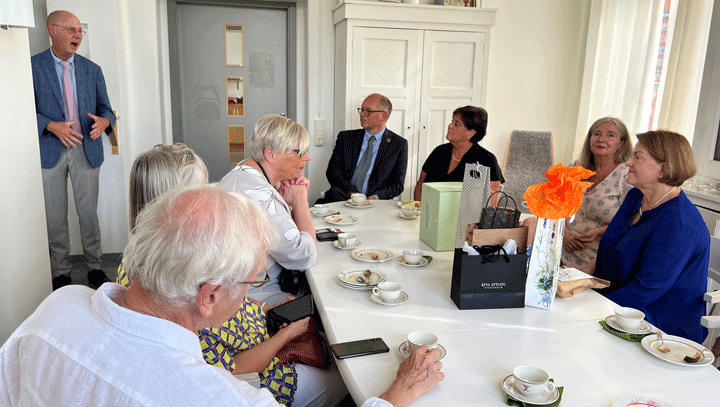 PEOPLE. Professor Margret Lepp, a driving force in the development of drama in nursing education, has now resigned from the Institute of Health and Care Sciences. A two-hour long symposium with invited speakers preceded a traditional party in her honor.
[Scroll down to see more photos from the retirement celebration.]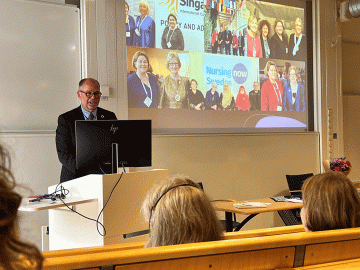 It became clear during the symposium that Margret Lepp, in addition to being a highly valued colleague and friend, also made enduring and major contributions in her field of healthcare education, where she is regarded as a pioneer in Sweden. Several of the speakers noted that she had also made important contributions to knowledge building in the subject of health sciences. Lepp was consistently described as a clear-sighted and solution-oriented mentor and role model, who was also extremely productive in her scholarly and educational work. She has authored over a hundred research publications, including many books. With great enthusiasm, she has had multiple, wide-ranging teaching assignments. Her colleagues noted the large number of examinations she has carried out.
The world as a workplace
She has inspired many to expand their international networks and collaborations, including through her long-term presidency of the Swedish section of Sigma Theta Tau International (STTI), the international organization for nurses.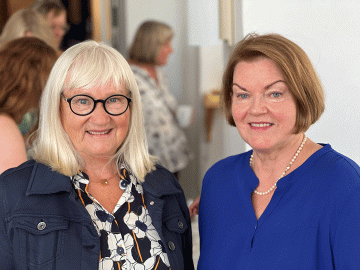 "I dreamed of having the whole world as my workplace, and that's the way it turned out," Lepp said during her presentation.
Lepp has been actively involved in the Institute of Health and Care Sciences for 15 years and has served as a professor of health sciences, specializing in health care education.
Now she continues as professor emerita at the institute and with her international connections, including as an adjunct professor at Griffith's School of Nursing and Midwifery at Griffith University in Queensland, Australia, and as a visiting professor at the Faculty of Medicine, Public Health, and Nursing at Universitas Gadjah Mada in Yogyakarta, Indonesia.
She also continues her involvement in the European Network of Nursing Academies (ENNA), an organization she co-founded. ENNA endeavors to strengthen nursing education and the conditions for further education and dissemination of knowledge about current healthcare education and health sciences research.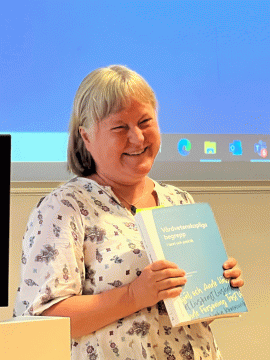 During the symposium, Margret Lepp gave a presentation about her journey from her nursing degree in Borås in 1978 via advanced training in psychiatric nursing and a healthcare teacher's degree to becoming an authorized drama in nursing teacher in 1994. In 1998 she defended her doctoral thesis in Lund, which dealt with learning with drama in healthcare and nursing education.
Awarded for contributions to education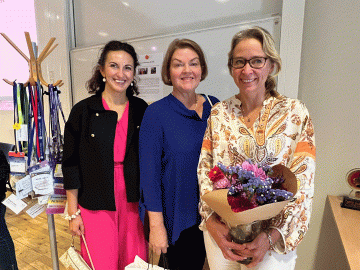 Drama in nursing education provides an opportunity for a group of employees or students to reflect on and consider different aspects of ethical problems, dilemmas, or conflicts. It offers them an opportunity to empathize with how another person experiences a situation, which provides profound empathic insights. In other words, the basis of drama in nursing education is to practice, try and reflect. It is a much-appreciated feature among Sahlgrenska Academy's nursing students, both at undergraduate and master's levels.
In 2018 Margret Lepp was awarded Sahlgrenska Academy's Educational Award, together with her colleagues Linda Berg, Stina Larsson, and Helena Wigert. She also was awarded the Swedish Association of Educational Writers award in 2021. And earlier this year Lepp received the title of Excellent Teacher.
Important subject for the institute
For Lepp it seemed self-evident that the subject of healthcare education would be represented within the Institute of Health and Care Sciences, both to continue quality assurance in the undergraduate and specialist training of nurses and to develop tools and other prerequisites for continuing education for employed nursing staff.
"You helped us understand the importance of continued research in healthcare education," Section Manager Monica Pettersson noted in her farewell remarks when all the guests gathered for cake in the break room.
"Drama is a very important element in our teaching, and it is also very popular with our students. We absolutely want to continue offering drama in nursing education as part of our training," Pettersson added.
BY: ELIN LINDSTRÖM