YOUNG RESEARCHERS. Carolina Guibentif, a researcher in the Department of Microbiology and Immunology, uses single-cell analysis to identify genes and mechanisms that have an important bearing on prenatal cancers. Her dream is to develop research that could help the early identification of newborns at risk of developing cancer.
Naturally, Guibentif is delighted to be among those recently named a Research Leader of the Future by the Swedish Foundation for Strategic Research (SSF), which is providing her research SEK 15 million over five years. At the same time, the appointment places her under an obligation:
"For me, being entrusted with so much money is a validation of my past achievements, but there is also a clear expectation of future success. Since it is a strategic grant, it focuses a lot on ensuring that the results have a good chance of having an impact on society in the future," she says.
An atlas of developmental biology
She focuses on prenatal development, primarily using mouse models, cell cultures, and single-cell charting of human development. The research will result in a research tool–an atlas–that can also be used by other researchers to identify genetic changes during prenatal life. She is particularly interested in the formation and maturation of the blood, where development in prenatal life occurs in waves. By charting these developmental waves, she wants to identify the phases of development where changes occur that can later lead to cancer.
Future clinical collaborations
The research has a high degree of relevance for several childhood cancers, because half of all childhood cancers are thought to start developing during prenatal life. The long-term goal is to identify biomarkers in newborn children for future cancerous changes several years before the children develop leukemia or other childhood cancers.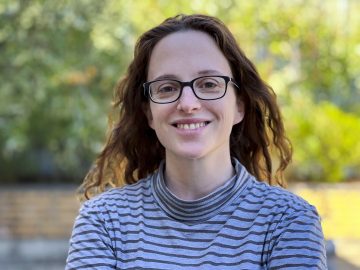 "We hope it will then be possible to provide treatment for them based on precision medicine, tailored to the individual specifically," says Guibentif. "That lies in the future, but if it works, our research could help save lives. I look forward to establishing collaborations with clinical researchers, because this will be a prerequisite for my research to remain clinically relevant when I reach that stage."
Postdoc in Cambridge
Guibentif originally came from Portugal, where she received a BS in molecular biology in her hometown of Lisbon, followed by both master's and doctoral studies at Lund University. There she was advised to start applying for a postdoc position a year before receiving her PhD, which led her to start her postdoctoral education in Cambridge six months before finishing her thesis.
"I traveled back and forth between Lund and Cambridge. It was an absolutely crazy time, but also very stimulating. The Cambridge lab worked on exactly what I wanted to learn, namely single-cell charting of mammalian development," says Guibentif. Her time on the team resulted in articles that appeared in several renown publications, including one in Nature describing how the team used single-cell analysis to study mouse embryos.
Encouragement from the Institute
Meanwhile, one of her former colleagues from her time in Lund had assumed a position in Gothenburg, which sparked her interest in Sahlgrenska Academy. She departed from the United Kingdom in the spring of 2020, barely in time to leave before the country shut down in response to the pandemic. The Institute of Biomedicine gave her a warm welcome and encouraged her to apply for large grants she otherwise would have applied for later. She had already received a research position from the Swedish Childhood Cancer Fund last year and now has been awarded a large grant from SSF. Here at Sahlgrenska Academy, her team is still of modest size, but it will grow during the autumn.
FOUR RESEARCHERS SELECTED FROM UNIVERSITY OF GOTHENBURG
This is the eighth time that SSF has named Research Leaders of the Future. This year, 16 researchers have been selected to receive a grant of SEK 15 million each over a five-year period. During the program, they will also participate in extensive leadership training. In addition to Carolina Guibentif, three other researchers at the University of Gothenburg have been selected to participate in the program: Johan Bengtsson-Palme, who studies pathogens of the future and resistance genes at Sahlgrenska Academy, and Julia Morud Lekholm and Anne Bjorkman at the Faculty of Science.
Read more on the SSF website: https://strategiska.se/en/they-are-the-research-leaders-of-the-future-framtidens-forskningsledare/
BY: ELIN LINDSTRÖM