ACADEMIC CEREMONY. At the celebration lecture before his conferment of an honorary doctorate, Bo Håkansson described his 45-year journey in the development of bone-anchored hearing aids–from the first patient to receive bone-anchored hearing aids, via mind-controlled prostheses and new diagnostic tools, to the hearing aids now being developed that can be entirely implanted under the skin.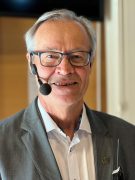 Bo Håkansson, born in 1953, is a professor of electrical engineering. His world-class research on the transmission of sound waves in human bone has led to a hearing aid, anchored in the cranium, that is now available all over the world and has been of vital importance to people with hearing loss.
"It is an honor to be able to appoint prominent people like Bo Håkansson as honorary doctors and have them link to us," said Dean Agneta Holmäng ahead of the celebration lecture held on Wednesday, May 4, in the Arvid Carlsson auditorium.
Benefit for individuals and society
Agneta Holmäng highlighted the advances and industrial investment in implantable hearing aids that Bo Håkansson helped make possible, and the focus on research successes benefiting individuals and society that has always been his driving force.
Bo Håkansson was chosen to become an honorary doctor by the Faculty Board in 2020, but the conferment ceremony has been delayed due to the pandemic.
A great day for many
Professor Bo Håkansson's conferment of an honorary doctorate at Sahlgrenska Academy is a great day for Gothenburg and for the development of medical technology, according to Johan Hellgren, a professor of ear, nose, and throat diseases, who hosted Håkansson and opened the celebration lecture.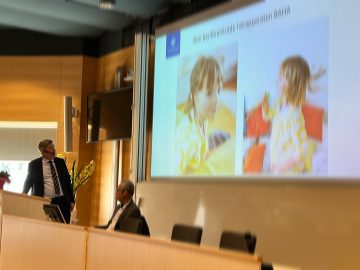 "It is a big day not only for Sahlgrenska Academy, for Bo Håkansson himself, and everyone close to him, but also for the girl born without both an outer ear and an ear canal but with an intact inner ear. She was able to receive a small hearing aid on a titanium screw that enables her to develop like any other child. It is also a great day for those of us in the specialty ear-nose-throat, who have had the privilege of working together for so many years," Johan Hellgren said during his speech at the celebration lecture on Wednesday, May 4, in the Arvid Carlsson auditorium.
He noted that it takes drive and creativity to conduct difficult projects over long spans and an ability to find the areas of collaboration required to see the projects through–qualities that Bo Håkansson possesses.
Important meetings
Bo Håkansson's personal story began on his parents' farm in Vetlanda in Småland. He became interested in medical engineering and orienteering at an early age, and these combined interests led him to study electrical engineering at Chalmers University of Technology, where he also became a doctoral student.
During his first year as a doctoral student, he met two key people, Per-Ingvar Brånemark and Anders Tjellström, just a few hundred meters from the podium where he gave his honorary doctor lecture at Sahlgrenska Academy this day. Professor Per-Ingvar Brånemark was the father of osseointegration. In his work, he had discovered titanium's excellent biocompatible properties and created the dental implant. Surgeon Anders Tjellström developed the surgical technique for the titanium screw in the skull.
Successful project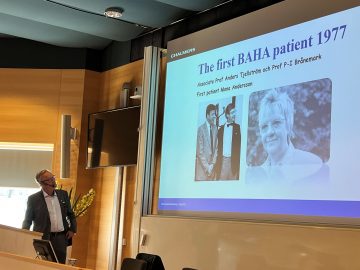 In the same year, 1977, Mona Andersson became the first patient to have a hearing aid anchored directly in the skull with a titanium screw through the skin. The bone-anchored hearing aid represented a clear improvement over the previous hearing aids that used the skull's ability to conduct sound, Bo Håkansson explained.
"The previous hearing aids were positioned outside the skin, which muffled the sound. The equipment was also unwieldy and very uncomfortable because it pressed hard against the skin.
Today more than 300,000 patients worldwide have undergone surgery with the technology and received a hearing aid that is in direct contact with the skull through a titanium screw. The project can be called a success, to say the least. Among the factors behind the success, Bo Håkansson had identified a very strong patient need and the fact that it was possible to offer a better solution.
Mind-controlled arm prostheses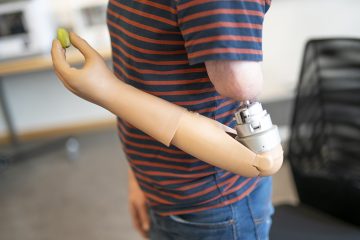 But nothing is so good that it cannot be improved. The skin penetration of the titanium screw requires daily care and entails the risk of skin infections, albeit small. In 2012, the researchers received approval to surgically insert the first fully implanted hearing aid under the skin, with the supervision of Anders Tjellström. Work with these implants now has a total of 116 years of use by patients, and a five-year follow-up will be published this spring. The research shows that hearing improves significantly and that no serious incidents have yet occurred among people who have received implants.
Together with Rickard Brånemark, Bo Håkansson supervised Max Ortiz's thesis, which initiated the development of mind-controlled hand movements in prosthetic arms. This development has attracted a great deal of international attention and helped highlight the work done at Sahlgranska Academy, as noted in the explanatory statement for the conferment.
By ELIN LINDSTRÖM