GRANTS. The Heart-Lung Foundation has awarded SEK 59 million to researchers in Gothenburg, divided among 32 projects. The Heart-Lung Foundation has awarded a total of SEK 333 million to Swedish research.
More than two million people in Sweden live with cardiovascular disease. And about 1.3 million live with some form of lung disease, such as asthma or chronic obstructive pulmonary disease (COPD). Cardiovascular disease–such as stroke, heart attack, and sudden cardiac arrest–continues to be Sweden's leading cause of death.
As Sweden's largest independent funding body of cardiovascular and pulmonary research, the Heart-Lung Foundation regularly funds several hundred scientifically selected research projects at Sweden's universities and university hospitals. This year, the Heart-Lung Foundation has awarded a total of SEK 333 million, thanks to the past year's successful fundraising.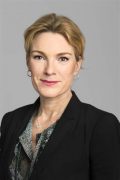 "It is crucial that research be allowed to continue to save lives and give people more healthy years of life. We would like to thank all the donors who continue to contribute to vital breakthroughs," says Kristina Sparreljung, secretary general of the Heart-Lung Foundation.
Personal digital care in the home
One of the researchers receiving funds from the Heart Lung Foundation is Professor Inger Ekman of the Institute of Health and Care Sciences. Her project examines how personalized digital care in the home can be used for people living with COPD lung disease or chronic heart failure.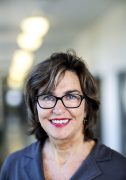 "As a result of COPD and chronic heart failure, many sick people become homebound. Our hope is that home support over the phone and a digital platform will make them more confident of their own ability to recognize signs of failing health," says Inger Ekman.
Cleansing mucus layers
Professor Gunnar C. Hansson of the Institute of Biomedicine also receives funds from the Heart Lung Foundation. His project increases knowledge of the mucus layer in our respiratory tract and examines what parallels can be drawn with mucus in the intestines.
"Our lungs are normally kept clean and free from inhaled particles and bacteria, but a mucus layer forms during infections that in healthy people can be coughed up. In chronic lung diseases like COPD, the mucus layer and bacteria become lodged in the lungs. Increased knowledge will lead to the development of new medications and treatments," says Hansson.
The principles of the adherent mucus layer in chronic lung disease are similar to those of the mucus that protects the large intestine. As a result, what we know about the mucus layer of the intestine will now be applied to the respiratory tract. Through analyses of samples from patients with various chronic lung diseases, we can find out which proteins form the mucus layer. The proteins are then studied further for a detailed look at their composition. This knowledge can then provide clues to new treatment opportunities.
Recipients of funding from the Swedish Heart Lung Foundation's major round of applications
(list may contain inaccuracies — the Heart Lung Foundation's announcement applies)
Fredrik Nyberg
Risk, insjuknande och komplikationer av COVID-19 hos hjärt-kärl- och lungsjuka –longitudinell nationell registerstudie med regelbunden datauppdatering
400 000 kronor
Maria Åberg
COVID-19 och sena komplikationer i hjärta-kärl och lungor i relation till tidigare kardiovaskulära riskfaktorer och socioekonomi
500 000 kronor
Hannu Kankaanranta
COVID-19 i Västsverige: långtidsuppföljning av hjärt- och lunghälsa med kliniska undersökningar och via register
400 000 kronor
Anna-Carin Olin
Exposure to airway irritants and the risk of permanent of respiratory impairment after Covid-19
400 000 kronor
Cecilia Lässer
The role of subpopulations of extracellular vesicles in asthma
1 200 000 kronor
Margit Mahlapuu
Molecular pathogenesis of atherosclerosis: studies of underlying mechanisms and new treatment strategies
1 200 000 kronor
Lena Carlsson
The role of genetic susceptibility and somatic mutation-driven clonal hematopoiesis in the development of cardiovascular disease in patients with obesity treated by bariatric surgery or usual care
1 500 000 kronor
Jan Borén
Triglyceride-rich Lipoproteins and Cardiovascular Disease
5 400 000 kronor
Anders Oldfors
New glycogen storage cardiomyopathies and road map to precision medicine
900 000 kronor
Mikael Fu
Optimizing Aldosterone Receptor Antagonist Therapy by Sodium Zirconium Cyclosilicate in Heart Failure (OPRA-HF)
1 000 000 kronor
Lennart Bergfeldt
Prevention av plötslig hjärtdöd: studier av elektrofysiologiska mekanismer på hög-risk individer och friska personer
800 000 kronor
Mats Börjesson
Individualized physical activity recommendations for cardiovascular health: a SCAPIS program in precision health
1 500 000 kronor
Inger Ekman
Person-Centred Care at Home (PCC at Home) in frail elderly with COPD and/or CHF: Shifting towards high quality, affordable preventive healthcare
1 200 000 kronor
Hannu Kankaanranta
Att leta efter det som inte syns: Precisionsmedicin för att identifiera karaktäristika och behandling för T2-låg astma hos vuxna
1 800 000 kronor
Annika Rosengren
Obesity over the life course and cardiometabolic disease – a perfect storm in the post-COVID-19 pandemic setting
4 350 000 kronor
Björn Redfors
Re-defining care in acute ischemic heart failure – focus on myocardial stunning
1 600 000 kronor
Johan Bylund
Galectin-3 regulation of host innate immune responses to M. tuberculosis infection
450 000 kronor
Fredrik Bäckhed
Gut microbiota and cardiovascular disease: from patient to metabolite
5100 000 kronor
Gunnar C Hansson
The role of mucins and associated molecules in the formation of an attached mucus layer in copd and respiratory diseases
600 000 kronor
Göran Bergström
Towards personalized risk prediction of cardiovascular disease
2 700 000 kronor
Maria Rosvall
Is an optimistic mind associated with healthy arteries and better lung function?
400 000 kronor
Anders Jeppsson
Prevention och behandling av komplikationer efter hjärtkirurgi
4 500 000 kronor
Göran Dellgren
Mekanisk perfusion med kort- och långtidspumpar vid terminal hjärtsvikt.
3 400 000 kronor
Mikael Dellborg
Psykisk ohälsa hos personer med medfött hjärtfel
500 000 kronor
Åsa Tivesten
Fysiologiska och patofysiologiska effekter av androgener inom hjärt-kärlsystemet
3 300 000 kronor
Jan Hedner
Utveckling av den första läkemedelsterapin vid sömnapné. Explorering av fundamentala mekanismer relaterade till inhibition av karbanhydras.
3 000 000 kronor
Anna-Carin Olin
Exponering, Covid-19 och påverkan på små luftvägar
2 400 000 kronor
Ludger Grote
"Sleep Revolution": Improved cardiopulmonary phenotyping during sleep in respiratory disease
2 100 000 kronor
Fredrik Nyberg
Risk, insjuknande och komplikationer av COVID-19 hos hjärt-kärl- och lungsjuka –longitudinell nationell registerstudie med regelbunden datauppdatering
1 500 000
Jonatan Oras
Hjärtdonatorer med hjärtdysfunktion – en outnyttjad möjlighet att öka antalet hjärttransplantationer
400 000 kronor
Marcus Lind
Hjärtinfarkt, hjärtsvikt, förmaksflimmer och stroke över tid i befolkningen och i riskgrupper; en analys med ett internationellt perspektiv.
1 800 000 kronor
Jan Lötvall
Extracellular Vesicles to Prevent or Treat Severe Respiratory Inflammatory Disease
1 500 000 kronor
BY: THE HEART-LUNG FOUNDATION / ELIN LINDSTRÖM