CONSTRUCTION INFORMATION. Akademiliv provides information on construction projects on Medicinareberget for the period weeks 41 – 44 (October 11 – November 5).

The periodic information about constructions on Medicinareberget is distributed with special mailings and in Akademiliv every four weeks. This autumn's information will be distributed out on November 8 and December 6.
If you have questions about the construction activities, feel free to email medicinareberget@gu.se.
This text contains references to addresses. An updated map is available in PDF format on the Campusservice Medicinareberget web page on the Staff Portal via link here.
There is also a power point presentation that summarizes the projects and is updated a few times a year. It is intended for use in meetings with employees and can be accessed via a page on the Staff Portal. The latest version can be found here.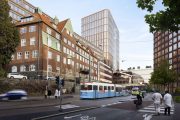 Sahlgrenska Life
New forecast for costs of premises

The Sahlgrenska Life program review regarding building 2 and 3 has now been completed. Many co-workers at the Sahlgrenska Academy have been involved and at this point there is a clearer picture of how large an area the University of Gothenburg plans to rent, which existing premises it will be vacating and what units will move into Sahlgrenska Life.
The university and real estate company Vitartes are now in agreement on taking the project into the next project phase. In parallel, the corresponding planning continues at the region of Västra Götaland regarding building 1.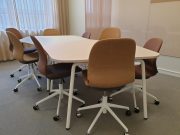 Campus development – upgraded study areas

In the corridor at the rear end of Café Anatomen, a couple of small group rooms have got new surfaces layers, furniture and textiles. With tables easy to pull apart and chairs on wheels, a multi-function study area that caters to different needs has been created.
In the corridor, a couple of seating niches have been equipped with laptop tables and sockets for mobile phone charging. Adding on a new kind of functionality where students can spend a moment of individual work on their own, utilising space that would otherwise not be used.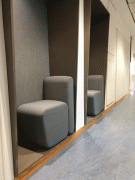 The renovation has been carried out during the pandemic and the rooms have been ready for a while now. With more students back on campus the group rooms will be a welcome addition and the students have already found their way there!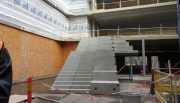 Natrium – new premises for the Faculty of Science
In Medicinarelängan
On top of Medicinarelängan, the roof will be replaced in November. 3 out of 5 stages are completed. The connection to Natrium remains.
Scaffolding will be put in place outside the entrance on Medicinarelängan 7B. Work on the superstructure and roof will be carried out there most of the period.
Inside Medicinarelängan, various works are constantly underway, including preparations for the restaurant.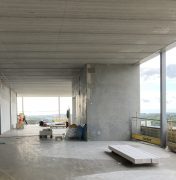 At the construction site
The superstructure erection proceeds according to plan and building 2 towards Nya Forsken is expected to be completed before Christmas. The facade installation on building 1 is complete and for building 2 it starts in December.
November 1st will be an important milestone when the insulation and waterproofing layer on the roof in house part 1 will be ready.
The glass sections are mounted on the link building between Natrium and Medicinarelängan and within the next period, the building will be covered with sheet metal.
More work booths close to Wallenberg Conference Center
Skanska adds two work booths that are placed on top of each other and then increases the area of its project office by 8×2.5 meters.
The accessibility to the garage will be regulated by traffic wardens for a few hours during the day of delivery. Preliminary delivery date is Friday 15 October.
BY: HELEN EASTERLING