NATRIUM. Due to the current remote work, few of us have actually seen Natrium's superstructure grow level by level. In this phase of a construction project, a few weeks' work can show a clear result. The interior work, on the other hand, is a lengthy process. On the lower floors it has already started. Preparations are being made in the cellar for the new herbarium, an infrastructure for students and researchers. With its new location, it will be gathered in one place, accessible, digitalized, and with the opportunity for expansion.
At the end of May, the floor of the herbarium was prepared with rails that were to be cast in for the upcoming compact archive that will house the herbarium, which contains about one million collections and is today in Botan.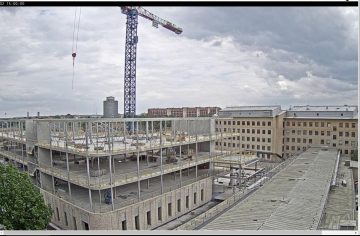 On the other six floors of the building, premises are designed for learning, attractive research environments and workplaces with improved conditions for collaboration around the great challenges of the future for people and the environment.
Natrium brings together the Faculty of Science's departments of marine science, chemistry and molecular biology, biology and environmental science, earth sciences, conservation and the faculty office.
AV: HELEN EASTERLING