Researchers Andreas Fhager and Justin Schneiderman cannot wait to start working in the brand-new laboratory for advanced medical technology at Sahlgrenska. The lab opens doors to world-unique clinical experiments right in the heart of Gothenburg.  
The new biomedical engineering research laboratory is planned to be completed in August 2021 with an opening ceremony October 6th at Sahlgrenska University Hospital.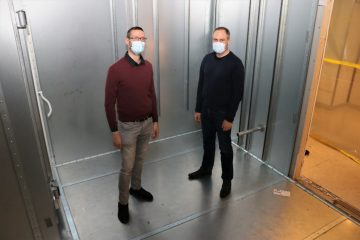 – Such great news, says Justin Schneiderman, and Andreas Fhager fills in:
– It is finally being built!
The lab will have double shielding for examinations and treatment: an outer RF shield and an inner magnetically shielded room, a so-called MSR.
Justin Schneiderman, Associate Professor at Sahlgrenska Academy, University of Gothenburg, will use it to better understand the human brain in health and disease.
– The size of this new MSR, the environment around it, and the location are ideal for us to finally start our functional neuroimaging studies for epilepsy and other clinical and neuroscience-related applications , says Justin Schneiderman.
Andreas Fhager, Associate Professor at Department of Electrical Engineering, Chalmers, will use it for his microwave research focusing on new treatment methods for cancer.
– This allows us to use an advanced technique that has the potential to dramatically increase the cure rate of cancer, says Andreas Fhager.

Andreas, how does the lab change the conditions for conducting your research?
– Here we will have a permanent facility and an electrically and magnetically shielded lab inside the hospital. Most importantly this will enable our research group to engage into clinical trials of microwave hyperthermia for cancer treatment. For our research in other areas of diagnostics the presence inside the hospital will enable us to conduct clinical research of the microwave technique. It will also greatly help when initiating new research collaborations and exploring new application areas, says Andreas Fhager.

Justin, what would you say is unique about the lab?
– There are only a handful of magnetoencephalography (MEG) systems situated in hospitals in Europe, none of which include system development at the level we will reach. Thanks to our tight MedTech West-based collaboration with Chalmers, we can finally begin combining development of the hardware and methods with practical clinical needs put first. Here we can run world-unique clinical experiments with far more ease, safety, and accessibility then ever before. Epilepsy is the first clinical target, but we have many other clinical and research-based studies in the pipeline, says Justin Schneiderman.

The lab will be ready soon, what's your feeling Justin?
– The next steps will also be challenging, but our experience in setting up and running experiments on human subjects with our system at Chalmers, KI, and even down in Germany, means we have the expertise and experience to hit the ground running here at SUH. It will be incredibly exciting to run the first on-scalp MEG recordings in this world-unique clinical laboratory, that is something I have personally been looking forward to doing since we started down this research path over a decade ago, says Justin Schneiderman.

And you, Andreas?
– This is a collaborative effort and a great pleasure to see it come together. And now we are in the beginning of an even more exciting journey with new research in several clinical areas with the goal to contribute to improve healthcare, says Andreas Fhager.
BY: JONAS LÖFVENDAHL

Facts about the lab
✅ The construction of the lab has evolved on intitiative by the MedTech West parties: Sahlgrenska University Hospital, Chalmers University of Technology, Sahlgrenska Academy at Gothenburg University, University of Borås and the Region Västra Götaland, a jointly owned platform for regional research and innovative cooperation in advanced medical technology. In addition to the parties' financing, the lab is partly financed by the Swedish Agency for Economic and Regional Growth with support from the European Regional Development Fund.
✅ Located at the department of Radiology at the Sahlgrenska University Hospital department in the new Image and Intervention Center (BoIC), Blå Stråket 5, Gothenburg. The work to develop sustainable management, complete and administratively integrate the lab in the hospital's organization, is project managed by the Innovation Platform and Gothia Forum during 2021.
✅ Will provide unique opportunities to collaborate and conduct near-patient projects by researchers from clinics, academia and companies. The lab will help enable pioneering research and innovation related to medtech solutions in areas such as neuroscience, oncology, trauma, cardiology and psychiatry.