IN MEMORIAM. Thomas Nilsson, Susanna Radovic and other colleagues at the Center for Ethics, Law and Mental Health, University of Gothenburg, share their remembrance of Henrik Anckarsäter.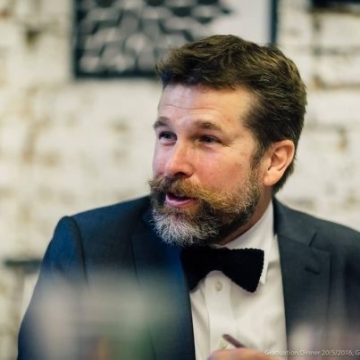 Professor Henrik Anckarsäter, Gothenburg, has passed away at the age of 54. He is survived by his husband, Rolf Anckarsäter. Despite his short life, he made his mark on Swedish forensic psychiatry research, the many doctoral students he supervised and the interdisciplinary Centre for Ethics, Law and Mental Health he founded and led at the University of Gothenburg.
New perspectives on accepted knowledge
Henrik was a true Renaissance man who combined his great interest in philosophy, literature, classical languages and other disciplines with studies as a doctor. During his studies, he demonstrated his ability to use his education to reflect on and provide new perspectives on accepted knowledge. His humanistic background served as a natural stepping stone to specializing in the field of psychiatry, with its focus on human behavior. This allowed him to coalesce his interests in a fruitful way, which was evident when he defended his doctoral thesis on neuropsychiatric background factors for violent crime in 2002.
In 2005 he was appointed associate professor at Lund University, and in 2008 and he assumed a professorship in forensic psychiatry at the University of Gothenburg. He was also a visiting professor at the University of Paris XII from 2006 to 2007 and in the Department of Clinical Sciences at Lund University, Malmö, from 2009 to 2015.
Truly interdisciplinary in his knowledge and achievements
After defending his thesis, Henrik began patiently working to form a network in western Sweden to bring together researchers and stakeholders in the field of forensic psychiatry. His strong interdisciplinary interests, combined with the ability to bring together individuals from widely different fields of study, laid the foundation for the research teams he formed in Gothenburg and Lund. From the outset, these organizations embodied Henrik's conviction that forensic psychiatric scientific work needs to be based on collaborations among different scholarly disciplines and, in practical terms, among regions, public authorities and higher education institutions. For Henrik, it was natural to involve many colleagues in his enthusiasm for research and questions of vital importance, such as responsibility and free will, legal special treatment and the limits and validity of psychiatric diagnoses. He was truly interdisciplinary in his knowledge and achievements and humble in the face of the research domain's complexity. At the same time, he had a remarkable ability to convey an earnestness and gravity to both research and clinical work that gave everything he touched the weight and importance it really deserved. In light of this, a small field of study such as forensic psychiatry came to be regarded in the context of the consequences it has for the individuals concerned. The Center of Expertise and Research at the University of Gothenburg that eventually resulted from Henrik Anckarsäter's vision still has these values as cornerstones, and it works to advance his scholarly heritage.
Openness, seriousness and enthusiasm
The projects Henrik initiated at the universities of Gothenburg and Lund have continued to contribute to new knowledge in the field of forensic psychiatry. Most doctoral students he supervised for their theses have continued on the academic track and now have become independent researchers and associate professors. As a result, the network he formed plays a fundamental role in the continued development of Swedish forensic psychiatry.
Henrik approached clinical work with the same openness, seriousness and enthusiasm that characterized his scholarly achievements. He had an ability to put patients at the fore and respond to each of them based on their own circumstances. He handled the delicate task that characterizes forensic psychiatric work of responding to both the patient's needs and society's need for protection through a scientifically rigorous approach in which he did not yield to concessions or interventions for which he had no objective and proven evidence. He zealously looked after the patient's best interests, countered stigmatization and stood up to the demands and conceptions that arose in the wake of individual events with an upright approach characterized by concern for the best interests of the (forensic) psychiatric patients. Children and adolescents with neuropsychiatric and behavioral problems particularly came to be the subject of his clinical focus, and many have been helped over the years by Henrik's care.
Intense work, filled with the joy of making progress
It was always stimulating and enriching to interact with him, both at work and outside of work, because of his unique personality, characterized by openness, lack of pretension and acceptance. Henrik could combine intense work, filled with the joy of making progress, with time for friendship and socializing. His reflection and mentoring ranged from scholarly issues to vital questions, where he did not shy away from difficult subjects involving views and goals. He maintained this attitude until the end of his life. In this way, he came to be not only a scholarly role model for us, his colleagues, but also a comforting guide who helped us to withstand and reconcile ourselves with the vicissitudes of life. Henrik Anckarsäter is missed beyond words, but his spirit and deeds live with us in our daily work, where the results of his efforts spur us on to continue along the path he charted.
Thomas Nilsson, Susanna Radovic and other colleagues
at the Centre for Ethics, Law and Mental Health,
University of Gothenburg