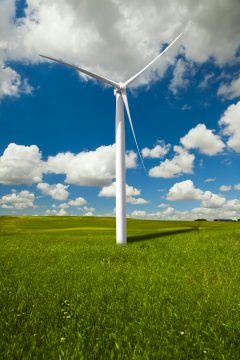 SUSTAINABLE DEVELOPMENT. The task of integrating perspectives on sustainable development in education has been passed from the previous network to a newly established committee that has been more formally tasked by the dean and heads of department. The committee will take stock and integrate sustainable development into all programs at Sahlgrenska Academy.
The dean took the decision on the committee, a three-year project, just before Christmas last year and work began about one month ago. The committee comprises one member per education committee, appointed by the department head, as well as two student representatives appointed by the SAKS student union.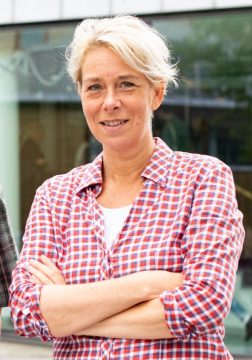 "We now have a committee with a formal assignment, and that means its members have a mandate to pursue these issues from the program and line organization of their department. This makes it possible, for example, to update knowledge of sustainability issues among teachers and to work more actively with sustainability labelling for courses," says Gunilla Priebe, who was responsible for for calling meetings with the previous network and who has also been given the same assignment for the committee's work for the rest of the year.
During the year, Gunilla will leave this role for the committee, and the position will be advertised to the faculty asking for interested individuals to contact them.
Spring seminar series
This spring, the committee is inviting all teachers at Sahlgrenska Academy to three seminars on the subject. In the series, Stefi Barna from the British Centre for Sustainable Healthcare, will share her experience of teaching and working for sustainable health and medical care in the US, UK, India, Norway and Sweden. The first seminar (April 28) will provide an introduction to the environmental impact of health and medical care, as well as examples of small-scale initiatives; the second seminar (May 12) will provide examples of larger initiatives for reducing environmental impact for entire hospital organizations and healthcare systems; and the third seminar (May 26) will apply these themes to Sahlgrenska Academy's programs with a focus on critical and innovative thinking.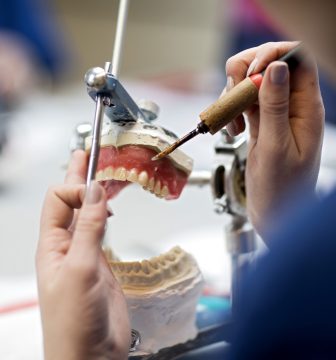 "The seminars are intended to pique interest and, above all, to be an opportunity for introductory updating of information on the subject for teachers. If the participants express interest, we can follow up these themes later with more comprehensive knowledge-updating initiatives, such as a few full-day workshops," says Gunilla Priebe.
She continues,
"It has become clear that the theme of sustainability needs to be linked more specifically to Sahlgrenska Academy's particular subject areas and that the work process for sustainability-labelling of courses needs to be developed. To that end, the committee is developing support for teachers who coordinate programs that clarifies the connection between the GU criteria and the UN's sustainable development goals, and lays out how to turn them into learning objectives and activities that are relevant for our professional programs."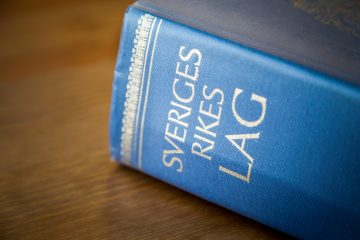 Legal requirement for sustainable development
Since 2006, the Higher Education Act has required all higher education to promote sustainable development. In conjunction with this amendment, Sahlgrenska Academy developed a plan for all programs to include an introduction to sustainable development and the Network for Sustainable Development in Education was formed to support this work. The Education Council has determined the network's mission since 2017 and as of this year, that mission has been formalized in a committee.
Sahlgrenska Academy's programs have made varying degrees of progress in integrating sustainable development, which is due in part to the nature of the programs, explains Gunilla Priebe.
"Master's programs in public health science and global health have clearly integrated these issues, thanks in part to the fact that master's programs address issues at the systemic and leadership level more often. The nursing programs, dietetics program and dentistry program have also actively worked with sustainability issues for a long time. Even the new medical program has made an active effort and appointed a head of sustainability, who works with this issue as 10% of a position."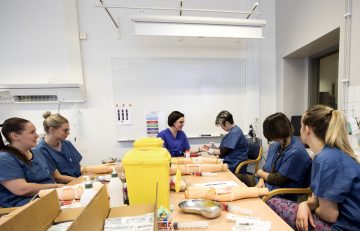 Multiple challenges
All programs at Sahlgrenska Academy are knowledge-intensive, and creating space for course components in already-packed schedules is a challenge.
"Many teachers have also expressed having limited knowledge of sustainability issues and may find it difficult to identify themes and include pinpointed components and practical examples in their course while creating a progression between different courses in the program, so that students gradually learn more and more," says Gunilla Priebe.
Many programs in the faculty have a micro focus, for example at the cellular level or on individual patients. That can make it challenging to systematically connect the courses as needed for the theme of sustainable development, that is, to create an understanding of how economic, social and environmental issues interact and how local events interact with regional and global themes.
"The journey from the micro to the systemic perspective can feel long and there's a risk that a theme of sustainable development might seem tacked on. For many course leaders, it's challenging to find a natural way, and in a reasonable amount of time, to connect the particular themes of the course to sustainable development. So the committee's action plan is focused largely on how to support course leaders in this work," says Gunilla Priebe.
Read more about integrating sustainable development into programs on Sahlgrenska Academy's pages in the Staff Portal: https://medarbetarportalen.gu.se/sahlgrenskaakademin/miljo/Integrering+av+h%C3%A5llbar+utveckling+i+utbildningen
BY: ELIN LINDSTRÖM