PEOPLE. Ola Bratt is our new professor of clinical cancer epidemiology at the University of Gothenburg. Back in the early 1990s, as a newly qualified doctor, he already understood that research and clinical practice must go hand in hand. He is now a well-established researcher in the field of prostate cancer, focusing on epidemiology, diagnostics, and treatment.
Changes happen fast, and a doctor's workaday life today is different than just a few years ago. Bratt, still a practicing physician, highlights the importance of the clinical foundation of his new job as professor. Today, keeping medical records is fairly time-consuming and needs to be done correctly. Then there are diagnosis and register management, and various treatments and medical technology that are being added and developed.
"Without an underpinning of everyday care, you don't know which research issues are most relevant, and how best to implement results. I also chair the national care program group for prostate cancer, and to have legitimacy to write guidelines on health-care provision, you also have to work in it," Bratt says.
So for him it was important that the new engagement meant time for clinical duties (30 percent), as well as research and training of doctoral students (70 percent) — and also for national assignments. The position is part-funded by Region Västra Götaland (VGR) and Regional Cancer Center West (RCC West), and includes the roles of examiner and head of the clinical graduate school as well.
Solid roots in Skåne
Bratt was born and raised in Lund, in a colorful and educationally minded family. His paternal grandfather was an elementary-school teacher; his father taught philosophy and mathematics at high school; his mother became an associate professor of education; and his sister also became a teacher. Now he is happy to finally be able to follow the family tradition as a brand-new professor, since February 1 this year.
"In primary and high school, science was my main interest. But I had some training in nursing during my military service, and thought I'd be a nursing instructor. So I took a supplementary course to become a nursing assistant, and worked as one for two years before I felt a doctor was what I actually wanted to be. But the experience of the nursing-assistant job, and of the team spirit in a ward and in surgery, has been valuable for me as a doctor. There and then, I learned that, for an activity to be characterized by quality and efficiency, every piece of the jigsaw puzzle needs to be in place."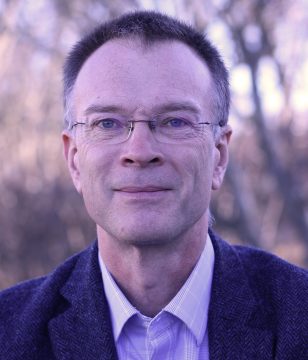 Why did you get interested in prostate research?
As the true son of Skåne he was, he studied medicine in Lund, gained his PhD at Lund University in 1999, became an associate professor there in 2003, and worked as a doctor in Lund and Helsingborg until 2014.
"In June, it was in fact exactly 30 years since I qualified as a doctor. Wow, how time flies!" he says in his charming Skåne accent, with a smile that is audible through his cell phone.
"I immediately got a substitute position at the urology clinic in Lund and felt that both cancer care and surgery suited me well. In 1991, I joined a project on prostate cancer and wrote my first paper on that before my medical internship in Helsingborg."
During the internship, by being in the right place at the right time, he received an invitation to apply for a research post with remarkably generous funding. It came from the research group in Lund that he had worked with before. The requirements specified for the donation were a good match for Bratt's profile and rung on the academic ladder.
"So there I was with a grant, but with neither project nor supervisor. The only thing I knew was that the grant was awarded to benefit prostate-cancer research. It was a very odd situation. That was my way into this line of work."
Three years in Oxford and Cambridge — as both doctor and researcher
As an Anglophile with a long-nurtured dream of a sojourn in the UK, he was irresistibly drawn to take the opportunity he was offered to do research at Oxford University, specifically with Professor Freddie Hamdy at the Nuffield Department of Surgical Sciences.
"Six months after I started in Oxford as a visiting professor, there was a vacancy for a prostate-cancer surgeon at the NHS Cambridge University Hospital. I applied and got the position, which was a combination of 70 percent clinical work and 30 percent research. Both my ex-wife, who worked there as an intensive-care nurse, and I enjoyed Cambridge very much."
In fall 2016, when it felt like time to return home, going back to Lund was a less obvious option. He was offered a professorship in Copenhagen and a lectureship at Lund University, but instead chose the post of adjunct professor at the University of Gothenburg. He could also have stayed in his Cambridge position.
"The reason I chose Gothenburg was that the clinical prostate-cancer research here is among the best in Europe, and probably Sweden's best. There were also advanced plans to start a prostate-cancer center here, and that too, of course, influenced my choice."
Now he thrives, beyond his expectations, in the large but conveniently laid-out city of Gothenburg. His home is within walking distance of his workplace, nature, and culture, with restaurants and cafés close by.
What's positive about working and researching on prostate cancer?
"In prostate-cancer care, you see your patients over a long period, and that appealed to me as a young would-be urologist back in the 1990s. I was able to monitor the patients for many years, get to know their families, and experience through them every phase of the disease. That was a fount of knowledge and in-depth understanding."
Having both a professorship and a 30 percent post as senior consultant at Sahlgrenska University Hospital's prostate cancer center seems to him an excellent combination.
Prostate-cancer research still lagging behind breast-cancer research
"When I started out in clinical prostate-cancer research, there wasn't much research in this field in Sweden. We were far, far behind breast-cancer research. For example, there were hardly any randomized studies to base the treatment on. To this day, we lag a long way behind. The breast-cancer gala and pink ribbon events have generated significantly more funding for breast-cancer research. Sweden's Movember campaign for research on prostate cancer is relatively new and gets only a fraction of the money and publicity."
Bratt thinks this is partly because the prostate is a small organ, hidden from view, and not a popular dinner topic. The age of men affected certainly has a bearing, too: overwhelmingly, they are older. They are less engaging, to "display" in ads and on social media, than young women who have undergone surgical breast removal (mastectomy). Many people do not even know what the prostate really is, while everyone can relate to a woman's breast.
"When I started, the median age at prostate-cancer diagnosis was 75; today we're down to 69. That's not because the disease has become more common, but because we've got better at detecting it at an early stage. Today, most of the guys we operate on are between 55 and 65."
Register-based research for organized prostate-cancer testing
Bratt chairs both the national prostate-cancer care program group and the national working group for organized prostate-cancer testing. Since 2004, he has been a member of the steering group for the Swedish National Prostate Cancer Register (NPCR).
For more than 15 years, he has also had assignments as an expert for the Swedish National Board of Health and Welfare. These have involved the drafting of national guidelines for prostate-cancer care and preparation of current principles for assessment of national screening programs. He also chaired the expert group that, in 2016‒18, investigated prospects of a national prostate-cancer screening program.
"So far, regional quality registers for organized prostate-cancer testing have been started only in Skåne and the West Götaland region, but more regions will follow. And we're also in the starting blocks for a national quality register for organized prostate-cancer testing. Most likely, it will be located at RCC West here in Gothenburg, with me as its registrar."
He thinks the Swedish National Board of Health and Welfare will decide on a national screening program for prostate cancer within just three or four years.
"It's going to take many years to get a screening program up and running in all the regions and age groups. For instance, it took a decade to get breast-cancer screening started. But thanks to the organization we've already built up in the national working group for organized prostate-cancer testing, and in the regional projects, we have the means of getting everything right from the start. From day one, we had an administrative system for automatic appointment invitations, and this system communicates directly with the quality register of the INCA ("information network for cancer care") database. All relevant data are entered — from the man's first blood-test result to follow-up after the cancer treatment ends."
By this, he means that they will be able to evaluate, quality assure, research, and obtain new knowledge faster than through breast- and cervical-screening programs when they were introduced. For those programs, national quality registers have only now been set up.
"Getting a professorship in clinical cancer epidemiology here in Gothenburg is just the right role for someone who's working to introduce register-and-evidence-based screening."
Many playing fields with synergies
Bratt is the lead investigator for a randomized multicenter Study of Active Monitoring in Sweden (SAMS) in localized prostate cancer, and a member of the steering group of two other randomized multicenter studies (SPCG-17 and PROPER). He is also a member of the steering group of PCBaSe, a research database based on the Swedish National Prostate Cancer Register, and the Norwegian Prostate Cancer Consortium (NPCC), a similar Norwegian research database. Funders of the projects include the Swedish Research Council, the Swedish Cancer Society, the European Association of Urology and Region Västra Götaland (funding under the Agreement concerning Cooperation on Medical Education and Research, ALF).
One may well wonder how Bratt finds time for all his commitments.
"I fully expect to be able to continue with the national assignments. They fit well with the focus of the professorship focus and connection with RCC West. But there's a bit less time for other things — you can't do everything."
He thinks this will be a win-win situation. First, the professorship will give him a platform that boosts his ability to work in the national arena for prostate-cancer care, especially for future register-based screening for prostate cancer. Simultaneously, he thinks the register work will pave the way for establishing a strong research group at Sahlgrenska Academy.
Clinical graduate school: a rewarding and exciting assignment
Bratt has substantial experience of academic teaching at undergraduate and postgraduate levels. The professorship in clinical cancer epidemiology includes the role of examiner for the clinical graduate school for clinically oriented doctoral students at Sahlgrenska Academy. The two-year program there comprises a total of 20 weeks' full-time studies (30 higher education credits), divided into four 5-week courses (of 7.5 HE credits each). Provided by Sahlgrenska Academy and RCC West jointly, it is funded by Region Västra Götaland.
"The clinical graduate school is something I'm really looking forward to. It has a very good reputation and was a key reason why I applied for this position. Between 2009 and 2014, I was course coordinator for something similar at Lund University. That was very stimulating, and I've really missed my previous involvement in postgraduate training. Being able to teach at doctoral level again will, of course, be a great pleasure."
This March, a new group of PhD students are to be admitted to the clinical graduate school but unfortunately, the current pandemic means that both the introduction and the first few weeks of the course will have to be web-based.
"Although we can provide the teaching parts of the program almost as well, we're missing everything that happens among people in the room: those spontaneous questions, the unplanned discussions in breaks, and the sense of community that arises in physical get-togethers. I hope the situation will change by the fall, thanks to the COVID-19 vaccinations and greater immunity, so that the second set of weeks' courses will take place on campus."
Maria Hedelin, director of studies for the clinical graduate school, and Thomas Björk-Eriksson, executive director of RCC West, warmly welcome Professor Bratt and the valuable foundation of academic and clinical activities he represents, for the benefit of the school's further development.
FACTS ABOUT OLA BRATT
Age: 58.
Born and raised in: Lund.
Lives in: Linnéstaden (a Gothenburg district).
Family: life partner and two stepchildren, two adult children of my own, and a second grandchild on the way.
Hobby: books (British novels, history, psychology, and biographies); country walks and the holiday home on Hallandsås ridge; picking wild fungi.
Inspired by: being able to systematize and impose order, for example by filling scientific and personal knowledge gaps.
Quotation: "The fundamental cause of the trouble is that in the modern world the stupid are cocksure while the intelligent are full of doubt." — Bertrand Russell, British philosopher, mathematician, and author.
BY: SUSANNE LJ WESTERGREN