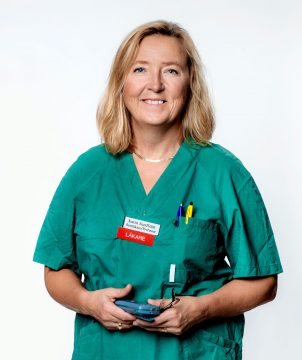 PEOPLE. Professor Karin Sundfeldt is a cancer researcher and gynecologist, passionate about collaboration and translational research. Over the years, this has proven to be a particularly fruitful and successful combination. Here is an interview by Susanne Ljungman Westergren, communications officer at the Institute of Clinical Sciences.
Karin Sundfeldt grew up in Stockholm dreaming of a creative career in theater or journalism. In the end, though, it was her passion for nature and biology that won and she was accepted to the medical program in Gothenburg in 1985, a city she really had no real connection to. But this is where she stayed and made a career. In 2011, she became an adjunct professor of obstetrics and gynecology at the University of Gothenburg. And in 2019, she was appointed in a competitive process to the professorship that includes a position at Sahlgrenska University Hospital.
She describes herself as extremely curious and stubborn, which is sometimes quite time-consuming but a good combination for a researcher.
"Curiosity makes you think about how things are and makes you want to start new projects to find answers. And the stubbornness makes me finish what I have started. These have also been good qualities in my role as a professor," says Karin Sundfeldt.
Women's hormonal systems affect their entire life cycle
Early in her medical training, she became fascinated by reproductive physiology and women's hormonal systems, which so strongly affect their entire lives. And her path to becoming a gynecologist began when she was a doctoral student at the Department of Endocrinology at the Institute of Physiology at Sahlgrenska Academy. The research looked at how the ovary works, though not at the organ level that she first assumed, but at the molecular biological level and with a focus on cell-cell adhesion, i.e., the proteins that hold cells together and what regulates these proteins in connection with ovulation.
"I added a 5-year doctoral degree in molecular biology and ovarian physiology to my medical training, and it was so exciting and fun. We used the very latest molecular biology techniques that existed in the 90's to study ovulation, the development of the ovarian follicle and the corpus luteum, and looked at what controlled the expression of the individual proteins that hold the cells together."
Cancer cells change shape to spread more easily
Then she turned her attention to the environment outside the cells, and this was how her interest in cancer deepened. When cancer cells develop and then metastasize, the cell-cell bonds change and adjacent supporting tissue can be invaded.
While continuing her studies to become a gynecologist after completing her PhD, she attracted her own grants and was able to take on her own doctoral students. Together, they explored how cancer cells change shape to to more easily move to other parts of the body and start growing there and how they differ from healthy cells. New advances in technology that led to new methods then made it possible to look for new measurable biomarkers for detecting cancer. And this led to the development of biobanks, also an important source of new research, which Karin has been very involved in.
"By both using our well-functioning cancer registers and maintaining the biobanks at the forefront with high quality, we can make great progress locally but also be part of larger networks and collaborations nationally and internationally to pick up the pace and respond more quickly to our questions."
Ovarian cancer is difficult to detect – and there are still no screening methods
She continued researching ovarian cancer, in particular, and was involved when the Sahlgrenska Center for Cancer Research (SCCR) was established in 2010. Ovarian cancer is a form of cancer that affects about 700 women a year in Sweden alone and is the deadliest of the gynecological cancers.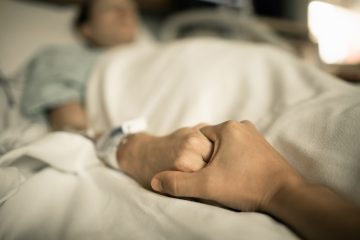 Cervical cancer is often detected early through the screening program that has been in place since the 1970s. For ovarian cancer, there is no screening method yet, and the disease usually leads to symptoms only at a late stage, when it has already spread, making it more difficult to cure. And once unclear changes in the ovaries are detected by an ultrasound, many are operated on "to be safe". About five women are operated on to detect a single cancer case. This is an unnecessary surgical risk for these women and leads to the loss of hormones if the ovaries are removed.
"We need to be more accurate in our diagnostics. There is a great need for a simple blood test that distinguishes unclear cases from women with cancer. And in a recently published study, together with researchers in Uppsala, we have developed a biomarker test with eleven proteins that differ between healthy and sick. We want to operate on the right women and at the same time not miss anyone with a tumor."
Early detection of ovarian cancer using nanoparticles
Using the same approach, she collaborates with researchers in Finland to make established biomarkers more sensitive.
"With a new type of nanoparticle-assisted analysis of individual sugars on cancer antigen 125 (CA125), we can find with great certainty ovarian cancer in its early stages. We have also helped show that the samples taken from women during cervical screenings, a type of fluid biopsy, can also show traces of cancer mutations from the uterus and ovarian cancer. The tumor cells and DNA have then been transported through the fallopian tube and uterus to the cervix and can be detected in very small amounts through the development of new hypersensitive RNA and DNA-based sequencing techniques."
Karin has just been awarded SEK 4 million by the Sjöberg Foundation to increase the pace of development of this analysis technique and the validation of its diagnostic safety.
"Although all the above progress must be evaluated in new studies, I think that they are three fantastic examples of good translational research that can quickly become important in everyday clinical practice."
The ability to control the work day – promotes research success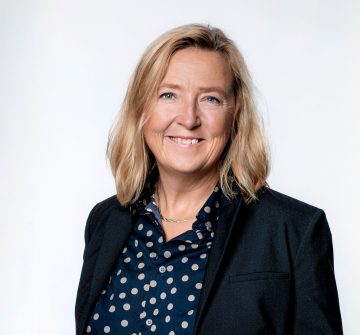 "I have now been working as a professor for ten years. In the beginning, I didn't notice much difference, but having more time to think and write has been crucial in allowing me to compile and publish our results, and with that comes the opportunity to apply for and attract more research grants so that my group can grow.
In clinical work, you know where you should be every hour of the day, while I control my days and intensity of research work. That's a great deal of 'freedom with responsibility' that suits me well."
Despite her professorship, Karin continued to work clinically, about 50–60 percent at the clinic and with surgery, but in 2019 she reduced this to 30 percent. She believes that clinical work is an important part of her profession as a doctor and gynecologist and that it creates balance and ensures she is well-grounded for the research she conducts.
Trust and grants drive progress forward
"Working translationally over the years has proven to be particularly fruitful and successful. Because when questions from clinical work at the hospital meet basic research, new interesting approaches present themselves to theses and the new methods that can solve the questions." But she also wants to emphasize that trust and grants are needed.
I have received many grants over the years and always felt that they showed that someone trusted my ideas and what I wanted to build. This has felt meaningful. When I lecture for young doctoral students , I usually talk about the importance of having fun at work, always being curious but also persistent. It is especially important to stubbornly continue to publish, present your research, be seen and be able to apply for money. Getting money is the only way to become independent and continue to do research you believe in."
What are your plans?
"In addition to continuing to work for better diagnosis and screening of gynecological cancer, in January 2021, we will be starting a node for severe endometriosis surgery, one of four units in Sweden. This will be done within the framework of the National Board of Health and Welfare's National Highly Specialized Care."
Not only does this mean centralized and high-quality surgical care for individual women with severe endometriosis, they will also now have a unique opportunity to support research on this difficult disease.
And at the Academy, she has had greater responsibility for teaching questions for a few years. This has been a new challenge that has also been impacted by the pandemic.
"In addition to COVID-19, which has led to a major transition to online teaching and digital components, in recent years I have worked with planning and preparing for the new 6-year medical education that leads to a medical license."
TEXT: SUSANNE LJUNGMAN WESTERGREN
MORE ABOUT KARIN SUNDFELDT
Age: 58
Lives in: Torslanda
Family: Mikael, 40,000 bees and 3 children out of the house
Hobbies: All types of outdoor activities, skiing, cycling, the sea, the garden
Inspired by: Friends and family
Motto: Be curious, trust your inner compass and have fun