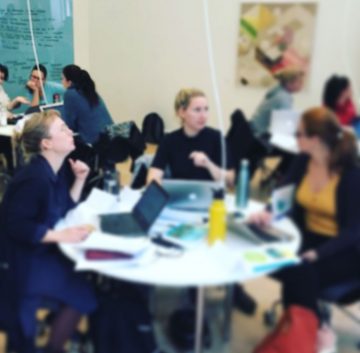 EDUCATIONAL DEVELOPMENT. The exam in quality development and improvement knowledge for our nursing students in their final semester has recently changed from a standard turn-in group assignment to an exam that also assesses the group's work process using Active Learning Classrooms (ALC). The teachers behind this change, Christopher Holmberg and Linda Åhlström, have now received Sahlgrenska Academy's 2020 Pedagogical Award.
You may not nominate yourself for the award, and the two award recipients were very surprised when they received a call this week from Silvana Naredi, vice dean of education.
Good to recognize teaching
"My first thought was 'what have I done now' when I got a call from the vice dean," says Linda Åhlström with a laugh. "I was surprised, but of course very happy when I understood what it was about.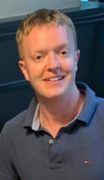 "Without good teaching, we cannot have good research, as Silvana Naredi so nicely put it when we spoke. I really think it is good that we have these kinds of awards that draw attention to teaching, such as the Pedagogical Award and the title for outstanding teachers, Excellent Teacher," says Christopher Holmberg.
Both Linda and Christopher are senior lecturers at the Institute of Health and Care Sciences, and combine their teaching and research with employment as chief nurses at Sahlgrenska University Hospital: Linda in the orthopedic ward and Christopher in the psychosis ward at Sahlgrenska University Hospital in Mölndal.
Enjoy working together
They have been teaching colleagues since 2018, and, when talking to them, I can tell that they really enjoy working with each other. Together, they are responsible for a course in quality development and improvement knowledge in the final semester of the nursing program. The exam for the course was previously in the form of a group assignment where the students submitted their work as a written report. In evaluations, the students complained that the task was unclear and caused stress. The teachers also felt that the student submissions were unclear and required a lot of resources in the form of follow up assignments.
With pedagogical development funding from both the Unit for Pedagogical Development and Interactive Learning (PIL) and Sahlgrenska Academy, the exam has now taken on a completely different form, based on Active Learning Classrooms. And after the changes, the students now praise the exam in evaluations.

"We wanted this module to be more effective and more student-centered, so we chose to create a new exam based on Active Learning Classrooms (ACL). We have some rooms at Hälsovetarbacken that are equipped with round group tables, whiteboards and computer screens so that they can serve as ACLs," says Linda Åhlström who has long been active in the PIL network for active learning and ACLs, which all teachers at the University can join.
From group work to Active Learning Classrooms
For the autumn of 2019, the exam was changed into a four-hour module in rooms at Hälsovetarbacken that are adapted for use as Active Learning Classrooms. Here, students can meet in groups around tables, and the rooms are equipped with whiteboards and other aids that may be needed for this activating form of teaching. The exam now consists of the entire process, where the students learn from each other in both small groups and in large groups. Instead of the previous group report, students now submit the PowerPoint they create during the exam for support when describing their improvement work.
Before the exam, students prepare an example of something they have encountered in health care that they want to improve which, together with their classmates, they can then discuss in detail.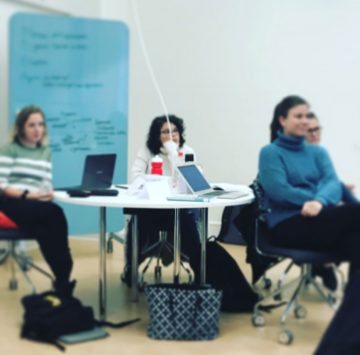 Examples, include how to work on a ward to prevent the occurrence of pressure ulcers, prevent malnutrition or ensure secure patient communications. The students use established models and tools for improvement work, such as the PDSA cycle (Plan-Do-Study-Act) and SMART (specific, measurable, accepted, realistic, time-bound) goal formulation, says Holmberg.
Prior to the exam, they have attended lectures and studied course literature, and have been clearly informed that they are expected to take responsibility in the group and that they need to participate actively to pass the exam. During the exam, the teachers walk around, listen to the discussions and serve as a sounding board.
Real-time feedback and quiz
The second time the exam was given as an ALC module, before the pandemic this spring, adjustments were made based on course evaluations: the teachers added an extra hour, real-time feedback was introduced through mentimeters during a preparatory lecture and all students had to pass an online quiz on Canvas before the exam to ensure that everyone had the required prior knowledge needed for the exam.
The extra time, the use of real-time feedback and the qualifying quiz were appreciated by the students. On the ten-point scale, the module received an average of 8.5, with a median value of 9. Moving the exam to Zoom this autumn also worked well, but the overall rating dropped to 7.5 in the evaluations.
Fun exam
"The students were almost a bit surprised that an exam can be so fun. The campus-based Active Learning Classroom exam seems to be most appreciated," says Linda.
"At the same time, we see that the chat function in Zoom has advantages for students who are less active in classroom discussions, and we are considering how we could incorporate some form of chat function even when we can return to campus ALCs," says Christopher.
To study how students experience how the exam changed, the same questionnaire was used before any change were made, after the teachers introduced the Active Learning Classroom component, after the addition of real-time feedback and quizzes, and after the entire component was moved to Zoom this autumn because of the pandemic. The results have been shared with other teachers and will also be published in an international journal.
In addition to the recognition, the Pedagogical Award also includes SEK 100,000 for use for pedagogical improvement.
"A dream would be to be able to go to the international conference on Active Learning Classroom when we may travel again. Or, if we continue to have to live with distance teaching, be inspired by how work with distance education is done in Australia," says Linda.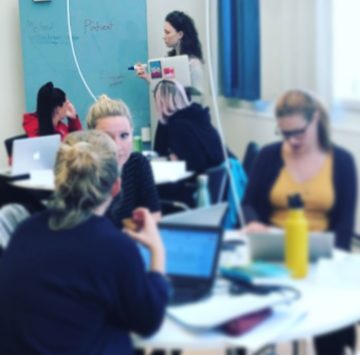 The full explanatory statement: 
Sahlgrenska Academy's 2020 Pedagogical Award goes to Linda Åhlström and Christopher Holmberg, senior lecturers at the Section for Learning and Leadership for Health Care Professionals at the Institute of Health and Care Sciences. They receive this award for development and implementation of a summative assessment (exam) in quality development and improvement knowledge in the nursing program. The module uses Active Learning Classrooms. This method enables an examination not only of the results but also of the work process. The project has received pedagogical funding and has been consistently well received by students and teachers, and the results will be published in a journal. These efforts can be an inspiration for other educational programs.
This year, nine teachers or groups of teachers were nominated for the award. The Council of Education's working group that prepared proposals for award recipients consisted of Silvana Naredi, Helle Wijk, Lena Hartelius and Linnéa Mundin (student representative).
TEXT: ELIN LINDSTRÖM
PHOTO: PRIVATE