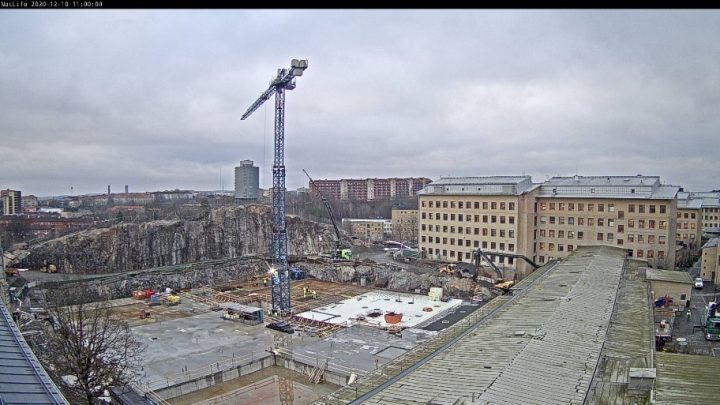 CONSTRUCTION INFORMATION. Akademiliv provides information on the construction of Natrium on Medicinareberget for the period weeks 51-02 (December 15 – January 15).

The current information about constructions on Medicinareberget is distributed with special mailings and in Akademiliv every four weeks. As far as the information mailings are planned, you will receive these mailings with information January 18, February 15, March 15, April 12, May 10, June 7 and August 16.
In regards of covid-19, there is currently no impact on the progress of the projects, but developments can change quickly. The University of Gothenburg and Akademiska Hus are closely monitoring developments and are making adjustments as needed.If you have questions about the construction activities, feel free to email medicinareberget@gu.se.
This text contains references to addresses. An updated map is available in PDF format on the Campusservice Medicinareberget web page on Medarbetarportalen via link here.
Outside the construction site
During week 51 to 02 the closed car lane will remain so due to installation work. Troubleshooting regarding lighting is also ongoing.
On the construction site
In week 50, an important critical milestone was reached when the final part of the base slab was completed for the coming erection of prefabricated elements that will start in January 2021. The dark blue area in the illustration shows the completed surface.
Casting will take place in the green area during the Christmas week. Earthwork will be carried out in the yellow area to be followed by casting after New Year.
In week 50, the yellow crane will be disassembled and a larger crane will replace the blue crane. This work will be carried out over two occasions. The new red/white/blue crane will be assembled Thursday to Sunday in week 51 to be ready beginning of week 52.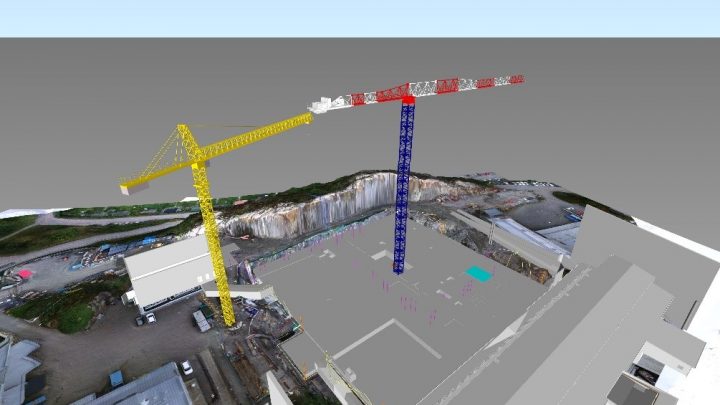 Asphalting of the construction road will be done to improve the environment around the construction. A motor grader will prepare the surface before the asphalting, which means slightly increased transports in the area.
Work on Teknikhuset starts in December. Scaffolding will be built on the outside, towards the EBM yard.
Inside Medicinarelängan
Inside Medicinarelängan, work continues on the lower floor. On the entry floor, floor work is proceeding. The activities continue to a lesser extent during holidays and is not completely closed.
The construction team at Skanska and Akademiska Hus thank us for a good cooperation and sends their best wishes for Christmas and a Happy New Year!