INTERNATIONAL POSTDOCTORAL RESEARCHER. An exciting and fun filled adventure during which you develop a great deal in a short period of time. This is how Kristina Johansson summarizes her experience as a postdoc at the University of California San Francisco (UCSF), where she has been working since the autumn of 2018. "The best thing is that you have the opportunity to see entirely new ways of working and you can try combining different methods to find your own preference."
The idea of going abroad came to her early.
"I realized that I wanted to pursue a career in academic research while I was studying for my bachelor's degree in chemical biology at Linköping University. You need to have experience from abroad to be able to start an independent line of research in Sweden. Madeline Rådinger at the Krefting Research Centre in Gothenburg was my mentor during my doctoral studies. She encouraged me to think about a future postdoctoral position at an early stage, and she helped me to make a good strategic choice."
You decided to focus on working with a specific research director, rather than on applying to a specific university. Tell us about that decision.
"My main area of research interest is microRNA. This sparked my curiosity for the research director, Mark Ansel, who is a pioneer in the area of microRNA and asthma. At that point he was still in the middle of his career. As a postdoc, when working with a research director not yet fully established, you have the opportunity to play an important part in that person's career. You need your mentor and your mentor needs you. If you work with a more senior researcher, this person may be away a great deal of the time and, as a result, is unable to invest time and energy in your project. You may then find yourself in a situation where you are being trained by another postdoc in the lab, instead of the actual expert.
Mark has been an exceptional mentor. I have learned a great deal in a short period of time, and I have had access to resources that I would not have had in Sweden. It was also through Mark that I came into contact with my other mentor, asthma researcher Prescott Woodruff. Prescott has helped me to broaden my network; in particular, he has shown me how to work as a clinical researcher and how to manage large clinical studies."
What is the best thing about being a researcher in another country?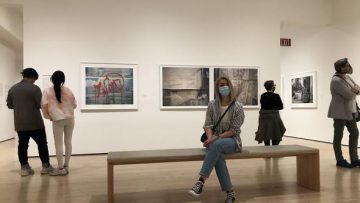 "The best thing is that you have the opportunity to see entirely new ways of working and you can try combining different methods to find your own preference. I have been able to work in two different research teams, one within the Department of Medicine, and one within the Department of Microbiology and Immunology. I have never felt budget constraints on my projects. That is a real luxury. It is also a bonus that I have had the opportunity to mentor students.
The tech boom in San Francisco has put its stamp on UCSF, which attracts many very talented researchers. There are doctors working clinically here, while at the same time running major bioinformatical research studies in which they are writing code to analyze large patient data material. It has been an incredible experience to be able to work so closely with a team that combines knowledge from the asthma clinic with bioinformatics, mouse models and wet labs."
What other experiences will you be bringing back?
"The greatest difference from Sweden is the tempo, which is much higher here. Everyone is working all the time. Very few take vacations, and, unfortunately, we don't even have coffee breaks at work. Hierarchies are more evident. At my job, we never eat lunch with the boss, something we did almost all the time in Sweden. Contacts with both managers and colleagues are more formal. It is important to keep everyone informed and check back before making decisions. It can sound tough, but it is still a lot of fun to be a researcher in the US, especially as you have the opportunity to work with inspiring, talented people who are passionate about their research."
You are returning to Sweden in January 2021. What do you hope your postdoc will lead to?
"I have composed a research program with my own specialization that is based upon my studies at UCSF. My goal is to establish an independent research line in Sweden within the field of asthma. I hope that my research will eventually lead to important discoveries that can make a difference for people suffering from asthma and allergies."
You recommend doing a postdoc abroad to everyone that has the opportunity. Why?
"Moving abroad is a valuable experience to have in your thirties. You broaden your horizons, both as a researcher and on a personal level. Doing a postdoc in San Francisco was a good choice for me as the area also afforded interesting job opportunities for my husband. This has been a shared adventure. We became closer as everything around us was so new.
Being in the US during these turbulent times, with the COVID-19 pandemic, record-breaking forest fires in California, and mass political protests has made me grateful for what I have. I have been reminded not to take anything for granted. It is wonderful to have that sense of feeling brave enough to do it, and I do think going abroad is a brave thing to do!"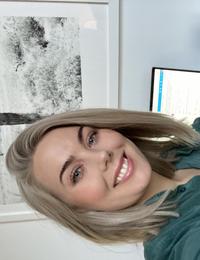 Interested in a postdoc abroad?
Here are Kristina Johansson's top 5 tips.
Start planning well in advance, as early as 1–2 years before completing your PhD. Look for a research director that is not too well established. Contact the research director to arrange a meeting, write a research program, and apply for funding.
Visit the research group before deciding to take the postdoctoral position. If the members of the group seem dissatisfied, it is unlikely that you would find yourself to be the only happy postdoc in the group. Alternatively: If a visit isn't possible, meet the research director or someone else from the research group at a conference.
Look into how much the group publishes, and whether the research director's name often appears last, or whether he or she is actually included in the collaboration. Do they publish fewer but larger articles in prestigious publications? In that case, you can assume that it will take time for you to get your work published. Does the group publish a variety of studies, both smaller and larger? That would give you the possibility to influence how the study is structured and where it gets published.
Take advantage of everything that you believe will help you in your future career. Go to seminars and lab meetings with other research groups. Test instruments and methods that you might not have access to in Sweden.
Take responsibility for doing what's necessary to make the most of your postdoc but ask for help when you need it. You will have more free time once you have arranged accommodation, opened a bank account, and taken care of other practicalities. Be open-minded, curious, and have lots of patience, especially in the beginning.
TEXT: ANNA VÖRÖS
This article was first published by the Institute of Medicine.