GRANTS. The Lundberg Research Foundation has awarded grants to 19 researchers, primarily for equipment for use in research of cancer, orthopedics, and kidney diseases. Of the 36 million that the foundation has awarded, half is going to researchers at the University of Gothenburg.
One of the researchers whose application was successful is Inger Gjertsson, who has been awarded SEK 2.5 million to purchase an advanced automated microscope. It will be used by researchers in oncology, rheumatology, and inflammation research who are collaborating to gain a better understanding of what happens immunologically in patients who develop rheumatological side effects after immunotherapy. This treatment is given to patients who have suffered from widespread malignant melanoma and to others. The microscope to be purchased with the grant money is a combined light and fluorescence microscope, a slide scanner. Its advanced electronics allow the detection of several different cell markers using a single tissue section.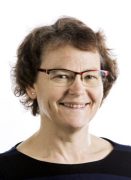 "The microscope has automatic high throughput, which means that it has the capacity to analyze hundreds of different sections at the same time. This saves a tremendous amount of time while also improving quality significantly. The microscope allows us to build up a histological image bank which, in addition to being pure research material, in the long run will also constitute a valuable and open reference image library," says Inger Gjertsson, senior lecturer at the Department of Rheumatology, where the microscope will be based.
Stiff competition
This year, the Lundberg Research Foundation had 57 applications to consider at its recent board meeting. This year's grants have been distributed to research projects focusing on such areas as diabetes, prostate cancer, leukemia, rheumatology, and osteoporosis. The foundation prioritizes applications for the purchase of technical research equipment, and the vast majority of grants have a geographic connection to Gothenburg, Lund and Stockholm.
"The large number of applications this year speaks to the high degree of activity in medical research. We are pleased to be able to provide urgent support for research in disease fields that affect many people very badly," explains Christina Backman, chair of the IngaBritt and Arne Lundberg Research Foundation.
"It was a pleasure to read this year's applications. The competition was stiff, and the applications show research that can result in phenomenal healthcare. It is often difficult for researchers to receive funding to invest in technical equipment, which is why the foundation's support has such an impact and is so important," says Olle Larkö, professor of dermatology and venereology and a board member of the IngaBritt and Arne Lundberg Research Foundation.
HELA LISTAN
Göteborgs universitet
Chandrasekhar Kanduri: Long noncoding RNAs in cancer – from basic mechanisms to theraoeutic applications
3 000 000 kronor
Caterina Finizia: Preventiv randomiserad studie avseende effekten av gap- och sväljträning på huvud-halscancerpatienter
300 000 kronor
Matti Poutanen: Högkänslig utrustning för att mäta könssteroider – forskning inom prostatacancer och osteoporos
2 000 000 kronor
Inger Gjertsson: Ansökan om stöd till infrastruktur i form av ett avancerat automatiserat mikroskop
2 500 000 kronor
Fredrik Bäckhed: Bakterier och mitokondrier i njur- och cancersjukdom
3 500 000 kronor
Ulrika Islander: Cell-sorteringssystem för studier av molekylära mekanismer vid inflammations-inducerad osteoporos
2 500 000 kronor
Lars Kölby: Stamceller inom plastikkirurgi, ryggortopedi och för att bota diabetes
typ 1 – fortsättning
2 000 000 kronor
Tao Jin: In vivo imaging för forskning inom ortopedi och reumatologi
2 500 000 kronor
Chalmers
Jens Nielsen: Validering av glykosaminoglykaner som en likvidbiopsiplatform för diagnos av urologiska cancerformer
1 500 000 kronor
Andreas Fhager: Samverkanslabb för mikrovågsteknik på Sahlgrenska
3 500 000 kronor
Lunds universitet
Lina Zhao: Datorbaserade metoder riktade mot PRMT5-enzymet, bidrar till behandlingen av leukemi
250 000 kronor
Marcus Järås: Utveckling av nya immunterapier för behandling av akut myeloisk leukemi
700 000 kronor
Nils Norlin: Molekylär profilering av vävnad – visualisering av cancerbiopsier i fler färger än vad ögat möter
1 000 000 kronor
Göran Jönsson: Utrustning för högupplöst och spatiell genomisk analys av tumörvävnad
2 000 000 kronor
Thoas Fioretos: Stöd till Medicinsk forskning genom Centrum för Translationell Genomik
2 700 000 kronor
Björn Nilsson: Geldokumentationssystem för forskning runt blodcancer och njursjukdomar
280 000 kronor
Mohamed Altai: Grundinstrumentation för att installera ett nytt teranostiskt laboratorium vid Lunds universitet
1 000 000 kronor
Diana Karpman: Upprustning av njurforskning vid Lunds universitet
2 000 000 kronor
Karolinska Institutet
Simon Elsässer: sORF peptider i tumörbiologi och diagnos
2 700 000 kronor
Lundbergs Forskningsstiftelse grundades av IngaBritt Lundberg år 1982 till minne av hennes make grosshandlaren Arne Lundberg född 1910 i Göteborg. Stiftelsen har till ändamål att främja medicinsk vetenskaplig forskning huvudsakligen rörande cancer, njursjukdomar samt ortopedi och prioriterar inköpav apparatur, hjälpmedel och utrustning. Under åren 1983 till 2017 har 512 anslag beviljats uppgående till sammanlagt drygt 778 MSEK. Stiftelsens förmögenhet är ca 1,5 miljarder. Forskning inom Göteborgsregionen har företräde. Stiftelsen har sitt säte i Göteborg.