SUSTAINABILITY. Restaurang Lyktan and Meeting Services receive commendations for their environmental and sustainability initiatives, using small ideas and changes to help guests make environmentally sound choices. The local organization Slow Food West presents the award.
The award was received by Johan Ehrnberg, kitchen coordinator at Meeting Services and Restaurang Lyktan, and Henric Snygg, development manager at the Services Unit at the University of Gothenburg. Their environmental interest and commitment to sustainability issues generated small ideas that made an impression on employees, who already are conscious and responsible.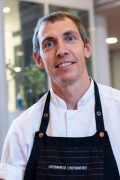 "We wanted to treat the ingredients with more respectfully and to use more organic products. Our philosophy is to work with organic and locally produced seasonal products," says Johan Ehrnberg.
Lots of organic ingredients
Organic products such as KRAV certified, MSC labeled fish products and game meat account for nearly half of the organization's purchases. The kitchen bakes both bread and pastries itself, using organic ingredients to a great extent. This is all served at Lyktan as lunches and to conference attendees. Wine, beer and non-alcoholic alternatives also are organic.
Saving green vegetables
In 2019 Meeting Services and Restaurang Lyktan started a partnership with their greengrocer to buy vegetables with imperfections that would otherwise be difficult to sell. This measure boosted the restaurant's creativity and raised awareness of the vegetables and fruit currently thrown away. During the first year, this saved two tons of fully edible fruit and green vegetables from being discarded.
Reducing waste
Last autumn the restaurant received a Waste Challenge environmental grant for repackaging food in the form of a lunch box instead of discarding it. It sells the lunch box at Meeting Service's reception to employees and students. In the first month Lyktan managed to reuse 129 kilograms of food through these sales.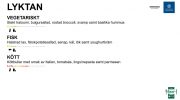 Applying nudging
Through small initiatives, the restaurant helps customers become more aware of how their choices affect the environment. At the cash register, a digital menu shows the dish being served for the daily special. The vegetarian special always appears at the top, knowing that guests choose the first item on the list more often. The fish and meat dishes appear below. In addition, Lyktan informs its guests of the climate impact (CO2) associated with each dish. In this way the restaurant seeks to make the climate impact of food a topic of interest and discussion. For climate reasons, the restaurant has also chosen to feature beef on the menu very rarely.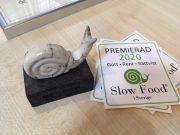 Slow Food West has long been the local association in Gothenburg for the Slow Food global grassroots movement, advocating a modern, revitalized holistic approach to food culture.
"In view of COVID-19, it's nice to see that Lyktan still accommodates guests who want to bring their lunch and that it has expanded the opportunity to sit outside, with good physical distancing," says Lauren Lissner, a professor at the Institute of Medicine who is involved in Slow Food West, which makes the award.
TEXT: ELIN LINDSTRÖM
PHOTO: MONICA HUNSBERGER