INFUTURUM. When Sahlgrenska Academy and Sahlgrenska University Hospital invited management of Sweden's university hospitals and medical faculties to InFuturum, the future of health care and artificial intelligence stood high on the agenda.
Dean Agneta Holmäng and Hospital Director Ann-Marie Wennberg welcomed the participants at this year's meeting. Beforehand they had gone through the agenda of the very first InFuturum conference held in Gothenburg seven years ago. At that time participants discussed issues such as how to reconcile research and health care with tight finances, the implementation of new treatments in health care, and technology in health care from a future perspective. Although the issues have progressed, they are still relevant, noted Holmäng, who mentioned research infrastructure as one of the issues to be discussed at this year's meeting.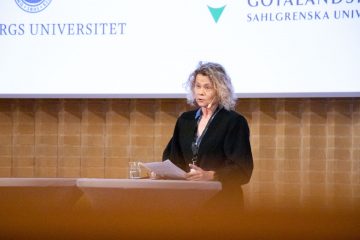 "If our infrastructure does not maintain the same level as in other countries with leading research, the ability of researchers and universities in Sweden to compete internationally will greatly deteriorate." She also noted that new technologies and data have the potential to improve health and make health care more efficient through early identification of risk factors that can be used for preventive health efforts and to identify the right treatment for the right patient.
Since 2004 the number of clinical drug trials started in Sweden has fallen by half, and Holmäng expressed concern over the diminished scope for clinical trials in Sweden.
"An important task is to enable university health care to become the node needed for clinical research to strengthen and improve care. How do we increase interest in conducting clinical studies in Sweden? How do we strengthen research and accommodate clinical research and development in health care and medical services?"
The InFuturum conference takes place every year, providing a forum for dialog between the management of the country's seven university hospitals and medical faculty management. During this year's meeting, key issues included ethics, law and a national approach to artificial intelligence (AI). How can we speed up processes that encourage implementation of AI in daily work in health care today?
"Physicians are skeptical by nature, so it is important to get started on a couple of specific projects within AI as an example for others," said Visa Honkanen, a physician and director of strategic development at Helsinki University Hospital. He had been invited to speak about efforts to implement AI in Finland.
Jenni Nordborg, the government's coordinator for Life Science, asserted that in just one year we have seen incredible developments in discussions about AI. All around Sweden we have also started to think more about ethical issues, such as within jurisprudence. Another key question for Sweden is which systems we will use in working on AI. In Sweden criticism of the systems that exist prevails, a skepticism not as common in the rest of Europe.
Jenni Nordborg would like Swedish institutions to adopt a more holistic mindset. Everyone sits alone in their own room thinking instead of having a national conversation.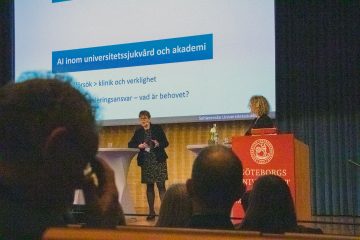 "The AI projects bring us together. We link up different institutions and have come closer together. One such example is the joint projects between Chalmers and the hospital," says Ann-Marie Wennberg, hospital director at Sahlgrenska University Hospital. "We also need to be more courageous in these projects and address the legal issues, which today is an obstacle. AI has great potential to help us with our challenges in health care and to enable us to spend more time with our patients."
TEXT & PHOTO: SAHLGRENSKA UNIVERSITY HOSPITAL/SAHLGRENSKA ACADEMY