YOUNG RESEARCHERS. About once a month, Sahlgrenska Academy Career Talks arranges meetings to discuss the career paths of young researchers, both inside and outside the university. Most recently, concrete advice was given on how to sharpen your LinkedIn profile, by invited speaker Ida Sjöholm, a freelance copywriter.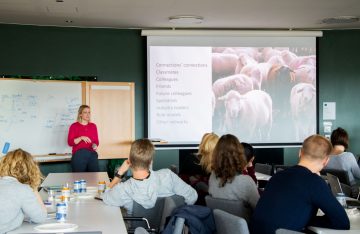 During Wednesday's two-hour seminar, it became clear to the audience – about fifty young researchers – that LinkedIn can be a valuable tool for anyone looking for the next step in their career. Exactly this, to help PhD students and post docs find their professional path, is the purpose of Sahlgrenska Academy Career Talks:
"Sahlgrenska Academy Career Talks aims to strengthen career guidance for young researchers at the faculty. Within our network, we develop and implement activities that inspire and support young researchers for their next step in the professional world," says Muhammad Wasi Alam, who is currently a PhD student in Oncology at the Department of Medical Chemistry and Cell Biology, and a member of the steering group of Sahlgrenska Academy Career Talks.
Hands-on tips
The network has the support from both the Council for third-cycle studies (FUR) and Future Faculty. In addition to Muhammad Wasi Alam, the steering group consists of Tafheem Masudi, postdoctoral fellow in Cancer research at the Department of Medical Chemistry and Cell Biology; Peter Micallef, PhD student in adipose tissue and cellular metabolism at the Department of Physiology; Cristiano Santos, PhD student in type 2 diabetes at the Department of Physiology; Patricia Mendoza, recently graduated PhD student in Cancer research at the Department of Medical Chemistry and Cell Biology; and Jenna Anderson, currently a scientific editor at Gothia Forum and Chair of Sahlgrenska Academy Career Talks.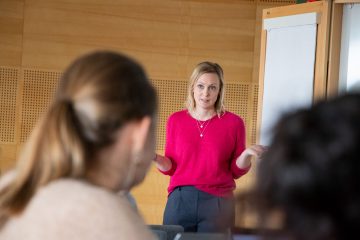 A wider role
Sahlgrenska Academy Career Talks was founded almost two years ago by Jenna Anderson along with the former postdoctoral fellow, Johanna Sundin, and former PhD student, Sean Bennet. Since then, the network has, among other things, organized inspirational lectures with people who received their postgraduate education at Sahlgrenska Academy, who discussed their progress in their careers. Several seminars have also provided hands-on tips on how to apply for external funding and how to improve your resume, or, most recently, how to use LinkedIn to build your professional brand on LinkedIn and be more proactive in their job search. The network will soon be rebranding itself as Sahlgrenska Academy Career and Network Development Platform, to reflect a greater focus on skill development and a wider role as a career-related platform at Sahlgrenska Academy.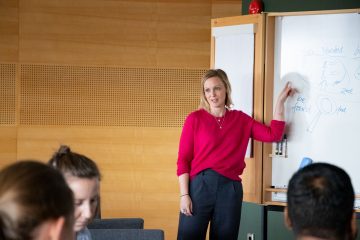 Get the algorithms to work for you
LinkedIn is a bit like Facebook, but with a focus on career and jobs. It is the leading platform for job seekers and recruiters. Like Facebook, LinkedIn is based on algorithms that control search results and what users see in their feeds. It's not only about finding the jobs, but also about letting the jobs finding you.
The free version of LinkedIn already offers a large number of features that are unknown for many users. "Start using the free features before thinking about getting the premium version," was Ida Sjöholm's advice. During her presentation she gave several good tips on what you can do to increase your visibility and your opportunity to appear in recruiters' searches.
Here are some of the tips Ida Sjöholm gave during her presentation:
Have a good profile picture. Anyone with a profile picture has 21 times as many visits to their profile page and receives 9 times more contact requests. Keep the photo professional – no pictures from the skiing holiday or taken at a private party. It is also possible to add a header image to the profile. This is not necessary but can be used to stand out. This image should also reflect you in your profession.
Your title should be your professional title and workplace, but be more specific: add keywords that describe your expertise. There is space for up to 120 characters.
Your About section is important for the first impression your profile page gives. In the free text field, explain yourself in a logical way. Be relevant and clear, and keep a red thread through the description of yourself. Focus more on what you are doing right now and how you would like your career path to develop, rather than what you have done in the past.
Your experience. Here you should be more specific than just titles. Make use of the fields where you can describe your tasks.
Skills and endorsements. Enter your most important skills here, as recruiters see these in their searches. You can enter up to 50 skills, however try to keep the 3 most important ones on the very top of the list.
Contact information. Recruiters may want to contact you, therefore don't forget to at least enter an email address where you can be reached.
Be loud and smart. Post your own posts on your timeline and comment on others. Many recruiters notice if you are active on LinkedIn. If the choice is between two candidates where one is active and the other inactive, they choose the one that is active. Post posts that are relevant to your profession, that would help you to build up your brand.
Set your career interests every three months. Enter your career goals and interests under the "Jobs" menu. This gives you a 90-day boost and makes you more visible to recruiters. Remember doing it again after 90 days to get a new boost.
Here you can see a sample of the presentation Ida Sjöholm held during the seminar: https://gubox.box.com/s/yx61e9lt9pzvo56mr3p2fezomh9pmtby
TEXT OCH FOTO: ELIN LINDSTRÖM