ASSIGNMENT. For almost four years, she has been an esteemed and energetic vice dean for doctoral education issues. Now she is advancing to a position as vice president of Education and Lifelong Learning at Chalmers University of Technology. Akademiliv has met with Anna Karlsson-Bengtsson.
"As society changes, doctoral programs are also revised and improved both at the university as a whole and through the faculty's own strategies.
"During my time as vice dean, the University of Gothenburg has been working at the university level to improve doctoral studies through new rules for PhD students. We have had to adapt, for better or for worse, and have had numerous and long discussions about how we at Sahlgrenska Academy can best incorporate the regulations. In some cases, we have let the central changes serve more as an inspiration for solutions that better suit our faculty," Anna Karlsson-Bengtsson observes.
Better for doctoral students and supervisors
Work on developing doctoral studies at Sahlgrenska Academy is truly a team effort, Karlsson-Bengtsson emphasizes, highlighting the other members of the Council for Third-Cycle Studies (FUR).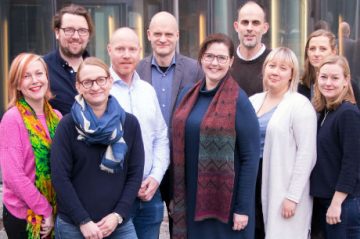 "It is a group of people with a genuine interest in doctoral studies who are motivated by the desire to create better conditions for our doctoral students and supervisors. Collaborating with the other members of the council has been really rewarding. There have been a lot of interaction and lively discussions."
As chair of the council, she has had particularly strong support from Vice-Chair Ulf Yrlid and the two academy-wide directors of study, Mia Ericson and Khalil Helou.
"During my years as vice dean, I have also received invaluable help from the administrators at the Faculty Office with whom I have worked. They are knowledgeable, helpful and very interested in ensuring that the administration of doctoral education is done right," says Karlsson-Bengtsson.
Eighty-five percent satisfied
The list of what Anna Karlsson-Bengtsson and FUR together have either initiated or helped others to implement is long. One example is SA-CONE, a network established by Future Faculty with support from FUR, where young researchers who have earned a PhD receive leadership training and become career coaches for doctoral students. FUR has also conducted an extensive alumni survey of former doctoral students, which showed, among other things, that 85 percent of respondents were satisfied or very satisfied with the doctoral program they completed at Sahlgrenska Academy. Thirty-five percent had held a postdoctoral position after defending their theses. Twenty-five percent worked within academia, but significantly more, 40 percent, would like to work at a higher education institution.
Many externally funded doctoral students
The council has also worked on the handbook "Assessing a scholarly thesis," which contains assessment criteria the examining committee uses.
New rules have also been developed to ensure that doctoral students have the opportunity they need to conduct their doctoral studies under the best possible conditions.
"A future focus on doctoral students employed by the region or by another health care provider would be good, because they risk having too little time and too high workloads due to pressures within the health care system. Two-thirds of Sahlgrenska Academy's doctoral students are externally funded doctoral students, and the faculty has just as much responsibility for the quality of their education as for the full-time doctoral students employed by the University of Gothenburg (GU)."
Favors fully-funded doctoral student positions
Karlsson-Bengtsson worries about the scope of experimental doctoral studies at Sahlgrenska Academy.
"The Faculty Board recently decided to return the funds for the department-based doctoral positions to the departments and, in effect, to reduce the number of project-linked doctoral positions by allowing part of the funds to be used for positions for postdoctoral students. I personally think this is a worrying development, because I believe it can have a negative impact on our supply of teachers and researchers in the long term," says Karlsson-Bengtsson.
Previously, the faculty funds allocated for doctoral studies had funded 60 percent or more of the salary for almost half of all doctoral students employed at the university, which helped provide a sufficient size to of doctoral programs.
"I really think that the basis for funding 'GU doctoral students' should be fully funded, project-linked education positions at the faculty now that FUR has worked out such clear and doctoral studies-focused criteria for assessing applications. I think that both quality and status would increase for doctoral studies if the positions were fully funded, and then you can also let the settings that provide a really good education account for a large part of the doctoral studies that we do," says Karlsson-Bengtsson. She adds that she thinks it is important, first of all, to regard doctoral studies as just an education, and not as part of the machinery for promoting research.
More foreign doctoral students are experiencing discrimination
Another initiative that the Council for Third-Cycle Studies has supported during Karlsson-Bengtsson's time as vice dean is the work environment survey for doctoral students conducted by the Doctoral Student Council (DoR) on behalf of FUR. The survey response rate was quite low in some departments, but the general picture is that many of our doctoral students (about 20 per cent) are more or less dissatisfied with their work environment.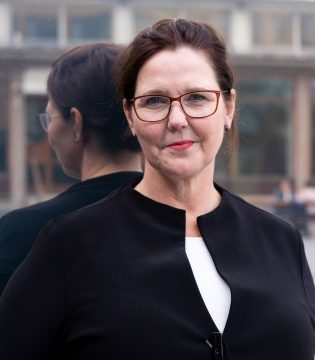 "Many indicated that they had far too much to do and that they felt very or quite stressed during the last semester. Twenty percent also stated that they had problems with their supervisors. We note that those who were dissatisfied with their supervision were also less satisfied with their work environment," says Anna Karlsson-Bengtsson.
The survey also highlights another problem that she believes will be an important task to be addressed by the next vice dean responsible for doctoral studies.
"Of the international students, 20 percent stated that they felt discriminated against, compared to seven percent of doctoral students with a Swedish background. Among other things, the discrimination involved a sense of exclusion because of linguistic barriers or feeling exploited in the group."
The supervisor is not the manager
Regarding the relationship between supervisors and doctoral students, she believes it is quite common for supervisors to adopt the role of immediate manager, when this responsibility really rests with the head of department.
"Follow-up discussions for doctoral studies and performance appraisals for employees are two different conversations with different purposes, which need to be carried out by different people. The head of department may happen to delegate the role of immediate manager to the supervisor, but this is a responsibility that the head of department cannot relinquish. And if the supervisor-doctoral student relationship ruptures, the head of conflict management needs to step in."
She reminds us that there are knowledgeable and dedicated study directors at the department level who are also on hand for doctoral students who need advice and help from an outsider.
"It is a knowledgeable and conscientious group!"
Anna Karlsson-Bengtsson has also been a member of the Research Ethics Committee since its inception, a committee that she actually initiated.
"I believe having a council for research ethics at the faculty allows issues to be highlighted and become visible. The council and its chair, Björn Rydevik, have a proactive attitude. For example, they have held seminars providing an opportunity to discuss different aspects of research ethics. The faculty can also draw on their expertise in planning and developing teaching initiatives, such as the upcoming national online course for international postdoctoral students."
Learning period ahead
So what happens now? The Nomination Committee at Sahlgrenska Academy has begun a search for Karlsson-Bengtsson's successor, and she officially assumes her new job at Chalmers on October 1.
"In the first year I expect to learn a lot of new things and gain insight into an organization that is new to me. It will be an enjoyable and intense learning period, and I look forward very much to working with the vice-chancellor's team and in what will become my management team, called GruLG. I have already met members of the team, and I am excited about working with them."
She will take with her a great deal of experience in working with talented people at Sahlgrenska Academy, both within the faculty and in the hospital, which has given her insight and respect for the very different situations people face.
"I am also brining with me a lot of energy that I have gained from having met so many doctoral students who have put their projects in motion with enormous enthusiasm, something that is contagious. It is wonderful to be involved when adults learn new things, and meeting them stimulates my own creativity," says Anna Karlsson-Bengtsson.
TEXT AND PHOTO: ELIN LINDSTRÖM