RESEARCH ETHICS. When the public opposes animal experiments, higher education institutions need to educate both the public and decision makers about why animal experiments are still needed. Through information, we can avoid laws and regulations enacted by decision makers that make biomedical research more difficult and place obstacles in the way of opportunities for finding new ways to treat diseases. Christer Säfholm from Karolinska Institutet, who recently lectured at the invitation of the Research Ethics Committee, urged Swedish colleges and universities to become more proactive in their communication about animal experiments.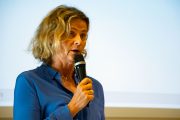 About 80 people had gathered in the Arvid Carlsson lecture hall for the seminar about research based on experimental animals, and an additional audience followed the seminar in the live webcast. During her brief introduction, Dean Agneta Holmäng noted that animal research continues to be necessary for many of the research domains at Sahlgrenska Academy, but that she could see that the methods had improved and been refined since she began conducting research herself. She emphasized the 3R Principles, which advocate that the research community constantly is to seek to reduce and improve experiments without jeopardizing research results.
Lessons learned from Parvo infection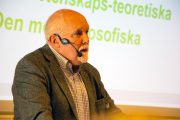 The invited speaker, Christer Säfholm, is a veterinarian and toxicologist who heads the Comparative Medicine unit at Karolinska Institutet (KI). He began by describing how animal-based research is organized at KI and shared lessons learned from the outbreak of Parvo infection there in 2017. Now KI has a three-part action plan that helps the organization act quickly and in a focused way if the infection returns, and he recommended that Sahlgrenska Academy adopt a similar action plan.
Highlighting animal technicians
Animal technicians play a very important role in animal-based research and in the animals' well-being, Säfholm pointed out. In addition to the mandatory training prescribed by law, KI has chosen to invest more in further educational training and has also created career paths for its animal technicians. They can become either managers or specialists in anesthesia, for example, which increases the status of animal technicians and improves collaboration with researchers.
"It is not about us and them. We have to work well together and that benefits both categories," Säfholm said. "Animal technicians are our main guarantors of good animal welfare. They see the animals every day and react immediately when they see the small, subtle differences signaling that something is wrong."
A very large part of the research at KI is carried out with animal experiments. A review of publications over a period showed that 42 per cent were animal-based in some way, and Säfholm guessed that the situation was roughly the same at Sahlgrenska Academy.
"At KI we do not see any miraculous new methods that will drastically reduce the need for animal experiments. Our analyses suggest instead that we will see a slight increase in the coming years," said Säfholm.
Inform proactively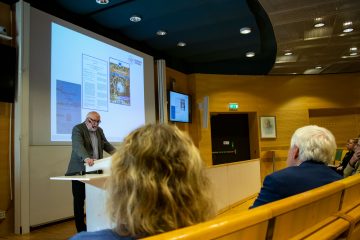 When higher education institutions are criticized for the animal experiments they conduct, we often become defensive in our communication. Instead of defending these criticized experiments before groups that will never think animal experiments are justified, we should put more energy into proactively explaining to politicians and to the public as a whole why it would be unethical to end animal testing and how this could jeopardize patient safety.
"Animal experiments are an area where we must expect some political control, but the extent to which politicians want to regulate is entirely determined by how the research community communicates with and educates the politicians. Like all other people, politicians are afraid of what they do not know," Christer Säfholm said, adding that it is also important to address the major crisis in reproducibility.
"Issues in reproducing results have been pointed out since 2005 and is something that bothers the research community and undermines the public's view of research."
As an example of proactive communication, he suggests inviting biology teachers in upper-second schools to visit so they can learn more about animal experiments and providing information directly to all members of Parliament in the Agriculture Committee and other key politicians.
"We need to humbly but proactively explain that it would be immoral to not try to treat a particular disease with research based on animal experiments while taking into account good animal welfare, of course. We must also be aware that we do not have a free pass in which the ends justify the means. We live in a new society today, where research and animal experiments are being questioned to a greater extent."
Of mice and men
The debate on animal experiments has become polarized. Universities assert that animal experiments are necessary to obtain gain a better understanding and that the animals are treated well. The critics, for their part, maintain that researchers torture animals to death and that the experiments performed are completely meaningless. From a moral philosophical perspective, the central issue is whether we think that humans have the right to use other living beings to find out more about diseases affecting humans.
"Ponder that question for a while. It is not easy to answer. What right do humans have to use other animals in this way? People have different basic outlooks on this," Christer Säfholm noted.
Where do you draw the line?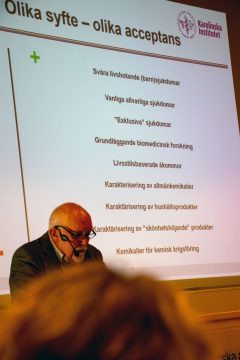 For many, the purpose of the research is what determines whether it is acceptable to use animals in research.
"Regarding new ways of treating diseases that are life-threatening for children, most people think that it is good to use animals in research, and many also think that it is okay in research on serious diseases that affect many people. But the farther down the list we go, the more people are critical of animal experiments. Where we draw the line is an individual matter, but we draw it somewhere."
Regarding which animals it is acceptable to use in research, different people have different opinions. Pets, such as dogs and cats, are often considered cute family members, while many find it easier to reconcile themselves with the idea that rodents are used in research.
"Not to mention pests, which are viewed by some as the opposite to animals. If we treated research animals the same way that we combat pests, we would be punished under the law," said Säfholm.
Moral responsibility
During the 1960s, thalidomide was considered to be safer as a sedative than older medicines, and it was given to pregnant women and others. It turned out to cause serious birth defects, and it caused a huge scandal in the pharmaceutical industry. The thalidomide scandal is perhaps the most well-known example of a case where a study on animals, such as rabbits, could have prevented the disaster. Based on the experience and knowledge of this tragic event, the effects of all new pharmaceuticals on reproduction are studied in two animal species.
It will take many years before we can accept in vitro studies and apply them to humans without first having conducted animal experiments. Säfholm says we have a moral responsibility to conduct animal experiments when necessary, and he pointed to another drug that, unlike thalidomide, was stopped in time.
"A drug to treat severe kidney disease was tested on monkeys and dogs to investigate how the eye was affected by the drug. Some would say that a kidney drug has nothing to do with the eye, but a histological examination of the fundus of the macaque's eye showed that a single cell layer of epithelial cells had changed. In experiments with dog, the dog developed cataracts."
He continued:
"Let's say that the Ethics Committee did not approve experiments on monkeys and dogs, that the drug went directly from in vitro to humans and that people had become blind. Who then had the moral responsibility?"
The seminar was the second in the Research Ethics series at the Academy, a faculty meeting open to the public arranged by the Research Ethics Committee.
TEXT AND PHOTO: ELIN LINDSTRÖM