GRANTS. Davide Angeletti, who has been a postdoctoral research fellow in the Institute of Biomedicine for one year, has now been awarded one of the most prestigious grants a young European researcher can receive: the ERC Starting Grant. The grant from the European Research Council gives him more than SEK 15 million for his basic research on antibodies and B cell immunological mechanisms.
Eventually Davide Angeletti's research probably will help us produce better vaccines so that people at risk do not need new vaccines every year and so the world can better withstand a new pandemic. But it is clear that basic research is Angeletti's passion, and his research focuses on that. He wants to clarify the differences among different B cells in their response to external threats, which depends on a phenomenon called immunodominance.
Many small mutations
Proteins expressed in the influenza virus mutate frequently, and even though only a small fraction of the proteins change, our antibodies do not recognize it. The immune response that is activated recognizes only a few parts of antigens it comes in contact with, Angeletti explains. So that I can keep up with him, he picks up a pen by his small whiteboard and draws an important influenza protein in the shape of a mushroom.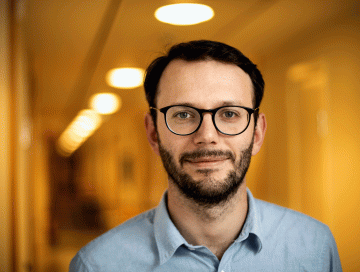 "Antibodies react to pathogens only on the mushroom's cap after the immune response starts. Our short-term goal is to try to understand why this is so. Why doesn't the stem of the mushroom produce the same response as the cap?"
To try to answer the question, he works with both animal models and cell cultures, using a modern technique known as single-cell sequencing. He also has access to a specific model for the influenza virus that he was involved in developing during his time as a postdoctoral researcher at the National Institute of Allergy and Infectious Diseases (NIAID) in Washington, D.C.
Following the antibodies' development
As the project proceeds, Angeletti and his colleagues will also examine blood samples from people who have been infected with the flu and vaccinated.
"A collaboration that I began during my time at the National Institutes of Health (NIH) provides access to a study of blood samples from residents of some villages in Vietnam, which makes it possible to follow the development of antibodies associated with changes in the virus," Angeletti says. "We hope that the collaboration will lead to a way to predict which immune response the vaccine will produce in people previously vaccinated so that we can develop new ways to direct the immune response against parts of the virus proteins that it does not recognize, that is, the stem of the mushroom."
Good collegial atmosphere
Davide Angeletti pursued undergraduate studies in his native Italy, defended his doctoral thesis at Karolinska Institutet and then spent several years as a postdoctoral researcher at NIH in Washington. When I meet him in his office on the sixth floor of the biomedical high-rise at Medicinareberget, Angeletti explains that he gets on well in Gothenburg. He made his way back to Sweden from the United States with his family, and both Davide and his wife, Aishe, who is also a researcher at the institute, received a warm welcome.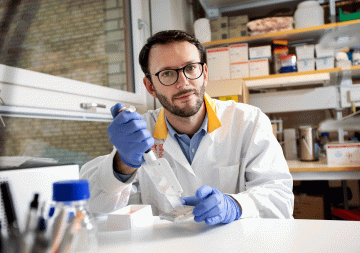 "We have a large institute, but the department is just the right size and the collegial atmosphere is very good. The people are friendly and interested and help each other a lot, both with access to instruments and in discussions," says Angeletti. With the EU funds he receives, he plans to expand his team at all levels, with both doctoral students and post-doctoral researchers.
He emphasizes the great support he has received from the Grants and Innovation Office (FIK) so that the application and interviews would go as well as possible.
"Dubi Eliasson in particular took an active interest in the application. She has a background as a postdoctor in vaccine research here in Gothenburg and is also knowledgeable about aspects of the application of particular interest for the European Research Council. Discussions with her have had a great deal to do with the fact that I now have received the grant," says Angeletti, who adds that he also has benefited from interview training, both locally with the FIK and with the Swedish Research Council in Stockholm.
TEXT: ELIN LINDSTRÖM
PHOTO: JOHAN WINGBORG