Caption: Panel discussion participants, from left, Claes Gustafsson, assistant head of the Institute of Biomedicine; Peter Naredi, head of the Institute of Clinical Sciences; Agneta Holmäng, dean of Sahlgrenska Academy; Johanna Svensson, head of the Department of Oncology at Sahlgrenska University Hospital; Thomas Björk-Eriksson, director of Regional Cancer Center West; and Ann-Marie Wennberg, director of Sahlgrenska University Hospital.
CONFERENCES. The first Gothenburg Cancer Meeting (GCM2019) took place on May 6-7 in the Wallenberg Conference Center at Medicinareberget. The Sahlgrenska Cancer Center (SCC) organized the conference. [More photos below]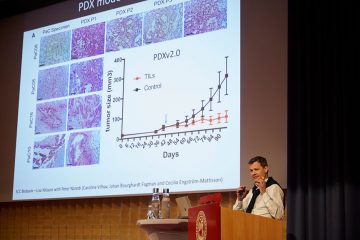 A summary of the conference is available on the SCC web page: https://cancercenter.gu.se/gothenburg-cancer-meeting-2019/summary-of-conference
The purpose of this first meeting was to highlight the broad spectrum of cancer research conducted in Gothenburg and create a place for interaction among researchers, explains Jonas Nilsson, director of the Sahlgrenska Cancer Center (SCC).
"The speakers come from various disciplines, from basic research to translational and clinical research. They represent many entities, including Sahlgrenska Academy, the Faculty of Science, Sahlgrenska University Hospital and Chalmers University of Technology."
A strategic research domain at the university
Cancer has been a strategic research domain at the University of Gothenburg for about 10 years. In connection with this focus, the Sahlgrenska Cancer Center (SCC) came into being as a center of expertise and research. Since then the domain has grown significantly, and a large number of new teams have started in Gothenburg, not only at SCC but also in other research environments.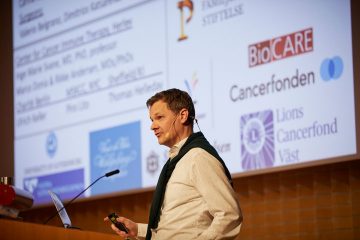 "The idea behind the meeting was to allow everyone to gain an overview of research being conducted by new and already established teams and to explore ideas for future forms of collaboration. We selected researchers for presentations and session chairs based in part on the list of grants from the Swedish Cancer Society and also to ensure representation of different disciplines and environments," says Nilsson.
To avoid very short presentations, some prominent researchers were selected as session chairs instead of speakers.
Panel discussion on challenges and objectives
Cancer research in Gothenburg was visualized not only with presentations and posters, but also with a panel discussion involving decisionmakers in environments in which cancer researchers work, including Sahlgrenska Academy Dean Agneta Holmäng and Sahlgrenska University Hospital Director Ann-Marie Wennberg.
"The panel discussed future challenges and developments for cancer research in western Sweden and in research environments such as SCC. Also the importance of collaboration and what forms we could imagine this taking under formalized direction," Nilsson notes.
Among other things, the panel commented on the advantages and disadvantages they saw in research centers and how research can benefit from new buildings. Panelists also discussed the importance of premises and facilities for research and the best way of funding centers of expertise and research.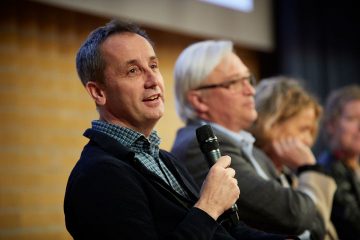 Claes Gustafsson, a professor and assistant head of the Institute of Biomedicine, asserted that elegant new premises are less important than the research itself and qualified researchers. So even if the centers are good for translational research, this does not benefit all researchers. He also said that research funded through scholarships and grants of individual researchers guarantees high quality because it presupposes skilled researchers. If a center provided the funding instead, he saw a risk that the research would eventually decrease in quality as researchers moved from one attractive activity to another.
Others thought that good buildings and collective premises still offer proximity among researchers and other parties, inviting exchanges in everyday life. They said that proximity among healthcare and research environments provides time for researchers who are also clinicians to meet patients and other researchers during the day.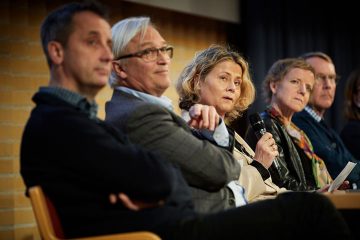 "The Faculty is proud of SCC, which has managed to get a lot of funding. Sahlgrenska Cancer Center is a good example of collaboration, where various institutes at the University of Gothenburg work to provide support for SCC," Agneta Holmäng said.
She also commented that the collaboration between Sahlgrenska University Hospital and the region has developed well. And she sensed that it is easier to receive funding when talking about a center, while she saw a risk that centers could become isolated islands that do not contribute to education. She and several others stressed the importance of working toward a steady supply of returning researchers that can be connected with the academic world.
"Sitting together 'makes people talk' and can make it easier to interest students in research, for example," said Ann-Marie Wennberg.
Future Comprehensive Cancer Center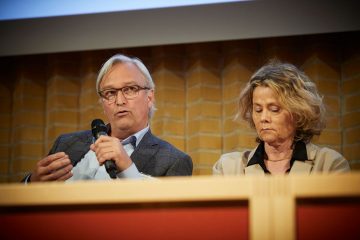 Peter Naredi, a professor and head of the Institute of Clinical Sciences, could see the advantages of new adapted buildings that can meet broad needs and accommodate both basic science and translational research.
As a good example, he cited the Comprehensive Cancer Centers (CCCs) being developed in Sweden, and Sahlgrenska Academy's partnership with Sahlgrenska University Hospital and other parties that now jointly want to become accredited and have the opportunity to develop the Sahlgrenska Comprehensive Cancer Center. Accreditation ensures high quality in everything from research and education to clinical activities, administration, staff welfare and information management.
"Through CCC accreditation, we show that we belong and influence the quality of care and improve the outcomes of our patients. We will work on quality and expanded opportunities for the entire chain, from training for staff and patients and preventive care for the public through both preclinical and clinical translational research to care and cost-effectiveness," said Naredi.
Today there are 19 such centers in Europe, including two in the Nordic countries: one in Oslo and one in Helsinki.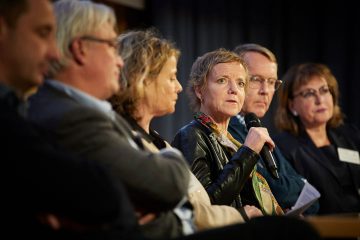 Based on needs of the target groups
Key areas that Johanna Svensson and others talked about were the new innovative patient-adapted forms of treatment that promise to increase survival rates and at the same time place new demands on staff. These demands include technical knowledge, new problem areas and the need to improve the quality of life for patients and their relatives. The costs will initially be higher but should even out in the long run.
Another key area mentioned is the need to work based on the needs of our target groups: our patients and society.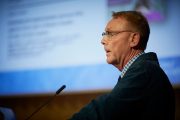 Everyone agreed that the future lies in patient-centered care, where patients are allowed to become more engaged and involved in designing care. Tomas Björk-Eriksson talked about the advantages of national collaboration, in which you work together with the patient and the family. This is the key to developing more equitable treatment of cancer throughout the country.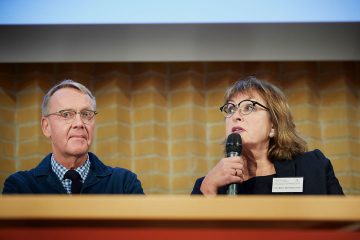 "Through our breadth and our strength in the field of cancer, which focuses on healthcare but is also strongly connected with research in areas such as prostate cancer and breast cancer, we have the potential to become a leader in Sweden in more areas of cancer than these," said Ann-Marie Wennberg.
Many participants show great interest
The meeting had 280 registered guests, which is almost as large as a national cancer meeting, even though the speakers were local. This implies that interest in cancer research in Gothenburg is very high.
"Of course, we also hope that conversations and collaboration were also strengthened during coffee breaks, poster mingling and dinner as well. If people are now happy with the meeting, this could be a recurring event," Nilsson concludes.
Award of the 2019 Assar Gabrielsson Prize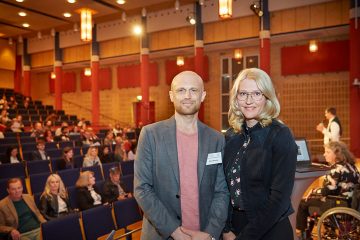 After the panel discussion, the 2019 Assar Gabrielsson Prize was presented. The prize is awarded for dissertations in cancer research within two different areas. Urban Wass, senior vice president of research & innovation policy for the Volvo Group and chairman of the Assar Gabrielsson Foundation, presented the award. Surgeon and Researcher Maria Frånlund, Department of Surgery at the Institute of Clinical Sciences, received the Clinical Cancer Research Prize this year, and Mikael Montelius, Department of Radiation Physics at the Institute of Clinical Sciences, received the prize for basal cancer research. Both prizewinners made a short presentation about their research.
The organizing committee for the meeting consisted of Jonas Nilsson, Professor Göran Stenman, Research Administrator Yael Zukovsky Fitoussi and Associate Professor and Consulting Physician Lars Ny.
The meeting was sponsored by the Sahlgrenska Cancer Center (SCC), BioCARE, the Assar Gabrielsson Fund (AG Fund), Regional Cancer Centre West (RCC) and the Albert Ekman Foundation for Surgical Research.
The program and other information about the Gothenburg Cancer Meeting is available on the SCC website
TEXT: SUSANNE LJ WESTERGREN
PHOTO: ANNA-LENA LUNDQVIST