Caption: On the whiteboard behind her, Sara Sjöberg has drawn a diagram she often uses to illustrate how different healthcare professions, such as doctors, nurses and pharmacists, have certain overlapping fields of knowledge and the importance of being aware of the knowledge base they have in common and the knowledge others in the team can contribute.
EDUCATIONAL DEVELOPMENT. This year's recipient of the Distinguished Teaching Award at Sahlgrenska Academy is Sara Sjöberg, whose achievements include developing the elective course in Healthcare Pharmacy in which pharmacy students use a person-centered approach with patient cases along with students from other health sciences programs.
Sara Sjöberg works at the Clinical Pharmacology unit in Sahlgrenska University Hospital. She is also a highly regarded teacher in the Pharmacy Program who was nominated for the award by one of her students.
"I'm passionate about my profession. To strengthen the profession, we need to think long-term and start with the students. It is enormously important to give them the very best foundation for their future professional life," Sjöberg says, when I ask her to explain what motivates her dedication as a teacher.
More than intended course learning outcomes
One of the students who took the elective course Healthcare Pharmacy Through Interprofessional Learning nominated Sjöberg for the award. The student, who is now finishing the eighth semester in the Pharmacy Program, wanted to recognize Sara Sjöberg because she thinks Sjöberg clearly is a teacher who likes to teach and meet students.
"It is apparent that the goal of the course is not only to achieve the intended course learning objectives but also to provide broad knowledge of how a pharmacist can contribute to increased safety in healthcare and to prepare students for further training in the subject of clinical pharmaceutics," the student wrote in her nomination.
Double course coordinator
Sjöberg is the coordinator for two elective courses in the eighth semester of the Pharmacy Program. She developed the first course, Enhanced Pharmacotherapy, to provide students in Gothenburg with the supplementary knowledge required to take the one-year continuation course in Clinical Pharmacy offered at Uppsala University. The second course, Healthcare Pharmacy Through Interprofessional Learning, includes Sahlgrenska Academy's focus on interprofessional learning from an overall program perspective, in which students involved in different caring professions collaborate and learn from each other. The Healthcare Pharmacy Through Interprofessional Learning course, which was offered for the first time as a pilot in the spring of 2018, allows pharmacy students and students from other programs to collaborate on problems involving patient cases. The course also includes student observations, where pharmacy students accompany experienced nurses in nursing wards, something students appreciate.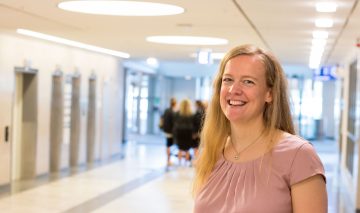 "As pharmacy students [in Gothenburg], we receive on-site training and can see how a ward functions, something that previously has been missing during the course," the student writes in her nomination. Student observations are followed up with reflection and discussion seminars.
Learning more about person-centered care
Aside from the honor associated with the teaching award, the award also comes with a monetary sum to be used for educational improvement. Sara Sjöberg has no immediate answer as to how she wants to use these funds, but she would like to immerse herself in ways pharmacists can approach person-centered care.
"For several years we have had a network of pharmacists in the region and municipality that has now grown so much that we are currently in the process of formally forming an association. In connection with one of our recent meetings, I ran into some pharmacists who are conducting research in person-centered care and pharmaceutical use in Kalmar. It's great to find groups on the leading edge, and I hope to learn more from them and maybe invite them here," Sjöberg says, adding that these researchers from Kalmar also collaborate with researchers from the Center for Person-Centered Care at the University of Gothenburg.
Enjoys working close to the clinic
Sara Sjöberg enrolled in the life sciences pharmaceutical program, followed by postgraduate studies at the Wallenberg Laboratory. She later defended her doctoral thesis on the molecule CD44 and its impact on atherosclerosis. She supplemented her undergraduate education to become a licensed pharmacist. In the interval between defending her thesis and a two-year postdoctorate in the United States, she had the opportunity to practice clinical pharmacology involving drug information, which made it even more clear to her that she enjoys working closely with clinics and patients.
Since caming back from the U.S., she has worked in clinical pharmacology at Sahlgrenska University Hospital.
"I really enjoy my work and have a wide range of work assignments. We do not meet patients but have a more supportive function. Among other things, we operate the LUPP pharmaceutical information center, which investigates questions from caregivers about drug treatment, and I lecture a lot in departments about everything from pharmacology to current treatment guidelines," Sjöberg explains.
TEXT AND PHOTO: ELIN LINDSTRÖM CLAESSEN