GRANTS. With her colleagues, she is working on developing a treatment based on targeted radiation therapy, which may improve the chances of preventing relapses in ovarian cancer. Emma Aneheim, a researcher at the Department of Radiation Physics, has now received a fellowship through the Swedish Cancer Society's Fellowship in Ovarian Cancer Research.
Ovarian cancer is usually treated with surgery, followed by anti-cancer drugs. Because the disease has often spread into the abdominal cavity by the time it is discovered, it is difficult to completely eradicate the cancer cells, and many patients suffer a relapse. The project in which Emma Aneheim is participating involves connecting the alpha-radiating isotope astatine-211 with antibodies.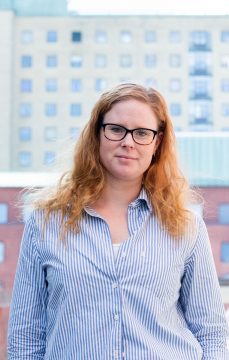 "We believe the research potentially can lead to a local treatment that is applied 'up front' after surgery and chemotherapy, making it possible to cure more patients with otherwise poor prognoses," says Aneheim, whose fellowship is now being funded for three years, thanks to the Swedish Cancer Society grant.
The research team is ready to start implementing a phase I study, in which a small group of ovarian cancer patients will receive antibodies with astatine-211, primarily to investigate whether the treatment is safe. Part of Aneheim's work involves developing clinical protocols for chemical production of the radioactive antibody-drug conjugate that patients will receive in future studies.
"The clinical protocol for the phase I study will include all radiochemical production steps, all material and chemicals will be validated, the radioactive pharmaceutical production system will be approved, and the astatine-211-labeled antibody will need to be clinically validated."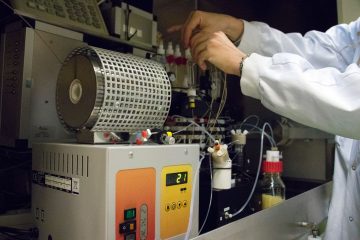 The team is also preparing for the future phase II and phase III studies. These most likely will be implemented in collaboration among several university hospitals, which will require automated production of the radioactive pharmaceutical.
"Our prototype system needs further development purely in technical terms, and it also needs to be transferred to a CE-marked clinical system. In addition, the radioactive pharmaceutical product from the clinical system needs to be validated."
The chemical process by which astatine-211 is extracted and connected with the antibodies is difficult and requires specialized knowledge, but there is a method for automating production that Sture Lindgren and Emma Aneheim have developed together. So far the machine is a prototype, and part of Aneheim's job will be validating the prototype clinically so they can develop the technology and prepare for more large-scale studies. At my visit to the laboratory, the machine was being prepared for the next shipment of astatine-211 from Rigshospitalet in Copenhagen. Production of the isotope requires a more advanced cyclotron than the one currently at Sahlgrenska University Hospital.
Astatine, the rarest element in the world, exists only in radioactive form with a short half-life. Among cancer researchers, there is a broad interest in the astatine-211 isotope. Unlike iodine-131, which currently is widely used in health care, astatine-211 radiates alpha particles that have a very limited range in tissues so it can be used for targeted radiation treatment. Efforts to develop a new treatment for ovarian cancer based on antibodies and astatine-211 have been under way for many years in Gothenburg, and other early clinical trials also have been carried out.
"A phase I study has investigated dose escalation and toxicity. The results did not point to any problems with the phase I study we are going to conduct. We have everything in place for it to go well," says Aneheim.
Emma Aneheim defended her thesis on nuclear chemistry at Chalmers University of Technology, where she became interested in working on medical implementations in connection with a guest lecture Lindgren presented at Chalmers. After her dissertation she switched tracks and became a postdoctoral researcher at the Department of Radiation Physics.
"The step from nuclear chemistry is not as large as it might seem. For me the main difference is that the half-lives of the materials I work with now are so much shorter. I have had to learn to work in completely different ways because the isotopes disintegrate so quickly," says Aneheim.
TEXT AND PHOTO: ELIN LINDSTRÖM CLAESSEN