RESEARCH ETHICS. Those selling unethical and unscrupulous services targeted at researchers are so numerous and so active that the situation has to be described as widespread industrial cheating. Associate Professor Stefan Eriksson made this point during his seminar on publishing ethics and co-authorship, which drew a large audience in the Birgit Thilander assembly room on Tuesday.
Here you can see the slides from the seminar (Swedish only): https://gubox.box.com/s/2pl9wcmjfedie7f8yvov5evl546gs0kn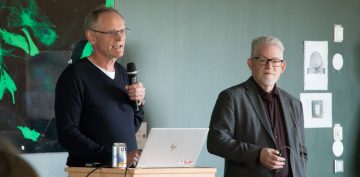 The first seminar in the series Research Ethics in Academia – Open Faculty Meeting received good attendance, with over a hundred audience members. Pro-Dean Henrik Hagberg started the meeting by conveying Faculty Management's appreciation for the work being done by members of the Research Ethics Committee. Committee Chair Björn Rydevik then welcomed the speaker for the day, Stefan Eriksson, who is an associate professor of research ethics and also advisor to the vice-chancellor on good research practice at Uppsala University.
Industrialized cheating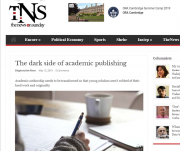 A press clipping headlined "The Dark Side of Academic Publishing" from the Pakistani weekly The News on Sunday illustrates the fact that publishing ethics is a subject discussed not just in academia, but also in society as a whole.
"Many people are interested in how scholarly publishing takes place, which is not difficult to understand, given that we live in an era of fake news. We should be able to rely on science as a way of knowing how things actually are," Stefan Eriksson said.
According to the European Federation of Academies of Sciences and Humanities (ALLEA), good research practice is based on four fundamental values. They can be summed up as reliability, honesty, respect and responsibility for research. But research practice is at risk of being undermined through challenges on two levels, says Eriksson: the difficulties associated with authorship, and industrialized cheating, where a number of parties try to make money from selling unethical services to researchers or through pure fraud directed at researchers. During his lecture Eriksson presented several examples of companies and websites catering to researchers worldwide that sell authorship, offering to ghostwrite reports and doctoral theses, to eliminate traces of plagiarism in texts or to sell citations.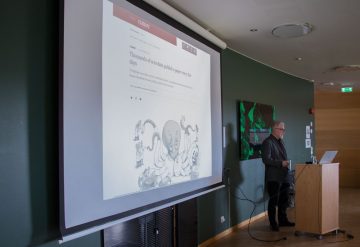 "There is an entire industry trying to make money from scholarly publishing. It can be called industrialized because it has such a wide scope," Eriksson adds.
There are also criminals who set up fake web pages difficult to distinguish from highly respected journals and who trick researchers into paying false publishing fees.
Robbers without scrutiny
Stefan Eriksson devoted a part of his lecture to rogue publications (also called predatory journals). He said that he himself gets between 30 and 40 spam emails per day from such publications:
"There are many examples of entertaining sting operations illustrating how these journals do not conduct any review whatsoever of the material they publish," said Eriksson.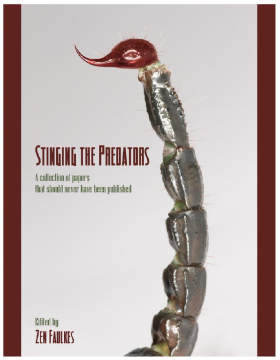 He mentioned a well-known example in which Burkhard Morgenstern, a professor of bioinformatics in Göttingen, German, submitted an application to become an editor: "The entire CV he cited had a theme taken from the Cartwright Brothers television series. He claimed to be Dr. Hoss Cartwright, who did postdoctoral research in County Jail and at the Silver Dollar Saloon and now worked at the Ponderosa Institute," said Eriksson.
He added: "Despite this highly suspect CV, he soon became an editor for the Journal of Primatology."
Another well-known example of a sting operation is the article published in 2014 in the International Journal of Advanced Computer Technology titled "Get me off your fucking mailing list." This sentence was repeated throughout the article, page after page for 10 pages. The illustrations in the article also consisted of this exhortation.
Online, many similar stories have been collected in the e-book Stinging The Predators: A collection of papers that should never have been published, which Eriksson recommended as entertaining reading. The book is available for free:https://figshare.com/articles/Stinging_the_Predators_A_collection_of_papers_that_should_never_have_been_published/5248264
A tip: If you wonder about choosing a journal, irresponsible publishers or article processing charges, please feel free to contact the University Library, forskarservice@ub.gu.se or visit http://www.ub.gu.se/publicera/openaccess/.
More listed as authors
Stefan Eriksson asserted that the capacity of researchers has not increased – researchers are no more productive today than those a hundred years ago – but the number of authors per article has grown and the publication lists of individual researchers have become significantly longer as a result. In 1984 there were an average of four authors per article, but in 2014 on average nine people were listed as authors. Eriksson refers to Lund researcher Mats Alvesson, who maintains that researchers today generally have lost their footing and are working for "return on investment".
"Researchers are adapting to the system in which it is important to have many publications. A study carried out in China last autumn showed that researchers do not write articles because they have something to say, but to accumulate articles. Researchers write more to acquire further qualifications than to contribute to the research community."
Researchers in medicine who appear as authors of the most articles publish a new article every 10 days. In the field of diabetes, for example, 0.8 percent of authors account for 33 percent of all articles, and almost all of these authors come from four countries. A pharmaceutical company sponsors 91 per cent of them.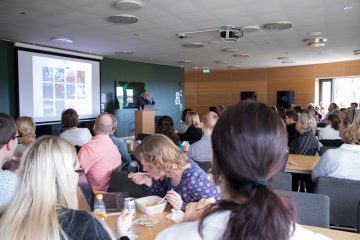 Vancouver rules backwards
Stefan Eriksson promoted the Vancouver rules for authorship, and said that everyone should close ranks behind them. The Vancouver rules are recommendations formulated by a group of editors of medical journals, stating that four criteria should be fulfilled for authorship: http://www.icmje.org/
The author has made a substantial contribution to the conception and design, data collection or analysis and interpretation.
The author has made an intellectual contribution during the writing process with the article
The author has approved the final version of the article prior to publication.
The author accepts responsibility for the article.
See the rules in full at www.icmje.org.
By reversing the rules and reading them in reverse order, Stefan Eriksson clarified the common sense on which the Vancouver rules are based.
"It is important to have people who take responsibility for research and stand behind it, and who correct problems if they arise. This person must accept the version of the article that is submitted and understand what it says, and this can only be done if you have participated substantially in the writing of the article. And to write you also need to have participated in the first step of the Vancouver rules."
Agreement from the beginning
Conflicts about who should be listed first among the researchers who have contributed to the work are very common and can have serious consequences. Problems can arise in the work environment, collaborations can break down and research teams splinter.
"There are examples of articles that have five co-authors, with two of them sharing first authorship, two sharing last authorship and the fifth listed as a corresponding author. You may believe this is a way of avoiding conflicts, but you actually are undermining the merit system."
He shares some good advice: "Right from the start, when we begin collaborations in a project, the researchers are to agree on how the article should be written and who publishes it."
The seminar ended with questions and comments from the audience.
"Predatory journals are something of a hygiene issue, and I receive at least 10 such solicitations every day. What do you encounter if you click on the link and proceed to the next step?" Ralph Peeker wondered.
"They often have home pages that look very professional and often list many people as editors," said Eriksson.
There are many successful researchers who do not write their articles themselves but who take responsibility for the data on which the article is based, Claes Dahlgren noted: "Many people turn to science editors who create images and graphics so the article looks nice, and this makes it easier to be published in good journals. The problem is when people receive help from others to write research plans when they are looking for money, because that makes it harder for the assessor to understand what it is all about."
Åsa Torinsson Naluai wanted to hear what Stefan Eriksson thought about open review, in which articles are published directly at a lower cost, such as through F1000 (https://f1000.com). He replied that the British Welcome Trust is a great supporter of F1000, maintaining that open review is a great idea, and he agreed with that himself:
"Of course, we see cases of journals claiming they have peer review but where sting operations reveal they really do not have it. If I have done a review, I have always put my name on it completely openly, because I think standing behind what I do is a positive thing."
TEXT AND PHOTOS: ELIN LINDSTRÖM CLAESSEN