COLLABORATION. How can disabled people be helped when there is only one trained occupational therapist in the country? And how do you create good orthotics when you first have to find plastic to melt? Writer Maria Arpe accompanied Lina Magnusson, an associate professor at the Institute of Medicine, when she returned to Sierra Leone, where she wants to improve the lives of those most needing help.
"For a long time I have wanted to come back here to share what I have learned in my studies and also to thank the people who made it possible for me to pursue the studies in Sierra Leone. It is great to be back in the country where a large part of the data collection has been done," says Lina Magnusson.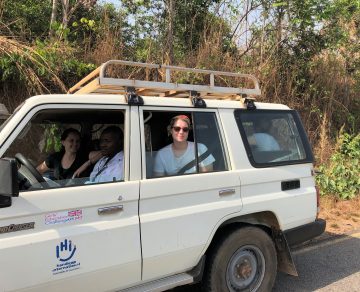 A bumpy ride
The white Jeep moves on bumpy roads between Bo and Makeni in Sierra Leone, and clouds of red desert sand billow after the car. It jolts and bounces, but our driver steers the car along the roadbed with a sure hand, and we pass farmland, palm trees and small villages with earth houses. We travel through villages where the local population pumps water out of wells painted in Sierra Leone colors: green, blue and white.
Lina Magnusson, who researches what hinders and facilitates the supply of orthopedic technical aids, sits in the front seat. During a three-week trip in Sierra Leone, she brings back results from her previous research in the country – to create changes. She also has three students with her, including one from Sahlgrenska Academy. They are collecting data for their degree projects.
A great shortage of material
We have just visited the rehabilitation center in Bo, Sierra Leone's second largest city. Mosa, the only trained occupational therapist in the whole country, greets us there. He was educated in Kenya and is now responsible for the rehabilitation center in Bo.
At the orthopedic technical workshop sat a man who works as a teacher. His prosthesis had broken, and there was no material for a new one. He did not know whether he could continue his work without a new aid. Materials are a major problem. The large stock of materials arranged by various international organizations almost 10 years ago is beginning to run out. The centers that had been established for orthopedic technical service then began to be transferred to the government. Since that time no new material has been purchased.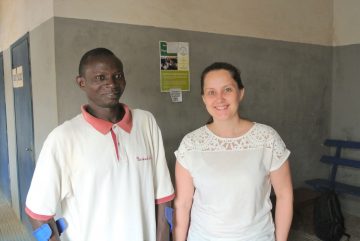 "If you need an aid, you will get a list of materials that you then are expected to find yourself," says Alhaju Bangura, who works at the orthopedic technical workshop. "Various types of plastics might be needed. Once you have found the plastic, you can come back, and we can try to melt it down and create a prothesis for you."
Presentations at all levels
After several hours in the stifling car, we begin to approach Makeni. Compared to when Lina Magnusson was here the first time, the roads have become much better. The uneven red clay road has been partially replaced with asphalt. The city of Makeni now has access to electricity around the clock.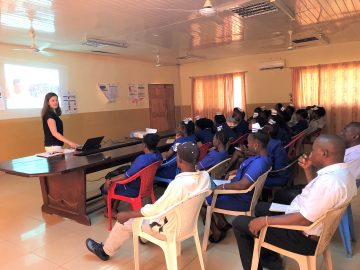 In Makeni Magnusson makes her third presentation in Sierra Leone. In the hospital's rehabilitation center, she has previously interviewed both patients and staff, and now more than 30 people have gathered in a conference room: hospital managers, doctors, other medical staff and a number of nursing students wearing identical blue uniforms.
Since Magnusson defended her doctoral thesis in November 2014, she has held a long series of presentations on orthopedic technical service in developing countries at world conferences in countries such as India and South Africa, at Nordic conferences and for European research teams involved in orthotic techniques. She has made a presentation at a more broad-based rehabilitation conference in Berlin, at the African orthopedic technical conference in Togo and now also at the local level in Sierra Leone.
"Now I feel I have done what I needed to do. I have delivered 30 copies of my dissertation and the articles I have written based on the material I collected. It is up to them now to decide how to use the material to provide better care for the patient group that is in need of orthopedic technical service," says Magnusson.
Overcoming obstacles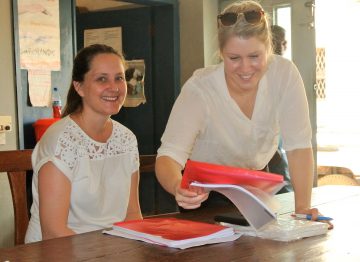 The student from Sahlgrenska Academy who has come along on the trip is Victoria Jerwanska. She is in the last semester of the master's program in global health. For her master's dissertation, she has already conducted focus groups in Freetown and in Bo, and now it is time for Makeni.
We squeeze ourselves into an office with the manager of the hospital's rehabilitation program and some of his colleagues, but the attention of participants in the focus group is somewhat fragmented. Telephones ring, someone knocks on the door and it does not help that we have locked it and shout that we are busy. The door is opened, people come into the already crowded room, other people leave. Despite all the distraction, Jerwanska manages to keep calm and carry on almost an hour of conversation with participants on how they view the country's access to health care and rehabilitation for people with physical disabilities.
"I have chosen to conduct focus groups to find out what people think of the access to health care and medical services and rehabilitation for those with physical disabilities," she says. "These people have the opportunity to influence the implementation of policies at different levels. I want to find out what barriers exist so the best care and rehabilitation can be provided and also what needs to be done to make conditions better for this patient group."
Different conditions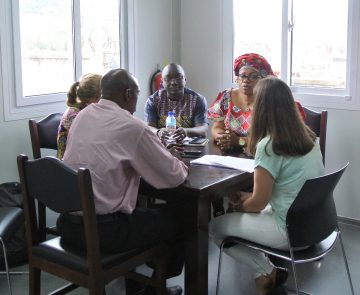 After two days in Makeni, we begin making our way back to Freetown, a distance of almost 200 kilometers. We started the adventure there a little over a week ago. Lina Magnusson then made a presentation at the Ministry of Health. She talked about her studies before high-ranking people in the country's government, people representing patients and the medical staff in hospitals and rehabilitation centers. Jerwanska had an opportunity to gather material from three other focus groups.
"In Freetown the circumstances surrounding the focus groups were more tightly controlled. In Bo we rearranged the furniture in a waiting room to accommodate the focus group. People visiting the adjacent physiotherapy premises came and went, but it went well anyway. In Makeni we had to crowd into the manager's office. It is different, but that is how studies are done here. It's challenging but exciting at the same time," says Jerwanska.
A trip to West Africa was not what Jerwanska had planned for her thesis work.
"I had intended to stay in Gothenburg to interview people living with HIV. But before the thesis course, Lina Magnusson presented me with an opportunity to do a project in Sierra Leone, and I thought it sounded very exciting. And I like being in Sierra Leone. The aromas, the warmth, the sounds. Being here is special," adds Jerwanska, who plans to write a scholarly article on the material she has collected along with Magnusson, her supervisor.
"I have always been extremely curious and always want to know why things are the way they are. Why do you have an opportunity, or why don't you? And can we make this more equitable?"
Difficulty with staffing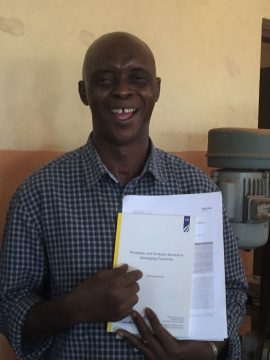 Emran, James and Momo take us on a guided tour in the orthopedic workshop in the national rehabilitation center in Freetown.
"The problem is that we have no materials," says Emran. "We have tried experimenting with different materials, plastics and the like, but we have many bad outcomes. When plastic is processed in the oven, where it is supposed to solidify, it melts instead."
Magnusson, who visited the center both under the auspices of the Handicap International organization in 2006 and when direction of the center was being transferred to the government in 2011, also sees other challenges.
"It is sad to see rehabilitation centers like this. The last time I was here, the operation worked well. Now they have staff, but they do not train any new personnel. When those now working here retire, no one with sufficient knowledge will be here to take over," she says.
Making a difference in the long run
Magnusson had not really planned to become a researcher, but when she worked clinically for a few years as an orthopedic engineer, she began studies in a master's program on global health. Her fellow students came from around the world, and some of them held prominent positions in health and welfare in their native countries.
"Then I realized that if you really want to change things and make a difference in the long run, changes need to be made at the policy level. One way to succeed in this was to become a researcher."
Conducting research studies in a country like Sierra Leone is a challenge. The infrastructure is undeveloped. Consulting rooms generally lack procedures and directories.
"Managing the research process can be difficult under these circumstances. But although the data collection is done in different ways, you need to be just as careful as if the data collection had taken place in Sweden. It can also be difficult to constantly think about safety. That takes a lot out of you. And you cannot really plan projects like this in advance. You have to 'go with the flow' and take advantage of opportunities when they are offered. But I enjoy it. I like that kind of challenge."
Created a directory of her own
To interview patients in need of orthopedic technical service, she had to create her own directories the last time she was in Sierra Leone. She received information about who visited some of the five clinics she had selected in the past two years. There were no phone numbers or addresses. Often just a name and village. Magnusson still found key people who could help her find people. She also had logistical assistance with an interpreter and driver who knew the areas well.
"When I compiled my directory, I had to go out in the villages and try to find the people. It was tremendously exciting work, and I could see how things were at home or at work."
Using faulty aids
Of 553 people, Magnusson made contact with 139 whom she interviewed about how they experienced the orthopedic technical service being offered. The results showed that 85 percent of those who had an aid used it, although half were faulty and needed to be repaired, and more than a third of the people reported pain and sores when using their aids. The aids worked well on a smooth surface, but the people using them had problems climbing stairs or slopes or using them on uneven surfaces. Of those needing orthopedic technical service, only 20–25 percent actually had access to it.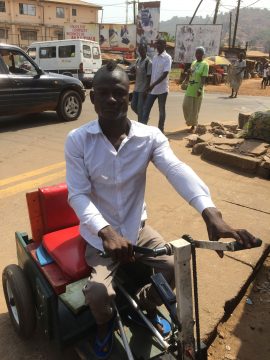 Lina Magnusson also interviewed people providing orthopedic technical service. They often found they were unable to deliver both service and high-quality products.
"If patients receive the aids they need and they work well, these people gain more mobility. This can facilitate access to other fundamental rights, such as food, housing, education and income. My goal was to find out what hinders and facilitates the supply of orthopedic technical aids. Supplies are influenced by policies, poverty and cultural aspects, such as attitudes toward functional variations," she says.
Sierra Leone in West Africa is one of the poorest countries in the world. But crises such as civil war and Ebola have been replaced by expanded infrastructure, electricity and the internet. A breath of hope.
TEXT: MARIA ARPE
PHOTO: MARIA ARPE / LINA MAGNUSSON