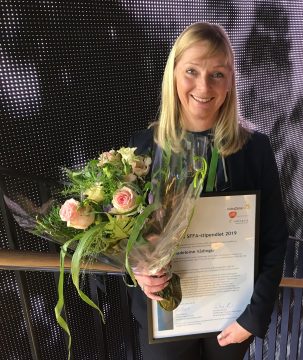 DISTINCTION. Madeleine Rådinger, associate professor at the Department of Internal Medicine and Clinical Nutrition, has received this year's major scholarship from the Swedish Association of Allergology (SFFA). The scholarship provides SEK 200,000 for her project on molecular characterization of allergic and non-allergic asthma.
Madeleine Rådinger, who is also acting chair of the Krefting Research Centre at the University of Gothenburg, is thrilled to receive the award. "It means a lot because several role models from the field have received it in the past. I feel both honored and humbled by the award."
Presented the team's research
The prize was awarded in Karolinska Institutet's Aula Medicum during SFFA's spring meeting in early April.
"Many of Sweden's talented allergists, researchers and asthma doctors were present, and I greatly enjoyed having the opportunity to present my research for clinicians in the field." Her presentation was about the research questions, hypotheses and results that she and her team work on.
"We conduct research on the molecular characterization of allergic and non-allergic asthma. Among other things, this means that we look at samples from both the respiratory tract and from blood to find molecular characteristics in immune cells from various asthma subgroups."
In the future, research may lead to new ways to identify and differentiate different types of asthma. In its explanatory statement, SFFA writes that Madeleine Rådinger's project will make it easier to choose treatment for patients with different subtypes of asthma because the molecular mechanisms can be connected with clinical data.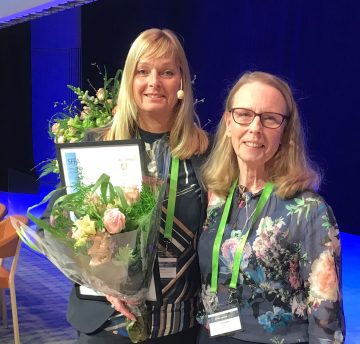 Well-characterized asthmatics
The research team includes two postdoctoral researchers and two students, one of whom is based at AstraZeneca, and a researcher who works half-time in the team.
One of their research tracks continues a work they published a few years ago, when they were the first to describe the importance of microRNA, small gene-regulating molecules, in the regulation of lymphoid cells in the airways of allergic mice. The team is now going farther, connecting this finding to humans through the asthma groups represented in the West Sweden Asthma Study.
"Our West Sweden Asthma Study cohort gives us very exciting data from well-characterized individuals with asthma. This allows us to connect findings to clinical data, which is extremely important. The biggest challenge is keeping up with method development and managing large data sets for bioinformatic analyses."
TEXT: ELIN LINDSTRÖM CLAESSEN
PHOTO: TEET PULLERITS