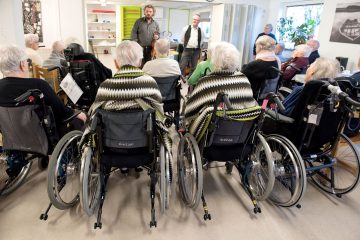 RESEARCH. Digital culture can make elderly people feel better. This is a hypothesis for a unique research project headed by the Institute of Health and Care Sciences. The institute is interviewing residents at homes for the elderly, staff and family members about their experience of classical music.
There is a biting wind, and rain is in the air. Spring is arriving late, but inside the Södergården home for the elderly in Örkelljunga, the atmosphere is warm.  Two musicians entertain with melodies and stories about a shoemaker, August Strömberg in Gät, a person who really existed. The audience laughs heartily and applauds when the last folk song has died away.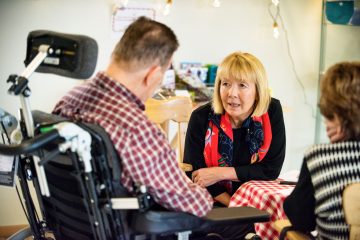 It becomes clear that the music awakens memories among the audience when Helle Wijk and Eva Jakobsson Ung each interview a trio consisting of a resident of the home, a relative and staff member after the performance.
"People tell us so many stories," says Wijk.
"I sang in the choir when I was young. On the bicycle home after every choir practice, I sang at the top of my lungs," 93-year-old Karlsson remembers, smiling.
Access to culture is a human right, according to the United Nations — even when you can no longer go to it because of age and illness. Then culture via digital channels plays an important role.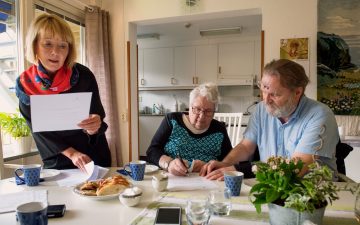 Today anyone with access to digital media has the opportunity to see and listen to musical performances through Swedish channels such as Kulturarenan, GSO Play and Musik i Syd.
Evidence can result in more culture for the elderly
The Betaniastiftelsen foundation, which operates Kulturarenan, has initiated a two-year project in Region Västra Götaland and Region Syd. The idea is to examine whether access to digital culture is important for well-being and health among those receiving health care and social services, those close to them and personnel in the health care and social services sectors.
"We hope that the project will help to open the eyes of more of those involved in care for the elderly to the possibilities of cultural offerings online," says Ulrika Gudmundsson Schönberger, music producer for Musik i Syd's Music in Health Care initiative.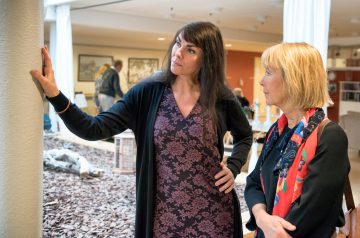 "If we obtain evidence of how important culture is to well-being, this will raise the status of culture in health care, which is badly needed. It's really important to research this," Schönberger maintains.
Performing in homes for the elderly
Under the project, musicians from the Gothenburg Symphony Orchestra (GSO) perform at five homes for the elderly in Västra Götaland and Musik i Syd at six homes in Region Syd. Live performances are combined with a pre-recorded performance or concert. Musik i Syd shows the recorded performance digitally a few days earlier and then follows this with an on-site performance by the same musicians. GSO combines live music with a pre-recorded concert during the same event. When the soloist Liv Dahrén plays the harp live, the entire Symphony Orchestra accompanies her on the big screen.
The Betaniastiftelsen foundation participated in a similar project involving digital culture access in Norrbotten in 2014–2016, but then no researchers took part.
"That is why they contacted us," says Helle Wijk. "We can conduct research on the experience and its significance with scientific methods."
A sense of calm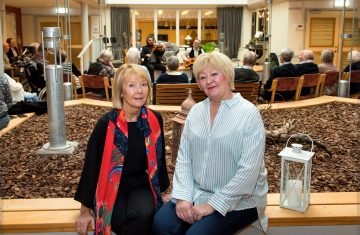 She and Jakobsson Ung are both nurses and professors with extensive experience in person-centered care and care for the elderly, among other things. They use a qualitative method with open-ended questions. How did you experience the concert? What feelings did it arouse? Describe how the music felt in your body? Other thoughts about the musical experience? The answers are recorded, then written down verbatim and analyzed as a whole.
"The qualitative method allows us to drill below the surface based on different meanings and themes," says Jakobsson Ung.
They make use of the World Health Organization's eight dimensions of health, including "experiences of meaning in life," "feelings of calm" and "contact with something greater that provides security and optimism."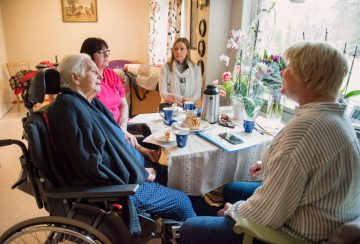 She provides an example: "The harp completely captivated an employee at a home for the elderly. You could sense the person's shoulders relax, with a feeling of calm and harmony."
Increasing access to culture
The connection between culture and health has been studied before. What makes this project unique is the collaboration between health care researchers, musical institutions, the Betaniastiftelsen foundation and digital technology.
"If the project demonstrates a positive result, we hope it will also spread to other areas where people have difficulty gaining access to cultural venues, such as in psychiatry and correctional treatment," says Helle Wijk.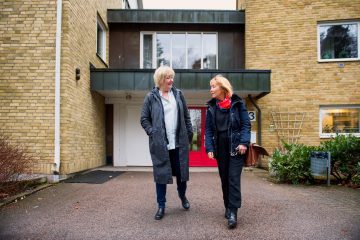 The day is coming to an end, and both health care professors take a seat in Wijk's car to return to Gothenburg. They soon will have visited all of the homes for the elderly and can start compiling their extensive interview material. This will lead to a scholarly article in English and a popular science report in Swedish. Two prospective specialist nurses will also use the material for their degree projects. Have Wijk and Jakobsson Ung had any musical or cultural experience that has made an indelible impression on them?
"I have always played the piano. When I was 6 or 7 years old, I remember how something I practiced really became ingrained in my body. It was blissful," says Wijk.
For Jakobsson Ung it was a Bruce Springsteen concert at Ullevi Stadium on a warm summer day in 2009.
"I remember thinking 'If I die now, I die happy.'"
TEXT AND PHOTO: ANNA REHNBERG / FREELANCE JOURNALIST
This article is a collaboration between Akademiliv  and GU Journal.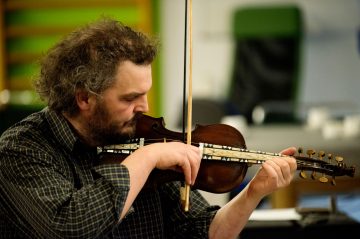 FACTS
Purpose: To study whether live and digital access to culture is important for the well-being and health of residents of homes for the elderly, those close to them and health care staff.
Under way: 2018–2020
Contributors: Researchers Helle Wijk and Eva Jakobsson Ung at the Institute of Health and Care Sciences. The Gothenburg Symphony Orchestra and Musik i Syd. The Betaniastiftelsen foundation, which develops not-for-profit health care and social services. The report will be distributed to all residents of homes for the elderly who have expressed an interested in participating in the study.
Funding: The Kamprad Family Foundation for Entrepreneurship, Research & Charity
Digital cultural channels freely available to anyone with access to digital media:
http://www.musikisydchannel.se/