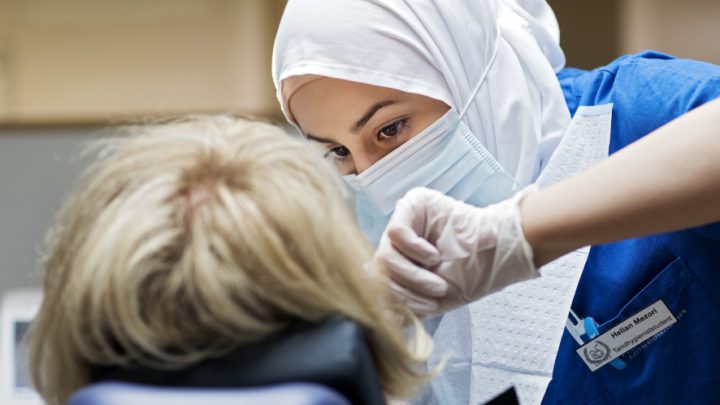 EDUCATIONAL DEVELOPMENT. Five educational development projects will now be implemented with funds from the Swedish Council for Education.  One of the projects brings together training of nurses and dental hygienists, in which future nurses receive specialized training in oral health and future dental hygienists receive information and instruction about oral care.
For 2019 the Council for Education has decided to distribute a total of SEK 450,000 to fund educational development. Five of the 18 applicants are receiving project funds. The largest grant – SEK 156,000 – was awarded to an interprofessional learning project about oral health and oral care for students in the Nursing Program and the Dental Hygiene Program.
As part of the project, a new course component is being developed to provide nursing students in their third semester with greater understanding of the importance of oral health and care and also confidence in making oral assessments. The course component consists of a lecture by a teacher from the Dental Hygiene Program for students in the Nursing Program's third semester, followed by a workshop in which oral hygienist students in their fifth and sixth semesters demonstrate dental implants, oral hygiene aids, products for dry mouth and instruments for oral assessment. The students will also practice performing oral care on each other.
Knowledge, collaboration, communication
In their application to the council, Annica Almståhl and Zahra Ebrahimi write that nurses play an important role in detecting oral illness and patients' need for help and support with oral care within the health care system and that it is important for them to have sufficient knowledge to be able to make assessments and recommend the patient for dental care when needed. Because dental hygienists work with outreach dentistry in places such as hospitals and long-term care facilities, it is also important that they have a good working relationship with health care staff and that they can give advice and recommendations for improving the oral health of patients.
The project leaders expect the project to result in a new permanent course component in both the Dental Hygiene Program and the Nursing Program.
Identifying knowledge about medication
Another project receiving funds for educational development involves identifying medical students' knowledge of medication before they assume their role as doctors, because after receiving their degree, they will be prescribing pharmaceuticals and be responsible for patients' medications. This will be done through a written test for students in the 11th semester of the Medical Program. The results will serve as a basis for developing training in medication in the Medical Program, particularly in the upcoming new six-year medical program in which students gain the right to prescribe medications immediately after their degree. The project manager is Anna Eriksson, associate professor and chief physician in clinical pharmacology.
Exam for biomedical scientists nearing completion
Camilla Hesse, program coordinator for the Biomedical Laboratory Science Program, is involved in a project to draw up a national final examination for biomedical scientist students to ensure that all students attain national qualitative targets. The results of the examinations can be used by the various programs as a basis for quality assurance processes. The project is being implemented in collaboration with Karolinska Institutet, and all higher education institutions that train biomedical scientists will be invited to participate in a pilot round of a common final examination. The coordinators hope to implement the pilot round in one year, in the spring of 2020.
A track for academic writing
Lena Björk is the main applicant for a project based on studies indicating that students have a problem writing academic texts. Along with Sofie Jakobsson and Åsa Axelsson, she has drawn up a structured track for academic writing that at an early stage will provide students at the master's level with the groundwork for writing texts and handling sources. The track will initially be introduced to a limited extent and then be evaluated and developed before academic writing is implemented within all programs at the master's level.
Drama teaching methods in the Specialist Nursing Program
Margret Lepp and colleagues Linda Berg, Stina Larsson, Helena Wigert and Susanna Arveklev-Höglund also are receiving development funds for their project. They will develop examination formats and educational materials focusing on interpersonal relations in meetings with patients, those close to them and the health care team with drama teaching methods in the Specialist Nursing Program specializing in health care and medical services for children and young people. Margret Lepp, Linda Berg, Stina Larsson and Helena Wigert have previously been awarded the Sahlgrenska Academy Pedagogical Award for developing and implementing drama teaching methods in the Nursing and Specialist Nursing Programs.
TEXT: ELIN LINDSTRÖM CLAESSEN