LIFESTYLE. The heat of the Mojave Desert nearly ended his solo bike ride from Los Angeles to New York during the summer. The US trip is just the latest example of education administrator Erik Olsson challenging himself with both ultra-distance cycling and long-distance running, with the aim of inspiring others to get moving.
I meet Erik Olsson in his office at Hälsovetarbacken, where printed planning sheets with the curriculum for medical school, semester 9, are laid out in neat rows on one of the tables. Since the beginning of the year, he has been working in education administration for the redesigned medical school program at the Department of Medicine, a job he enjoys: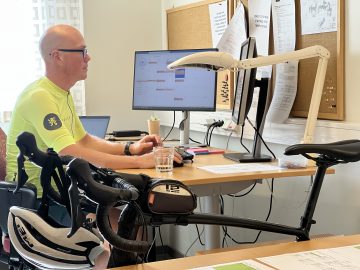 "I help teachers and course leaders with things like admissions and roll call. I manage the course pages on our canvas and have contact with students via the functional email. I also assist with processing travel and accommodation reimbursements when students are doing clinical training at medical clinics in the region," says Erik.
Erik believes that the work as a education administrator is well suited to combine with his interest in long-distance training and personal development. He is also still active as a personal coach, for others who want to take their endurance training to the next level.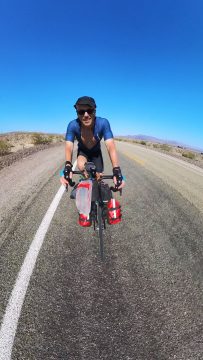 Detour to New York
He has always liked to exercise, primarily through long-distance running and cycling. His first long bike ride on his own, from Gothenburg to Spain in 2010, whetted his appetite. This holiday adventure gave him a taste of the physical and mental challenge when covering long distances with light baggage, often without the company of other people.
This summer's long-distance challenge to cycle 5,700 km from Los Angeles to New York took months of planning, but it turned out that he would need a major detour to complete the distance. Between these cities, the Mojave Desert spreads out, with summer temperatures soaring up to 50 degrees.
"I wanted to follow parts of the classic Route 66, but I misjudged how the heat of the desert would affect me. I did not get the recovery I needed and after a few days my body was shutting down," says Erik.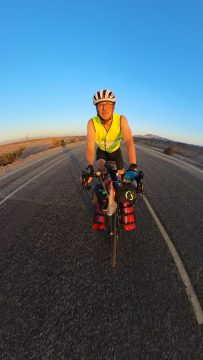 Unexpected company
He thought long and hard in the shade of an abandoned petrol station in the desert. He could not see how he could solve his situation.
"Then, to my surprise, I saw another cyclist heading in the same direction as I."
Together with the other cyclist, MJ from South Korea, they got a ride to the nearest town, where they were able to take a Greyhound to Montana, a journey with five bus changes in 35 hours. North of the sprawling desert, it was then possible to continue the bike journey towards New York City. The whole project took five weeks, including the travel to the US.
He feels he has only scratched the surface in terms of the challenges he wants to take on. He aims to do one major adventure each year, spiced up with different races that are quicker to plan and execute. MJ, his unexpected cycling companion in the US, has encouraged him to cycle the 3,600 km through Japan and South Korea.
"It would be fun to cycle outside the western world, but I would also like to cycle across Australia. I have found my lifestyle – this is who I am," says Erik.
BY: ELIN LINDSTRÖM