EFFORT. Madeleine Rådinger, Professor in the Institute of Medicine, has had an energetic summer break. She spent a week cycling to Paris with Team Rynkeby Göteborg, in temperatures that sometimes hit 37°C. The bike ride is in aid of the Swedish Childhood Cancer Fund, and this year the Gothenburg team broke a new record, raising a total of around SEK 4 million.
"I'm a researcher, so I know how important it is to get enough money to perform good quality research. Raising as much money as possible for seriously ill children is a powerful incentive. Combining that with something that's a real personal challenge, training together several times a week and meeting friends for life is a major plus on top!" she says.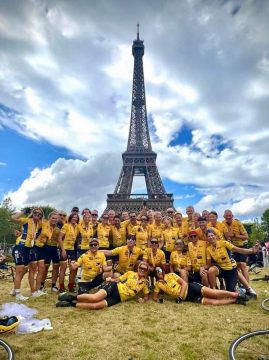 All in all, 32 cyclists and a service team of eight took part in the trip to Paris, with their route running via Kiel, Roermund and Reims. Before leaving Gothenburg, they paid a visit to the Queen Silvia Children's Hospital.
"We met children on the children's cancer ward and their families. It was a great privilege to be able to spend time with the children with cancer. It reminds you of why fundraising is so important," says Madeleine Rådinger, who conducts research into asthma and allergies at the University of Gothenburg's Krefting Research Centre.
A mental challenge
Cycling 1,200 kilometres and covering more than 5,500 metres in altitude demands proper preparation. The team trained together three days a week, spinning during the winter, followed by cycling outdoors.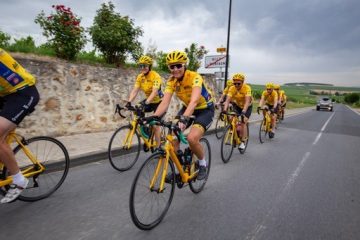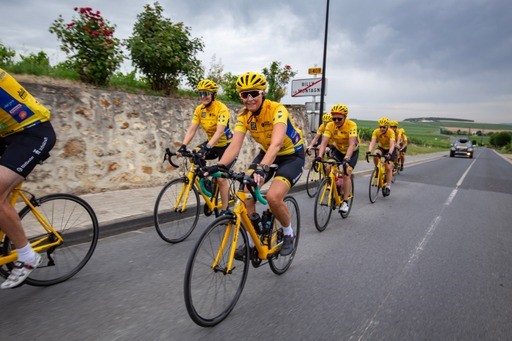 "When you sign up for the project, you commit to cycling 2,500 kilometres with the team before leaving for Paris. It's important in terms of safety that everyone feels confident and gets used to cycling in groups," she explains.
The trip offered beautiful views and real challenges too. The toughest stage was day three, 210 km through Germany with a strong headwind and temperatures sometimes reaching 37°C. This was where their service team came into their own, not just with encouragement and fixing everything from a flat tire to food, but even buying the riders extra ice creams.
"There was also a stage in Belgium with a steep climb, Mur de Huy, which was really tough. And then I've lost my nerve as I've got older and don't like pushing it too much going downhill, especially on steep serpentine roads with lots of bends," Madeleine Rådinger explains. "Keeping up was a challenge for me on some of the downhills in Champagne. But Champagne is also stunning with all the vineyards and small wineries."
Like one big family
This is the fourth time Madeleine Rådinger has cycled to Paris with Team Rynkeby Göteborg. In 2014, she had never even sat on a racing bike. Today she has cycled in fun races both in Sweden and in South Africa.
"Team Rynkeby is like a big family working together to do good. The sense of community is clearly the best thing about it. When you've trained and fundraised together for a whole year, cycling to Paris is like a school trip," she says.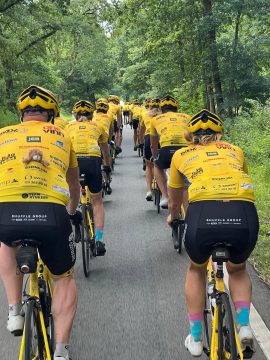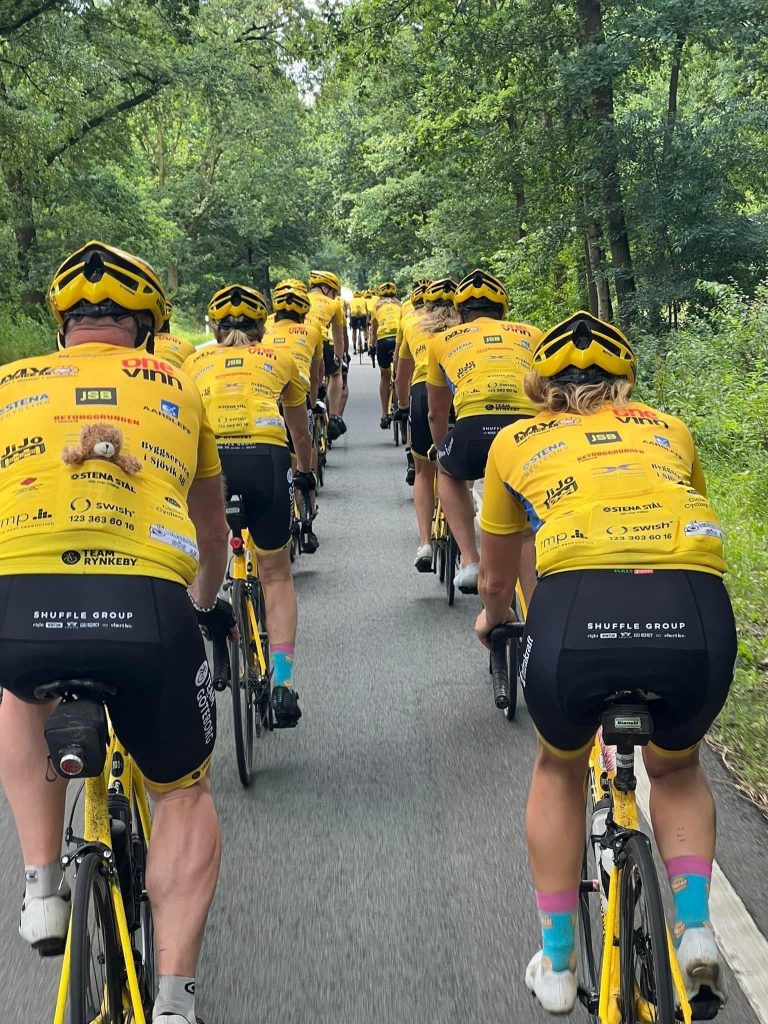 Team Rynkeby is a European charity project that cycles to Paris every year to raise money for critically ill children and their families. All the teams come together in Parc de la Vilette in Paris. In total there are about 2,600 cyclists from eight countries, including 15 teams from Sweden.
"When you're cycling into Paris, you have mixed feelings. It's amazing to have risen to the challenge and there's a relief that you've made it, but there's a bit of emptiness there too. Now it's all over, kind of thing," she says.
Cheque handed over in September
This year Madeleine Rådinger's team has beaten their previous record, raising about four million Swedish kronor for the Swedish Childhood Cancer Fund. They were also the team that brought in the highest number of gold sponsors.
"It's incredible! All the gold sponsors get their logos on our cycling kit. This year there were so many, we had to have two different shirts each. We'll be revealing the total amount at the end of September when we hand over our cheque to the Childhood Cancer Fund. Team Rynkeby has been their biggest individual donor for several years now," she says.
TEXT: KARIN ALLANDER | PHOTO: MADELEINE RÅDINGER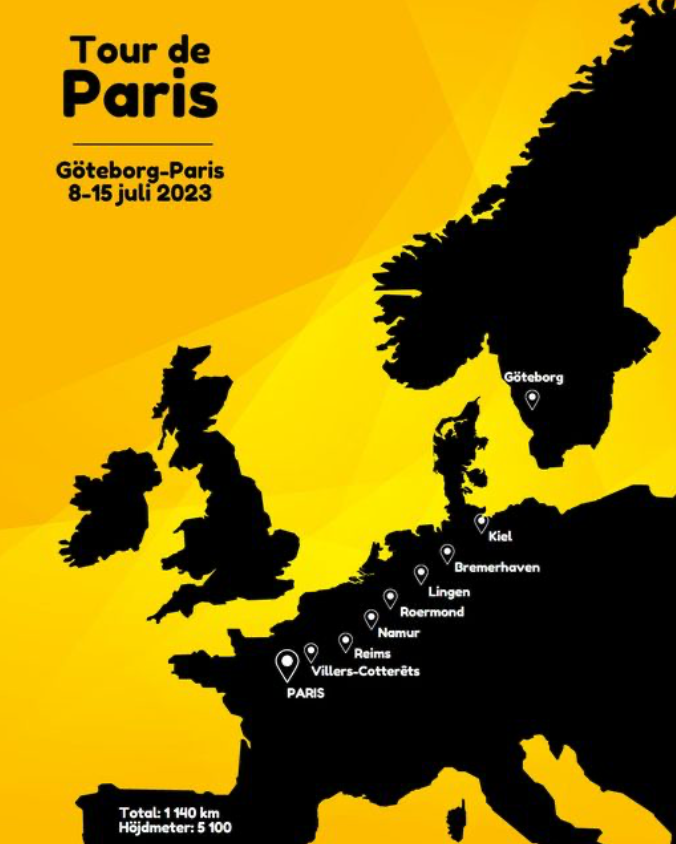 Cykelvägen från Göteborg till Paris.