AWARD. Anna Martner, who leads a research team at the Sahlgrenska Center for Cancer Research, has been appointed this year's recipient of the Eric K. Fernström Prize for young researchers. Her research could lead to more effective immunotherapy for several types of cancer.
Anna Martner has been awarded SEK 100,000 as a personal prize from the Eric K. Fernström Foundation. The prize has been presented since 1979 to young researchers at medical faculties in Sweden.
"Receiving this award is a real honour," says Anna.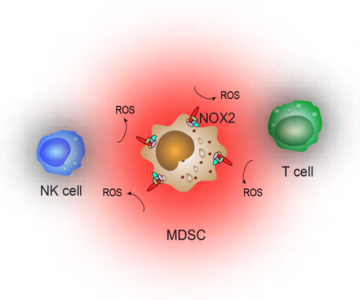 More effective immunotherapy for cancer
Anna's research field is tumour immunology, which she has studied in Gothenburg and during two extended research periods at world-leading laboratories in the USA. Since last spring, she has been a senior lecturer at the Sahlgrenska Academy's Department of Microbiology and Immunology.
Anna's research focuses on how the immune system can eliminate cancer cells more effectively. Her team is studying an enzyme – NOX2 – which is expressed on the surface of immunosuppressive cells, myeloid-derived suppressor cells (MDSC). The oxygen radicals formed by NOX2 result in that cancer cells are not removed effectively enough by the immune system's NK cells and T cells. Anna's team has used animal models to demonstrate that the oxygen radicals formed by NOX2 increase the risk of metastasis and reduce the effectiveness of cancer immunotherapy.
Testing drugs for pancreatic cancer
An upcoming study will test Ceplene® – a NOX2 inhibitor developed at Sahlgrenska Academy – as an adjunctive therapy for pancreatic cancer surgery.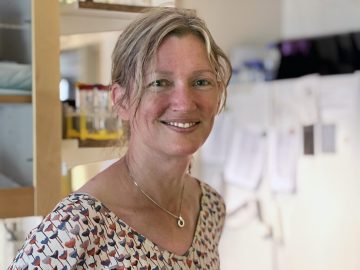 "Our hope is that this treatment will reduce the risk of cancer spreading," Anna explains. "We will carry out a phase I/II study in partnership with the Department of Surgery, primarily to determine whether the treatment is safe in this patient group, and whether it activates the immune system against cancer cells in the way that we expect."
Direct effects on cancer cells
In addition to inactivating NK cells and T cells, NOX2-derived oxygen radicals produced by MDSC may also exert direct effects on cancer cells. Anna investigated these mechanisms in greater depth during her sabbatical at MIT in Boston.
"Epithelial cells that are exposed to oxygen radicals undergo a process that makes them prone to migrate from one organ to another. If cancer cells undergo this process, it can lead to metastasis. We believe this is another reason why turning off the NOX2 enzyme is beneficial in cancer."
ABOUT ERIC K. FERNSTRÖM
Eric K. Fernström was born in Karlshamn in 1901. He successfully managed the family's granite company, which produced the granite that covers the base façade of the Empire State Building in New York. The Eric K. Fernström Foundation for the Promotion of Scientific Medical Research was established in 1978, and awards prizes to outstanding medical researchers.
BY: ELIN LINDSTRÖM