NEW PROFESSOR. Roger Olofsson Bagge is Sahlgrenska Academy's new Professor of Cancer Surgery. Aged 45, he has already driven revolutionary research; refined and implemented world-class cancer treatments; led and developed several projects at Sahlgrenska University Hospital. But who is Roger and what route brought him here? And above all, where is he heading?

I meet Roger Olofsson Bagge on a Wednesday afternoon, in his room at the Department of Surgery. He is between meetings and has been too time-pressed for eating lunch, which usually consists of a quick sandwich. During the hour-long interview, Roger's mobile rings several times. And he invariably answers. Once, his son needs some pocket money; another time, a nurse needs a treatment consultation.
"I refuse to have a work phone. I only have one phone number and I'm always available to family, colleagues and patients alike."
Roger did not grow up in an academic milieu. At home in Östersund, there were hardly any books, and his parents did not insist on him performing well in school. On the contrary, they tried to get their industrious son to study less. Nonetheless, being inquisitive by nature, Roger spent a lot of time in the library. Although he achieved high grades at school, it never occurred to him Roger that he might become a doctor one day, and it was by sheer fluke he did so.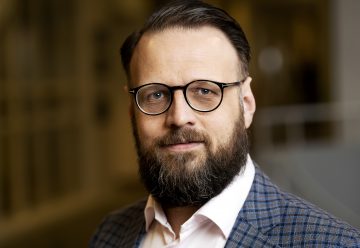 It all began in the military
Roger had studied technology at upper secondary school and ran an IT company jointly with a friend. He was set on becoming an engineer, and the self-evident role for him was as an "IT warrior" during his military service. However, the position was discontinued just before Roger was able to start, and he was assigned to one as a medical technician instead. Roger spent the first month in training at a hospital and was allowed to join staff in the emergency department and attend operations. It was thus his interest in the medical profession was born.
For his higher education, Roger faced a difficult choice. He had applied for — and been admitted to — both Industrial Economics at Chalmers University of Technology and Medicine at the University of Gothenburg. It was thanks to his IT company's co-founder, who suggested studying medicine so as to grasp how tedious it was, that Roger finally opted to become a doctor. Instead of being bored, Roger was utterly fascinated; and the rest is history.
Being a medical student was great. Everything was new and exciting, and as soon as in the second semester Roger embarked on research. In 2013, with a new doctorate and specialist qualification in surgery, Roger was offered the job of heading Sahlgrenska University Hospital's breast cancer and melanoma unit because he was seen as a visionary with the ability to drive the work forward. Transplant surgery was closest to Roger's heart but, as with much else in his life, he chose to give the top position a try — and he has no regrets.
Roger's leadership at Sahlgrenska University Hospital
Careerwise, heading the breast and melanoma surgery unit is in fact what has given Roger most pride to date. This unit used to be short of resources and personnel, and conducted hardly any research; today, it is among the most active parts of the Hospital in research. Moreover, it finds recruitment easy and has put Gothenburg on the map, both nationally and internationally.
The next step in boosting care for patients with breast cancer was to create the Breast Centre, a horizontal organisation in the otherwise rather silo-like system of hospital administration. Roger also succeeded in making Sahlgrenska University Hospital the first hospital in the Nordic region with a specialist breast centre accredited according to the European Society of Breast Cancer Specialists (EUSOMA) requirements, and the Centre is now a self-evident part of cancer care at the Hospital.
Professorship aim
Having managed to make these changes at the Hospital, Roger was eager to implement the same positive changes on the University side too, especially in collaboration with the Hospital. This was why he applied for the professorship, a dual position enabling him to have one foot in the University while keeping the other in the Hospital. His aim is to promote cooperation between the two.
"If you combine all the existing skills at both places, almost everything can be solved."
As a professor, Roger also seeks to be an inspiring coach for undergraduates and doctoral students. He wants to help them get ahead, open doors for them and make sure they get opportunities — and seize them. This is just what other professors did for him, a student who, because of his non-academic family background, did not always know how to navigate the academic world.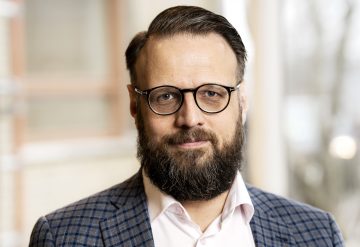 Revolutionary research and cancer treatments
In terms of research, Roger is affiliated with the Wallenberg Centre for Molecular and Translational Medicine (WCMTM), where his research group focuses on breast cancer and malignant melanoma. In investigating the latter, most specifically with respect to isolated hyperthermic perfusion, they have had their greatest breakthroughs and Roger has also won prestigious awards.
In brief, isolated hyperthermic perfusion is a surgical procedure that involves isolating the part of the body — usually the liver or extremities — where the cancer site is, and then administrating high doses of chemotherapy without affecting the rest of the body. Roger has developed the method in purely surgical terms, but also identified how the treatment seems to work: by activating the body's own immune system so as to effectively combat the cancer.
In several studies that Roger is now conducting, isolated hyperthermic perfusion is combined with modern immunotherapy. Roger's view is that the introduction of immunotherapy, for which the Nobel Prize was awarded in 2018, will bring about a huge transformation in treatment and surgery for cancer.
"Most of what we do today will probably be wrong in 20 years' time: then, we won't treat a breast-cancer patient as we do today. Everything's changing, and we're the ones driving the change. Sometimes we get so focused on keeping up with developments that we forget that we ourselves are the force behind them."
Apart from research and teaching, Roger also does clinical work. For example, he carries out isolated hyperthermic perfusion at Sahlgrenska — the only place in Sweden where the treatment is available, in fact. Roger also treats international patients, of whom the most recent has come from the Memorial Sloan Kettering Cancer Center in New York. The MSKCC, which in Roger's opinion is one of the world's best cancer hospitals, was unable to offer the treatment Roger is now providing. The operation went well, but it may take six months for the effects to be discernible.
"Sahlgrenska made me"
Roger is happy and thankful for his job. He can research, think, lead and inspire. He can be part of creating a culture where people venture to act independently and not just follow bureaucratic guidelines. He also feels it is an honour to have the opportunity to be with patients when life is at its hardest. Trying to inspire hope, offer various treatment options, or maybe just be there and listen are other aspects of his job that Roger appreciates.
Last but not least, Roger loves working at Sahlgrenska — both the Academy and the Hospital. At one he studied to become a doctor, and at the other he practises the profession. His whole adult life has been moulded by the long corridors. This is why he usually jokes that Sahlgrenska made him. And one cannot help thinking that, albeit only to a small extent, maybe Roger also made Sahlgrenska.
TEXT: ANNIA TERESA GARCIA CRUZATA
PHOTO: JOHAN WINGBORG / UNIVERSITY OF GOTHENBURG
LINKS ABOUT ROGER OLOFSSON BAGGE