EU GRANT.Gut bacteria can form molecules that seem to contribute to fibrosis — stiffening of the heart, liver, and other organs. Effects include raised risks of heart failure and nonalcoholic steatohepatitis (NASH), a liver disease. Professor Fredrik Bäckhed has just been awarded the prestigious European Research Council (ERC) Advanced Grant for developing this discovery in the direction of a therapy to stop the bacteria secreting these molecules.
The EU grant provides EUR 2.5 million (just over SEK 28 million) for Fredrik Bäckhed over five years. In the years to come, he and his colleagues will develop the group's earlier findings further to develop a novel treatment strategy designed to modulate gut microbiota function.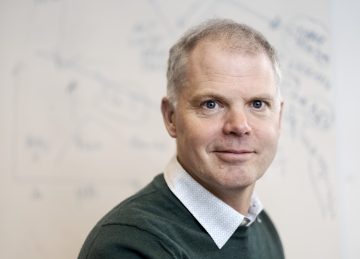 "Looking for strategies to treat the gut microbiota, instead of using drugs to target the body's cells, is a completely new concept," says Fredrik Bäckhed, Professor of Molecular Medicine at Sahlgrenska Academy, University of Gothenburg.
Treating the bacteria
The EU-funded research trajectory is based on findings published by Bäckhed's group in the journal Cell five years ago, when they showed how the gut microbiota associated with type 2 diabetes exhibit altered metabolism of histidine, an amino acid, leading to production of imidazole propionate.
In their continued research, the group connected it with fibrosis, which can contribute to stiffening of tissues— here they will focus on heart and liver. The group has performed studies that have supported the notion that the molecule may be linked to heart failure in humans. They will now focus on how imidazole propionate contributes to heart failure and NASH by mapping the underlying mechanisms and inducing fibrosis and fibrosis development.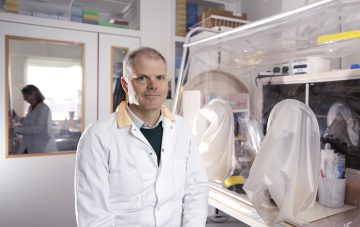 "The highest potential may be to prevent the onset of disease, but we hope that the therapy also will be effective for those who already have developed heart failure. It would be a much-needed treatment for heart failure, especially for those with preserved ejection fraction, where no evidence-based treatment is currently available," Bäckhed says.
The treatment, which is based on blocking the microbial enzyme producing imidazole propionate, will also be highly relevant for the liver disease non-alcoholic steatohepatitis (NASH), where no established treatments are available.
Artificial lab-grown intestine
In humans, the intestinal microbiome comprises roughly one kilogram of bacteria. Since it interacts with its host and may affect human health the microbiome is now increasingly being regarded as an endocrine organ in its own right. In recent years, research has shown that disturbances in the microbiome in humans may contribute to various disorders, including cardiovascular disease.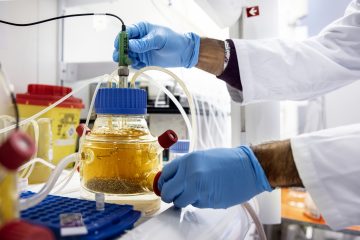 "We will also investigate the overall effect of the new treatment on the gut microbiota to both assess the potency as well as investigate potential effect on the gut microbial ecology. To this end we are using bioreactors, a sort of artificial intestine, in our lab," Bäckhed says.
He has brought together an outstanding research team, with wide-ranging and advanced skills. Experts in microbiology and biochemistry will study how the enzyme works. Meanwhile, physiologists will explore how the molecule affects the progression of fibrosis, and biochemists with expertise in structural biology and medicinal chemistry will develop molecules that can be tested for their ability to inhibit the enzyme's activity. The research group also collaborates with other researchers not only in Sweden but also in the Netherlands, Germany and the U.S.
Fredrik Bäckhed likes to highlight the support from the University's Grants and Innovation Office (Forsknings- och innovationskontoret, FIK) and the valuable support provided by the staff there during the application process. Besides assistance with assembling all the mandatory documents for applying to the EU, he was given feedback on the application. Perhaps most important, he benefitted from FIK's training and preparation for the brief ERC interview, which is the crucial stage for selection in the extreme competition for ERC Advanced Grants
BY: ELIN LINDSTRÖM
PHOTO: JOHAN WINGBORG