UNIVERSITY MANAGEMENT. The recruitment committee has now held interviews with Pro-Vice-Chancellor candidates. The committee suggests to the University Board that Carina Mallard and Max Petzold go through to the consultative assembly's meeting in May.
Twelve people in total were interested in becoming Pro-Vice-Chancellor and working with the future Vice-Chancellor Malin Broberg. Of these, Carina Mallard, Göran Hilmersson, Mattias Hallquist and Max Petzold went on to interviews with the recruitment committee.
The committe now suggests to the Board that Carina Mallard and Max Petzold are the ones to be interviewed by the consultative assembly. The Board decides on the matter on 25 April, and on 23 May, the consultative assembly will conduct its interviews.
The candidates in brief
Carina Mallard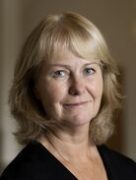 Carina Mallard was born in 1963 and is Deputy Vice-Chancellor, responsible for issues regarding research, at University of Gothenburg since 2021.
She received her undergraduate education in Physiology at the University of Lund and got her PhD in Pediatrics at the University of Auckland in 1995. In 2006, she was appointed Professor in Physiology at the University of Gothenburg. Her research concerns brain damage in premature babies.
Carina Mallawd was Visiting Professor at Kings College in London for five years and before she took up the position of Deputy Vice-Chancellor, she was Head of Core Facilities at the University of Gothenburg between 2018 and 2021. From 2011 to 2015, she was Director of Studies for the doctoral education at Sahlgrenska Academy, a position she had previously held at the Institution of Neuroscience and Physiology. Carina Mallard has had several national assignments for the Swedish Research Council and internationally for the EU. Starting in 2004, she has supervised 20 doctoral students up to the doctoral thesis defence.
Max Petzold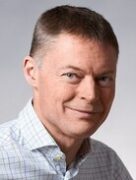 Max Petzold was born in 1973. Since 2018, he is Head of the School of Public Health and Community Medicine at the Institute of Medicine, at the University of Gothenburg. In parallel with this assignment, he has been Director of the Swedish National Data Service (SND) since 2015.
He received his undergraduate education in Statistics and Environmental Economics at the University of Gothenburg and got his PhD in Biostatistics from the same university in 2003. Between 2003 and 2011, he was Senior Lecturer in Biostatistics at the Nordic School of Public Health. In 2012, he was appointed Professor in Health Science Statistics at the University of Gothenburg. As a statistician, he has a wide research range, but with a bias towards global public health and Nordic registry-based studies.
Max Petzold is involved in projects to strengthen undergraduate and postgraduate education in public health sciences in Georgia, Armenia, Moldova, and Ukraine. He has vast experience as a supervisor and over 90,000 citations in Researchgate.
Read more
BY: ULRIKA LUNDIN